Gael Adrien Mbama: Greek life, student organizations should collaborate on philanthropy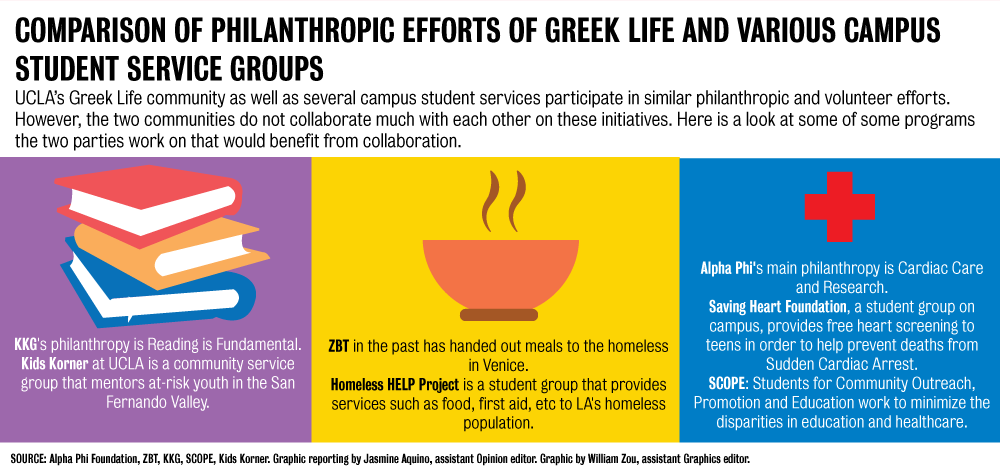 (William Zou/Daily Bruin)
When many people think about Greek life at UCLA, the first things that come to mind are the "Kanye Western" and Pi Kappa Phi controversies. But the negative stigma shouldn't overshadow the positive initiatives spearheaded by sororities and fraternities: their philanthropic efforts.
Many fraternities and sororities at UCLA engage in philanthropy, such as fundraising for charities and participating in community service in Los Angeles.
Philanthropy and community-service initiatives are also widely popular among non-Greek life members on campus; there are hundreds of student organizations dedicated to these causes. Despite this, there is often little collaboration between these organizations and Greek life.
If Greek and non-Greek organizations teamed up, they could provide better and more effective community service to people in need and bring more philanthropically minded students together.
Greek life philanthropic actions are nothing new and have had a positive impact on local communities. According to the 2014-2015 National Panhellenic Council, sororities throughout the nation raised $34.8 million and dedicated 2.9 million hours in community service that year. Additionally, the North-American Interfraternity Conference states fraternities raised $20.3 million for philanthropic purposes and spent 3.8 million hours on community service for the 2013-2014 school year. These impressive numbers show the dedication of the Greek system nationwide and challenge the idea that Greek life is a one-dimensional entity centered around partying.
On the UCLA campus, chapters such as Zeta Beta Tau and Kappa Kappa Gamma are heavily involved in both community service and philanthropy. Jack Verschleiser, a third-year political science student and president of Zeta Beta Tau, said the fraternity gives out meals to homeless people in Venice, California every Thanksgiving. The chapter also partners with Warner Avenue Elementary School at least once per quarter to volunteer in the school carnival and help with a sports day in the spring, he said.
Ali Cazel, a third-year communications student and president of Kappa Kappa Gamma, said the sorority raises money for Reading Is Fundamental throughout the year, and also organizes an event called "Kappa Krismukkah," in which it raises money and collects toys for the Burbank Fire Station.
[Abhishek Shetty: Misguided Volunteer Day projects miss opportunity for real impact]
And there are many more efforts. Lindsey Goldstein, assistant director at the Office of Fraternity & Sorority Life at UCLA, said each of the 66 national and local Greek organizations at UCLA are involved in various community service events, such as making lunches at the Los Angeles Regional Food Bank or visiting children at hospitals.
Yet Greek organizations are not the only ones carrying out such efforts on the UCLA campus. There are more than 100 student organizations dedicated to philanthropic initiatives, including Bruin Shelter, Bruin Scouts and the Undergraduate Students Association Council's Community Service Commission. However, Greek life and these groups do not regularly partner, despite engaging in many of the same initiatives.
Not only would such partnerships optimize philanthropic events, but they would also fill the communication gap between Greek life organizations and non-Greek groups on campus. Having joint philanthropic events between student and Greek life organizations can be a step in the right direction to unify these two entities and bolster both communities' volunteering efforts. These communication challenges can be easily overcome through better interfacing between groups. This sort of collaboration is necessary to have impactful events and programs that serve not only the UCLA campus, but also the broader community.
For example Luke Shaw, a mechanical engineering doctoral student and co-president of Bruin Shelter, a student organization that offers long-term shelter to homeless students, said it has not partnered with Greek life. Shaw admitted he does not know if Greek chapters would be willing to commit to regular shifts and go through training processes, but mentioned his organization hopes to reach out to the Greek community and strike a partnership.
Samantha Chen, a fourth-year anthropology student and president of Bruin Scouts, shares the same open-mindedness towards a possible partnership with Greek life. However, Chen admitted the lack of communication between Greek life and other organizations made it difficult to collaborate in the past.
Zack Dameron, a fourth-year political science student and USAC Community Service commissioner, said Greek life has not reached out to his office, but also said he would be open to partnerships. However, Dameron mentioned that many individual members of Greek life volunteer on projects affiliated with the commission.
The positive mindset of various campus leaders shows nothing is preventing a partnership between fraternities, sororities and student organizations.
While everyone seems to agree on the potential benefits of collaboration, coordinating joint philanthropic efforts between two different entities can be logistically challenging. Cazel pointed out that the main obstacle to a potential partnership with student organizations could be the negative overtone Greek life carries, which could dissuade student organizations from associating their image with the Greek community.
Philanthropy and community service can connect Greek life to independent students. For that reason, student organizations and Greek life should place partnering as a top priority when scheduling potential events.
After all, putting our differences aside for the greater good should also be a big part of our college experiences.