UC Regents recap – March 17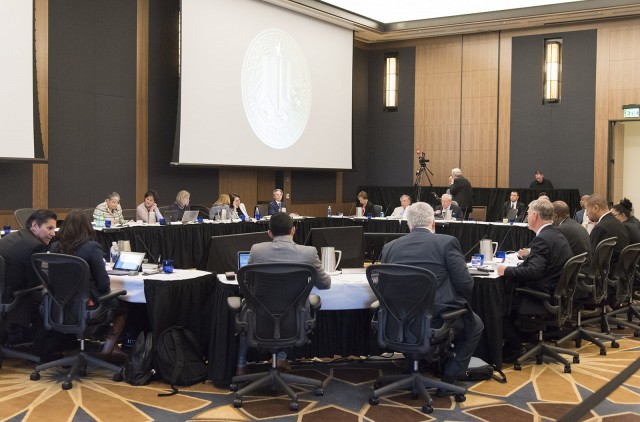 The University of California Board of Regents discussed a proposed policy for nonresident student enrollment on Thursday at UC San Francisco. (Mackenzie Possee/Assistant Photo editor)
This post was updated on April 5 at 7:45 p.m.
The University of California Board of Regents discussed establishing a policy on nonresident enrollment, approved a new chancellor for UC Berkeley and approved items discussed in committee on the last day of its meeting at UC San Francisco.
The Regents unanimously approved Carol Christ as the next chancellor for UC Berkeley. She will make the same salary as the current chancellor, Nicholas Dirks, at about $532,000 along with other benefits, including university-provided housing, reimbursements for moving costs and life insurance.
Regent Richard Blum said he thinks Berkeley is a troubled campus in terms of people learning to get along with each other, and that it needed someone from the inside to straighten it out.
The Regents also had a lengthy discussion about a proposed 20 percent cap on nonresident undergraduate student enrollment and the role nonresident students play in helping support the education of residents students. They had planned to vote on the cap but decided to postpone the vote until the May meeting.
Chancellor Gene Block and Chancellor Pradeep Khosla of UC San Diego, leaders of two campuses with nonresident student proportions higher than the proposed cap, explained the importance of the nonresident supplemental tuition on filling in gaps left by decreases in state funding.
Block said if not for the $145 million of nonresident tuition over the past 10 years, the university would have had trouble balancing its budget because of a $152 million reduction in state support, $110 million in additional costs for employee benefits and $138 million in increases to academic salaries over the same time period.
Khosla said new infrastructure and faculty hiring on the San Diego campus was funded in part by nonresident supplemental tuition and without state support.
Regent Gareth Elliott asked why the UC is considering a cap on nonresident enrollment if the state only requires it if the UC wants additional funds. The 2016 State Budget contained a provision that would provide the UC $18.5 million in funding if it established a policy on nonresident tuition.
Regent Eloy Ortiz Oakley said he thinks state funding is more predictable than revenue from nonresident enrollment tuition. He asked Block if it mattered whether the revenue from nonresident students came from another source, such as private donations or state funding. Block said it does not matter where the revenue comes from, but added he thinks it is important to recognize the diversity nonresident students bring to campuses.
Nathan Brostrom, UC chief financial officer, said since the UC increased enrollment of nonresidents during the recession, the diversity of California students, whether measured in percentage of Pell Grant recipients, percentage of first generation students or percentage of underrepresented minorities has increased. He added the change was not causal, but the pool of Californians has changed because the recession made more students eligible for financial aid.
Student Regent Marcela Ramirez said she thinks it is important to learn more about the international student experience and asked for more information on their academic outcomes.
Blum said he thinks the UC should consider the fact that many international alumni go on to contribute to their alma maters. He added he thinks the UC should try to determine what percentage of contributions came from nonresident students and what percentage came from in-state students.