UCLA gymnast excels on floor after overcoming injury, rare disease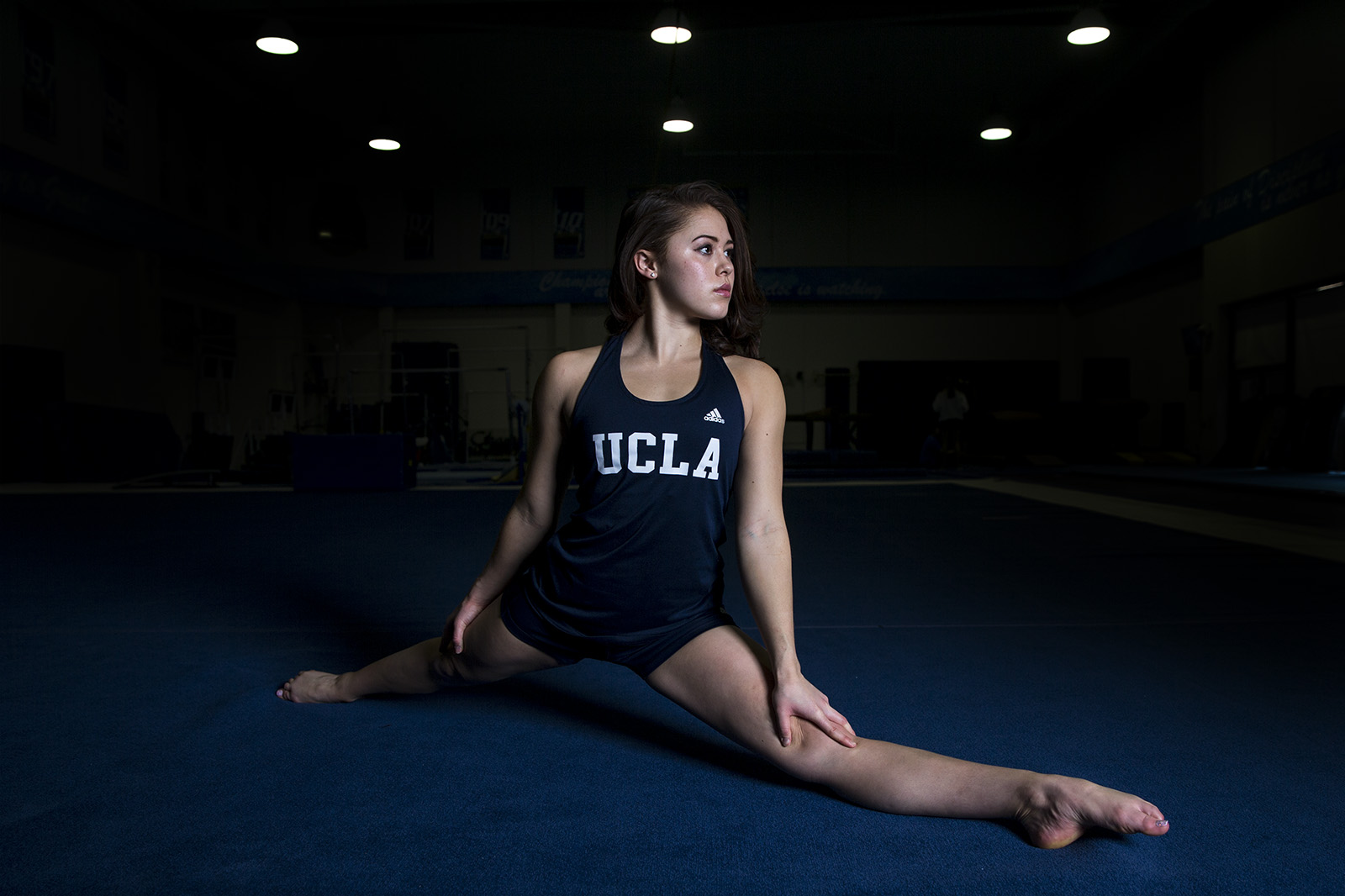 Redshirt freshman Macy Toronjo recovered from a torn rotator cuff she sustained as a high school senior, only to be diagnosed with Vogt-Koyanagi-Harada Disease at the start of this school year. (Angie Wang/Daily Bruin senior staff)
March 16, 2017 12:10 a.m.
Next time redshirt freshman Macy Toronjo steps onto the blue mat for her floor routine, look past her posing and her affectations. That's all part of the performance, part of the character she pretends to be. Underneath the graceful exterior lies a warrior who has been battle-tested ever since she stepped foot on the UCLA campus.
"Macy looks like a little Southern belle, but has this spitfire attitude and energy about her," said coach Valorie Kondos Field. "She's a conundrum. What you see is not really what's inside, and what's inside – that grit and that determination – has made her such a great athlete."
She needed every ounce of that grit and determination.
After a difficult outdoor training session in hot, drought-riddled Los Angeles at the end of September, Toronjo took a trip into Westwood to restock on groceries. She looked down and noticed her toes looked bent, and thought, "This is weird."
Still feeling spent from the workout, she decided that was the cause of her sudden vision issue.
"I thought I was super dehydrated, so I drank a bunch of water and I went to sleep," Toronjo said.
The reaction seemed logical. When she woke up the next morning, she figured her body would return to normal, and she could continue preparing for the new school year and upcoming gymnastics season.
Instead, everything took a dark turn.
"I couldn't see out of both eyes," Toronjo said. "I was legally blind."
Her problem was not dehydration or exhaustion, but something rare and mostly unheard of. The doctors diagnosed her with Vogt-Koyanagi-Harada disease, which is believed to be an autoimmune disorder, though the cause remains elusive.
VKH occurs most often in people of Asian and Hispanic origins. The clearest symptom is a rapid loss of vision.
"It was horrible," Kondos Field said. "None of us had even heard of it before. We didn't know what the prognosis was."
The doctors wasted no time in putting her on steroids to combat the disease.
For Toronjo, her eyes were the latest setback in her fledgling career as a UCLA gymnast.
The first came before she arrived in Westwood.
During her senior year of high school in Coppell, Texas, a suburb of Dallas, Toronjo began feeling a chronic pain in her shoulder.
"Everyone kept telling me it was tendonitis," she said.
When the pain worsened and refused to go away, she decided to get it checked out. The first MRI showed no structural damage. The second and the third also gave the same reading.
The fourth, however, revealed Toronjo had a tear in her rotator cuff, though it appeared to be a minor one.
Once she arrived at UCLA in fall 2015, the goal was to have her go through rehab so she could be ready to compete for her freshman season.
Then, she got another MRI, a higher-powered one, which showed that her rotator cuff was almost completely torn off the bone – a 90 percent full-thickness tear.
Toronjo was placed on the medical redshirt list and had surgery to repair the damage, forcing her to miss an entire year of gymnastics.
"We've never had an athlete have a rotator cuff surgery," Kondos Field said.
The injury was so severe, the doctors warned that she might not be able to compete in gymnastics again.
Toronjo refused to accept such a possibility.
"When the orthopedic surgeon said (that), she was like, 'Oh heck yeah I am,'" Kondos Field said.
The year-long recovery process began.
Toronjo came in every day and stuck to her rehab schedule, unable to compete in the sport she left home at the age of 12 for. She moved away from her parents' house in Huntsville, Texas, to Coppell – where she lived with Alabama commit Bailie Key – so she could train at the rigorous Texas Dreams Gymnastics.
This devotion to the sport ultimately brought her to UCLA but because of her injury, she was forced to watch her teammates prepare and compete during a Pac-12 championship-winning season.
She was an outsider.
"Not being able to do gymnastics was the hardest part of my injury," Toronjo said. "Not being able to get immersed into the team environment was hard, too."
The Texas native needed to discover how her life stacked up without being able to do gymnastics.
"It was a very emotional time," Toronjo said. "You come in wanting to prove yourself, and I wasn't able to do that, so I learned something different about myself. I found out who I was without gymnastics."
Her rehab continued. Over time, the range of motion in her shoulder returned to full functionality, where it had not been able to reach 45 degrees at the start.
With the new school year approaching, she returned to the team and impressed her coach.
"She was so great in September," Kondos Field said.
Then, out of the blue, the blindness struck.
"The second setback was the hardest thing I've ever had to encounter," Toronjo said. "I didn't know what was wrong with me, and I couldn't do anything. There's nothing physically wrong with me, except the fact that I could not see. The fact of not being able to see is just something I never want anyone to ever experience. It was very scary."
Her vision eventually returned. The steroids she took, however, proved to have negative side effects, and were partly responsible for keeping her out of action from October to January.
"The drugs really hurt me," Toronjo said. "I was super fatigued. It was really bad."
Kondos Field believes the steroids may have been the worst part of the entire situation.
"The sad part about that wasn't so much the eyes as it was the steroids she had to take because that made her really sluggish," Kondos Field said. "That's what took forever to get out of her system. She's still not back to where she was in (September)."
Toronjo, herself, believes everything started to click into place in January.
Against Oklahoma, Toronjo performed an exhibition on the balance beam, showing that she would soon be able to compete.
After a couple more exhibition routines, she got her chance in a tri-meet against Bridgeport and Utah State. The Bruins shuffled the floor exercise lineup wholesale, allowing her to compete on floor exercise for the first time since winning the 2015 Women's Junior Olympic Level 10 National Championship.
Considering the low team score, Toronjo's floor routine might have been the most positive thing to come out of the meet.
[Related: Gymnastics teeters but wins tri-meet against Bridgeport and Utah State]
At the start of her performance, Toronjo stood in the corner of the mat and got into character.
The floor became a red carpet, and she became a famous movie star at home in the glitz and glamor of the spotlight. Her every movement screamed elegance and sophistication, especially when posing for the paparazzi.
And above all, her character oozed class, an abundance of class.
When Toronjo stepped onto the floor, she assumed this persona.
"Miss Val said either J-Lo or Audrey Hepburn," Toronjo said. "I chose Audrey Hepburn. She's classy and very elegant and sassy."
Toronjo channeled her inner Holly Golightly, Hepburn's character from "Breakfast at Tiffany's."
Like an actress who practiced and rehearsed her role many times over, waiting to be called in to showcase her ability on the stage, she played her part with minimal hitches.
She also nailed all three of her tumbling passes.
Once she struck her final pose, everyone rushed her, happiness etched on their faces.
"My all-time favorite moment at UCLA was competing floor for the first time," Toronjo said. "It was the greatest feeling I've ever had. When all my teammates rushed onto the floor and Miss Val was the first to give me a hug, it literally brought me so much joy."
The judges rewarded her with a 9.9.
The torn rotator cuff and blindness were pushed to the past. She was back.
"She doesn't let anything stop her," said sophomore Katelyn Ohashi, a fellow Texas native who has known Toronjo since competing against her at the Elite and Junior Olympic levels. "She pushed through all of her obstacles and just worked harder every single day to get where she is right now. Having her out on the floor is so much fun. She kills it out there."
[Related: Two perfect 10s close out gymnastics' final home meet, senior day]
Toronjo's performance resulted in Kondos Field giving her a spot in the floor lineup, a spot she has made her own.
Bribach joined the Bruin as a sophomore in 2016 and contributed until he graduated in 2018. He spent time on the gymnastics, women's basketball, women's soccer and beach volleyball beats.
Bribach joined the Bruin as a sophomore in 2016 and contributed until he graduated in 2018. He spent time on the gymnastics, women's basketball, women's soccer and beach volleyball beats.