UCLA to propose new dorms, apartments to match enrollment increase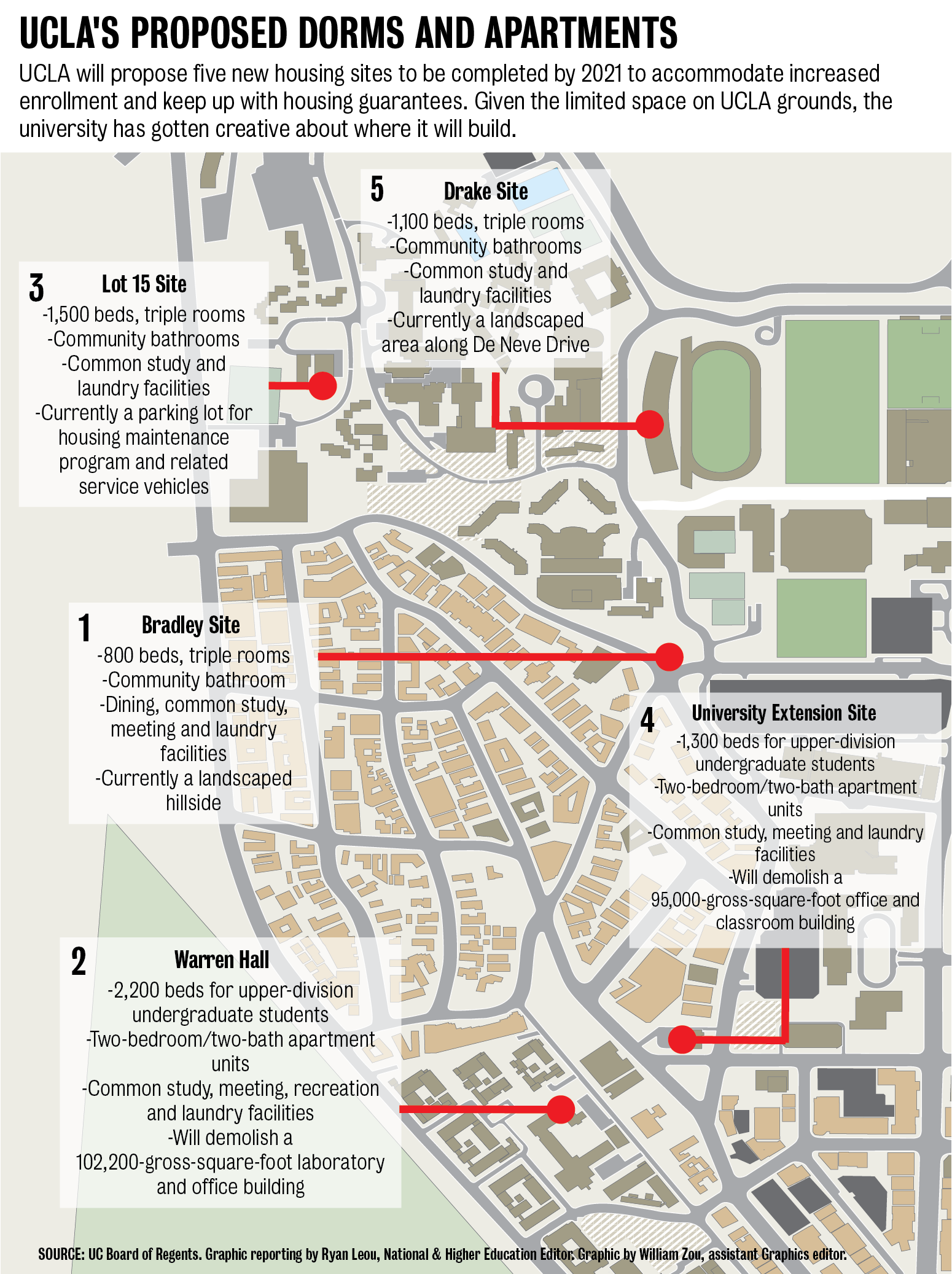 (William Zou/Daily Bruin)
March 12, 2017 10:32 p.m.
UCLA has a proposal to build three new residence halls and two apartment complexes by 2021 to accommodate increased enrollment.
The initiative would add about 6,900 beds to the Hill and guarantee students more years of housing. UCLA officials expect to request preliminary plan funding at the May Regents meeting, which would allow UCLA to develop a budget and schematic designs for the projects.
Three new residence halls would be built on the Hill: one located near Tom Bradley International Hall and Strathmore Drive, one located on a parking lot between Saxon and Hitch Residential Suites, and one located near the upper edge of Drake Stadium.
The hall near Bradley Hall would have 800 beds in triple rooms, community bathrooms and a to-go dining facility. The site on the parking lot would add 1,500 beds in triple rooms and community bathrooms. The residence hall near Drake Stadium would hold 1,100 beds in triple rooms with community bathrooms and athletic facilities.
With the additional buildings, first-year students would be guaranteed four years of housing and transfer students would be guaranteed two years of housing, an increase from three years and one year, respectively.
Two of the five proposed housing projects would be new apartment buildings for third and fourth-year students.
One proposed apartment site would add 1,300 beds in two-bedroom/two-bath apartment complexes on the UCLA Extension Office building site at the intersection of Le Conte, Gayley and Levering avenues.
The other would demolish Warren Hall, a laboratory and office building built in 1961, and replace it with about 2,200 beds in two-bedroom/two-bath apartment units.
The demolition would displace Warren Hall's current occupants to other facilities on campus.
---
Click here for a high quality map of the housing project proposal.
---
UCLA would also serve as the Olympic Village if Los Angeles wins its bid to host the 2024 Summer Olympics, but UCLA spokesperson Rebecca Kendall said the proposed increase in capacity on the Hill is primarily meant to support the increasing undergraduate population.
However, she added having a larger on-campus housing community would allow UCLA to better accommodate the Olympic athletes.
Some Westwood leaders said they understand UCLA's need for more student housing.
Sandy Brown, vice president of the Westwood Neighborhood Council, said she thinks UCLA is under pressure to take more students and it is one of the most crowded UC campuses.
Brown said the council supports university-owned housing for students because UCLA takes good care of its property and regulates it well.
"There will probably be a better campus life if (students and faculty) live on campus to participate in on-campus activities, so we are very supportive," Brown said.
Brown also said she thinks UCLA has always tried to allow students to live on or near campus rather than commute.
She added she thinks providing student housing reduces traffic because it decreases the amount of people who commute.
Andrew Thomas, executive director of the Westwood Village Improvement Association, said he supports more people living in or near Westwood Village who can walk to shops, theaters, banks and other businesses.
"(It is) always good to have people in or near Westwood so they can contribute to the vitality of Westwood Village," Brown said.
Thomas added he thinks some of UCLA's past projects in Westwood, like the Weyburn Terrace Apartments for graduate students, benefited Westwood Village businesses because they created a larger customer base.
Students have mixed opinions about the new housing proposal.
Gina Zhang, a first-year business economics student, said she thinks the proposal would increase the availability of some housing options.
"For second years, a lot of people want singles and doubles and a lot of people were unable to get what they wanted (because of limited housing availability)," Zhang said. "Second years can (get that) if they have more options."
However, Thaksaporn Chitrakorn, a first-year psychology student, said she thinks even if UCLA adds more housing options, many students will look for off-campus apartments to save money.
"(It's) better for some people, but some others want (a lower) price and just want to move out," Chitrakorn said. "A lot of people want to move out so guaranteeing fourth year housing might not actually be used, since many prefer apartments."
Before finalizing its proposal, UCLA considered purchasing off-campus residential property – contracting with private development companies to build housing.
UCLA decided to propose new residential halls and apartments because the university has had substantial experience with constructing housing over the past 30 years. The university's most recent residential projects include Sproul Cove and Sproul Landing, which were built in 2013.
UCLA officials will present additional details about the housing proposal at the UC Board of Regents meeting on Wednesday in San Francisco.