UC Regents preview – March 14-16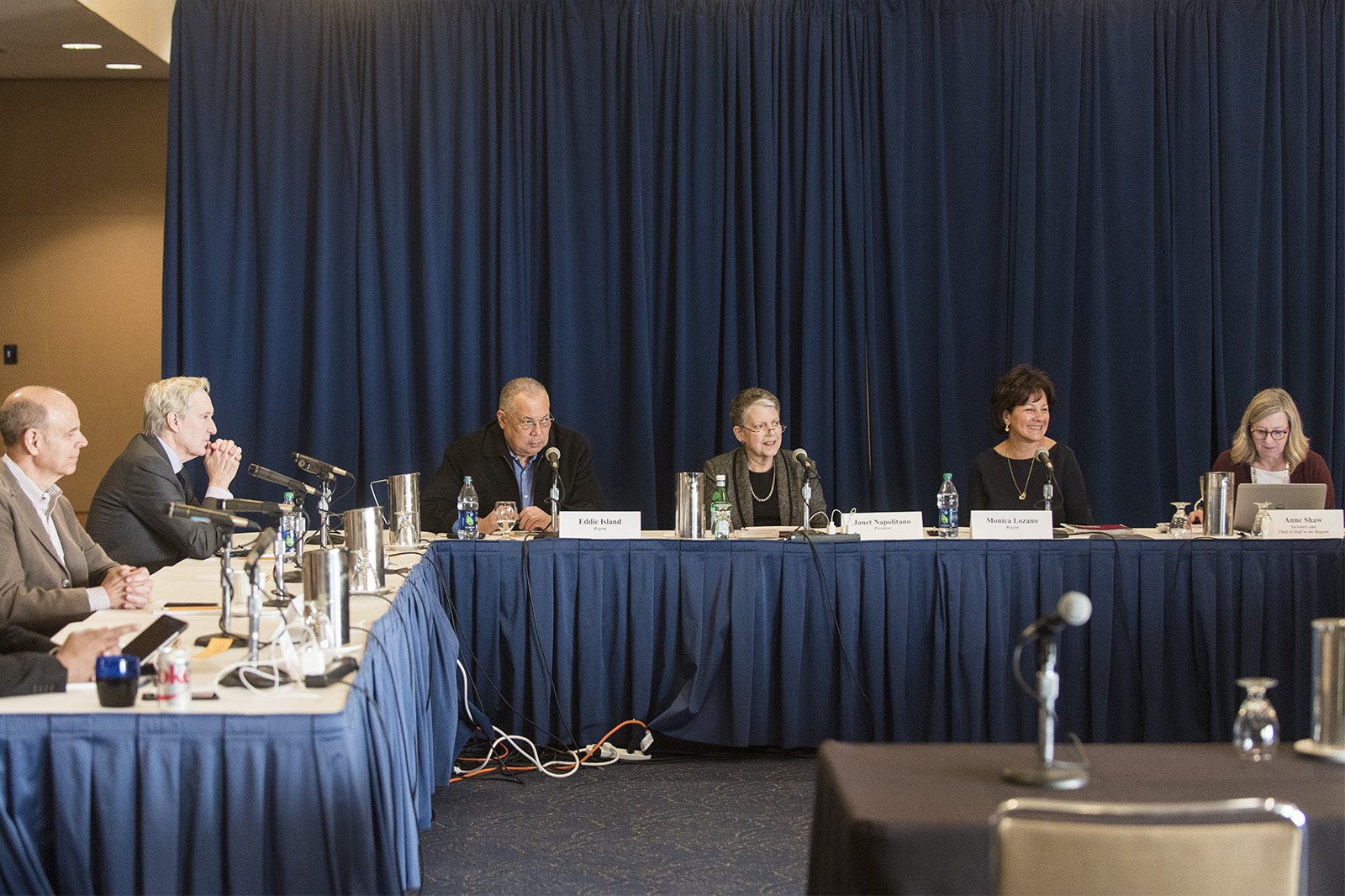 The University of California Board of Regents will discuss the increased cost of attendance, the impact of potential changes to the Affordable Care Act on UC Health and capping nonresident enrollment at its March board meeting. (Grace Zhu/Daily Bruin)
The University of California Board of Regents will discuss the cost of attendance at UC, plans for new housing at several campuses and the impact of changes to the Affordable Care Act this Tuesday through Thursday at its bimonthly board meeting at UC San Francisco.
---
Tuesday
The Investments Subcommittee will hear updates on the performance of UC investments from its endowment, pension and working capital funds.
---
Wednesday
The Academic and Student Affairs Committee will discuss a recent survey the UC conducted to examine the increased cost of student attendance. The committee found large increases in food costs, variable increases in rents and declines in other costs like books, supplies and transportation.
The committee will also vote on amendments to the UC Faculty Code of Conduct and professional degree supplemental tuition for two graduate programs at UC Berkeley and UC Irvine.
The Finance and Capital Strategies Committee will hear updates on student housing at UCLA and UC Berkeley. It will also vote to approve a new housing project and the Precision Cancer Medicine Building at UC San Francisco.
The Public Engagement and Development Committee will discuss the impact of potential changes to the Affordable Care Act on UC Health, hear updates on the state budget process and discuss the University's advocacy efforts in Sacramento. It will also vote to endorse a $2 billion fundraising campaign by UC San Diego.
The Governance and Compensation Committee will vote to amend the Regents' conflict of interest policy, policies on board operations and charters of the board's standing committees.
---
Thursday
The board will vote to limit the percentage of nonresident students at each campus to 20 percent. UCLA, UC Berkeley and UC San Diego, which have percentages of nonresident students higher than 20 percent, would be allowed to maintain their current levels.
The board will also vote to adopt a policy on review and procedures for regent misconduct. The policy was proposed after an audio recording of Regent Norman Pattiz sexually harassing an employee was publicized. The board had planned to vote on the policy at its January meeting, but postponed the vote to give regents more time to examine to what acts of misconduct the policy would apply.