Two perfect 10s close out gymnastics' final home meet, senior day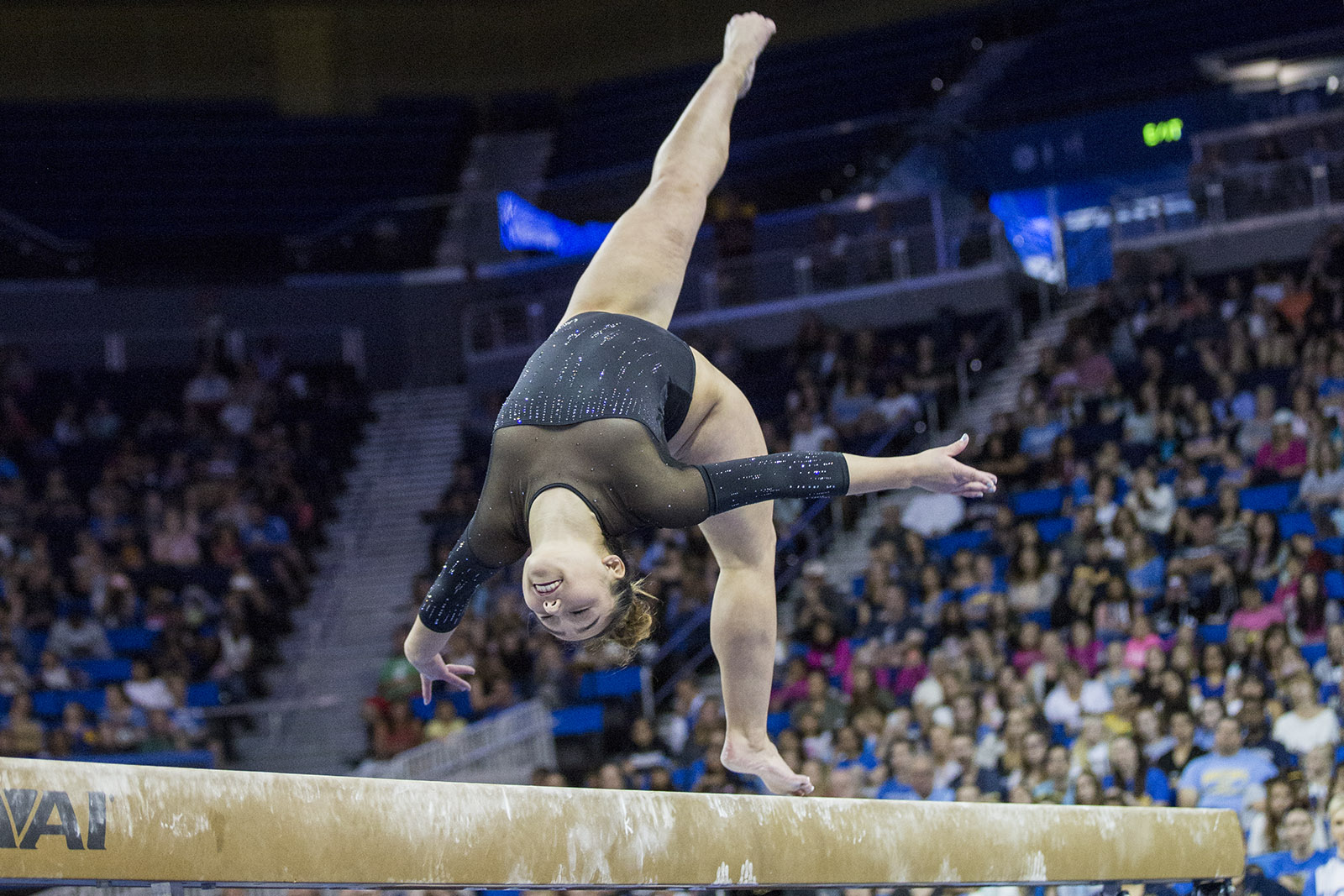 Sophomore Katelyn Ohashi scored one of UCLA's two perfect 10s Sunday against North Carolina. The perfect score was Ohashi's second in two weeks. (Angie Wang/Daily Bruin senior staff)
Cliches are cliches for a reason. They happen too often not to be recognized.
On Sunday afternoon in Pauley Pavilion, when No. 4 UCLA gymnastics (9-2, 5-1 Pac-12) defeated North Carolina (6-3, 3-0 East Atlantic Gymnastics League) 197.8-195.4, they were everywhere.
For example, the final home meet of the season was also senior day, so the Bruins' seniors were bound to be successful.
Redshirt senior Christine Peng-Peng Lee stepped onto the uneven bars, hoping to snatch a perfect 10 in her final performance in front of the home crowd.
And she got it. She hit all of her handstands before sticking her dismount.
"Oh my gosh, it was amazing because I knew my parents were in the crowd," Lee said. "I was so happy to get in the last home meet. I really wanted to, so I made sure I stayed calm and focused on my gymnastics."
Her coach, Valorie Kondos Field, called it every person's dream come true to go out on such a positive note.
Lee then came back and, despite almost falling, scored a 9.925 on the balance beam.
Another senior, Hallie Mossett, also turned in a sterling display on floor exercise. For the second time this season, Mossett scored a 9.975 to finish off a meet, giving the Bruins a season-high 49.65 in the event.
"The seniors were great," Kondos Field said. "They were elevated. They were on point. They were just wonderful."
The cliches did not stop there.
UCLA not only bested North Carolina by a large margin, but it also did so by nabbing the team's second-highest score of the season.
It happened without star freshman Madison Kocian, who was rested for the meet.
"Our depth trained to come in," Kondos Field said. "We told them that when the door of opportunity opens, they need to be prepared, not just physically but mentally and emotionally as well."
[Related: Final meet of the season welcomes new lineup for women's gymnastics]
Sophomore Madison Preston competed on floor exercise for the first time since the first meet of the season, filling the spot left vacant by Kocian not being in the lineup.
She scored a 9.9.
Junior Napualani Hall took the open position in the vault lineup and attempted a 10.0 start value vault, scoring a 9.85.
The team's collective effort sans Kocian resulted in a high score and its cleanest performance in weeks.
A writer on "Friday Night Lights" couldn't get away with such an obvious plot, but this is reality and the stories aren't always so unique.
Wait, there's more.
The Bruins scored big without their biggest name, and despite a fall from their other Olympic gold medalist, freshman Kyla Ross.
Ross could not stay on the balance beam, reminding everyone that even the best athletes come up short sometimes.
"She probably hasn't fallen on beam since she was 10 or 11. The first thing that went through my mind is, 'Okay, all you people in the stands, this sport is really hard,'" Kondos Field said. "People like her make it look easy, but it's not. (The beam) is still four inches wide."
The other gymnasts picked up the slack for her, especially sophomore Katelyn Ohashi, who posted her second perfect score in two weeks.
"I was like, 'Well, if they gave it to me last week, I feel like this one has to be a 10,'" Ohashi said. "It was super exciting."
[Related: UCLA gymnastics beats Cal with all-around strong performances]
Summing everything up, the seniors grabbed excellent scores on their senior day, and the Bruins put up a big team score without Kocian and overcame a fall by another big name, Ross, to make the big score happen.
We've seen these plot lines before.
Here's another one we've seen.
Because the gymnasts that stepped in for Kocian scored well, Kondos Field now faces a difficult decision – who goes out when Kocian comes back in?
"I don't know," Kondos Field said. "You tell me."
Bribach joined the Bruin as a sophomore in 2016 and contributed until he graduated in 2018. He spent time on the gymnastics, women's basketball, women's soccer and beach volleyball beats.
Bribach joined the Bruin as a sophomore in 2016 and contributed until he graduated in 2018. He spent time on the gymnastics, women's basketball, women's soccer and beach volleyball beats.