Students, groups advocate making UCLA a sanctuary campus at town hall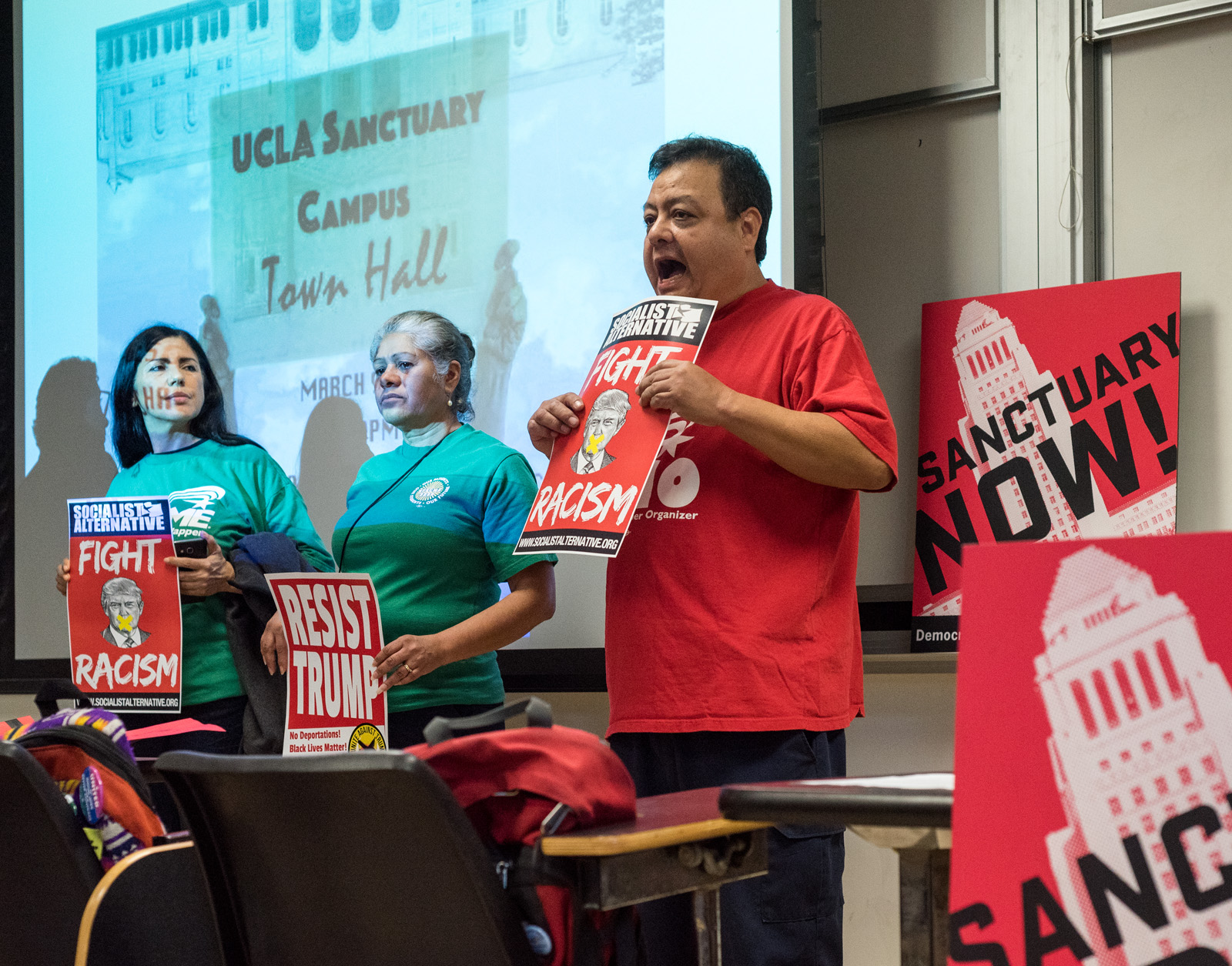 Labor union organizers and Socialist Alternative leaders spoke at the UCLA Sanctuary Campus Town Hall in Haines Hall Thursday night. (Tianyi Ruan/Daily Bruin)
Students chanted "Hey, hey, sanctuary campus UCLA!" and "Not one more … deportation!" in a crowded Haines Hall room Thursday night.
About 150 students, labor union organizers and grassroots organizers attended a town hall about making UCLA a sanctuary campus for undocumented students. The Student Labor Advocacy Project of UCLA, labor union organizers and other students led the UCLA Sanctuary Campus Town Hall to present their demands to the university.
At the event, Sanctuary Advocacy Labor Project leaders read a 15-point proposal they wrote to administrators at UCLA. The proposal included putting pressure on Chancellor Gene Block to expand labor protections for student workers and undocumented students' records from Immigration and Customs Enforcement and the federal government. They will deliver the proposal to Block's office Monday afternoon.
Event organizers expressed concern about Los Angeles Mayor Eric Garcetti's recent comments that Los Angeles is not a sanctuary city. Organizers also said they want to make UCLA or LA a safe zone for immigrants and workers even if the city loses federal funding for protecting the undocumented community.
Organizers hosted speakers from grassroots groups and labor unions, such as ICE out of LA Coalition, a group against deportation, and the American Federation of State, County and Municipal Employees Local 3299, a University of California employee labor union.
The speakers discussed how they thought the city should protect others affected by President Donald Trump's policies, such as workers and minorities, including those who have been convicted of a crime.
After reading the proposal, the event organizers took questions from audience members.
Several students expressed concerns creating concrete change and asked about how they could protect undocumented workers on campus and in LA after the town hall creating change after the event.
One student said he thinks that if Los Angeles becomes a sanctuary city, it must aggressively defend undocumented residents. Some said they would be worried about trusting the same law enforcement officials who are currently deporting people to follow sanctuary city guidelines.
One audience member said he did not support making Los Angeles a sanctuary city because doing so would give too much power to politicians who he said oppress minorities anyway. Many audience members expressed disagreement with his comment, arguing that he should not take such a stance if it does not affect him.
Tala Deloria, a fourth-year geography student, said she liked the concrete policies proposed at the town hall.
"Sanctuary cities are important to drive out the Trump-Pence fascist regime," she said.
Dana Carrera, a third-year sociology and Chicana/o student who was the primary organizer of the event, said she thinks students need to put pressure on Block to make UCLA a sanctuary campus.
She added she thinks the Student Labor Advocacy Project must be explicit in its proposals because many grassroots movements fail if they are not clear about their demands.
"We need to emphasize that UCLA holds respect and integrity in our Bruin values, but the university cannot say that if they do not protect all students," Carrera said.
Merz is a staff columnist for the Opinion section.
Merz is a staff columnist for the Opinion section.