Throwback Thursday: A look into the campus fees that support students' internet needs today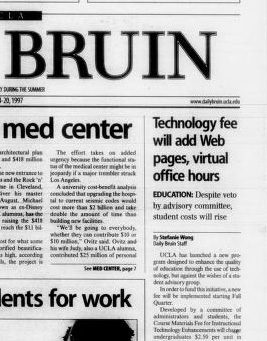 Winter quarter is coming to an end and you know what that means: time to finish paying up for student fees.
Any currently enrolled Bruin can log onto MyUCLA, click on "Finances and Jobs" and click on their BruinBill account to be able to identify which student fees are applied to their enrollment that quarter. These fees vary in amount and purpose, but they generate an income that allows the university to spend on specific campus objectives.
Some fees, such as tuition, are imposed on the students by the regents of the University of California and apply to students at all ten campuses, while other fees are campus-based student initiated fees that must be approved by the chancellor and the UCLA Student Fee Advisory Committee.
But these fees are not as old as UCLA's history. Most of them, in fact, were created after being prompted by social, environmental and safety concerns from the community.
Twenty years ago, UCLA did just that in order to keep up with the fast-paced growth of technology: the internet.
"This isn't something that UCLA is creating. This is the way the world is educationally in 1997," said the College of Letters and Science Provost Brian Copenhaver, commenting on the growing prevalence of the internet boom of the 90s.
Back then, a group of administrators proposed and implemented the course materials fee for instructional technology enhancements that charged undergraduates in order to raise funds for creating class websites and virtual office hours.
The fee charged $2.50 per unit per quarter in humanities and social science classes and $3.50 per unit per quarter in life and physical science courses.
The proposal was accepted despite Student Fee Advisory Committee's disapproval, but the decision seems to have paid off.
Because of the funds from this initiative, UCLA students today are able to receive their source content from the Common Collaboration and Learning Environment website, participate in virtual discussion boards with their classmates online and spend time surfing the internet for their research papers in computer labs across campus.
Of course, this all makes sense considering UCLA was the birthplace of the internet 48 years ago – but that's a story for next time.
Jasmine Aquino was an assistant Opinion editor in the 2016-2017 year. Previously, she was an Opinion and News contributor.
Jasmine Aquino was an assistant Opinion editor in the 2016-2017 year. Previously, she was an Opinion and News contributor.