Aaron Julian: Paul Koretz's leadership needs to be more dynamic in final term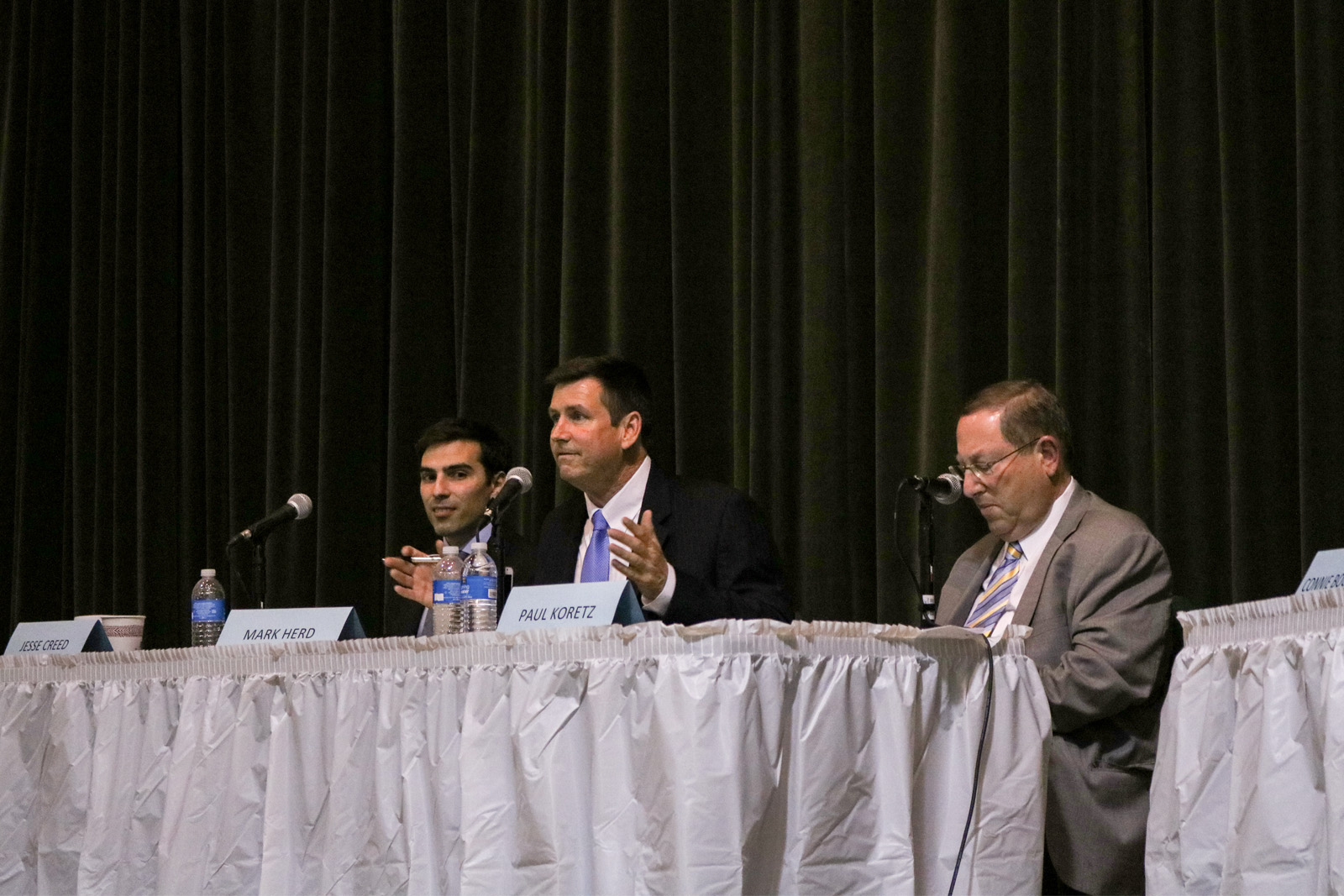 Incumbent District 5 City Councilmember Paul Koretz (right) defeated challengers Jesse Creed (left) and Mark Herd (center) to win his final term in office. (Jacob Preal/Daily Bruin)
Los Angeles is changing now faster than ever, with new businesses, residents, neighborhoods, roads and other infrastructure. But with great changes come great challenges, and the city is already getting a good dose of problems.
Westwood lies within City Council District 5, which is no stranger to tensions over development or traffic jams on freeways and city streets. Renting an apartment close to UCLA remains expensive, and commute times are becoming even longer and more unpredictable.
Our representative in the City Council is meant to be District 5's champion in city hall and attack these issues head-on. On Tuesday, incumbent Councilmember Paul Koretz defeated his opponents to win his final term. But Koretz has been considered "the safe option" by both the Daily Bruin and the Los Angeles Times because he has the know-how and experience to get things done, but doesn't often use it on pressing issues.
Over the coming years, Koretz has to be more forceful and use the vast pool of policy experts and passionate, diverse citizens to find novel ways of approaching the old and new problems the district faces.
We need strong, innovative leadership now more than ever. The rapidly changing political, economic and societal landscapes of LA have quickly rendered past policies inept at addressing modern issues. Investing over a billion dollars in expanding the 405 Freeway was not enough to alleviate traffic – the same way that simply increasing the police force is not enough to address the rise in violent crime.
One of District 5's biggest issues is the controversy surrounding Measure S, a measure on Tuesday's ballot which proposed a moratorium on major developments and an update to every neighborhood plan in LA. The measure failed by a wide margin, but it demonstrates the need for more effective community plans that play the balancing act of keeping property values and rent prices from soaring while making sure the neighborhood's infrastructure can keep pace with growth.
And then there's the congestion and road safety issues. LA is the most dangerous city for pedestrians in the United States. Yet efforts to improve safety for bikers and pedestrians must be matched with efforts to alleviate car traffic – currently among the worst in the world. Anyone who's tried to drive down Santa Monica Boulevard during rush hour knows this. While expanding bike lanes and incentivizing drivers to turn in their keys for Metro passes offer practical solutions, Koretz must show stronger leadership on this front if he expects his constituents to get to work and school on time – and in one piece.
And that's not even scratching the surface. We need officials who can go even further with reforming this city and who can jumpstart its economic engine while preserving the standards of living that we have come to appreciate in the Westwood area.
Luckily, there's a path forward – if Koretz can bring the necessary leadership gravitas.
He has access to a vast pool of experts right in his district – the professors of UCLA. He can use their knowledge and insights to address the district's – and the city's – most complex issues through experimental and groundbreaking policies. After all, cities are the laboratories of democracy, and while citywide issues are complicated, we need our council member to be open to a change of mindset and policy.
Koretz must also be clear that he's putting his constituents first. He, along with several of his fellow city officials, has faced accusations of fostering a pay-to-play culture in City Hall. Regardless of whether the accusations hold water, they undermine public trust in our local government and give the impression that the City Council values wealthy developers over residents. Koretz must be transparent in his current and future actions – perhaps by holding more town halls where constituents can submit their ideas, and where Koretz can respond to our questions and concerns.
And as citizens of District 5, we must hold Koretz to these standards. We must make our opinions and concerns known so he can respond to them.
We all know that government is slow, bureaucratic and frustrating. But while government and inefficiency go hand in hand, that is no reason to discount the importance of City Hall and its work for the betterment of the people. That's why we must stay engaged with these politicians who promise transparency and accessibility.
Koretz can do great things for this district if he can take charge. But an ineffective leader means that our traffic and rent will continue to balloon out of control. It is our duty to ensure that we are not left behind in future policy decisions and, moreover, it is our duty to be there for the city we love as it forges a new identity in the coming years.
Enjoy these last five years in office, council member. Let's make the most of them.