Freshman tennis standout Ena Shibahara follows tennis dream to Westwood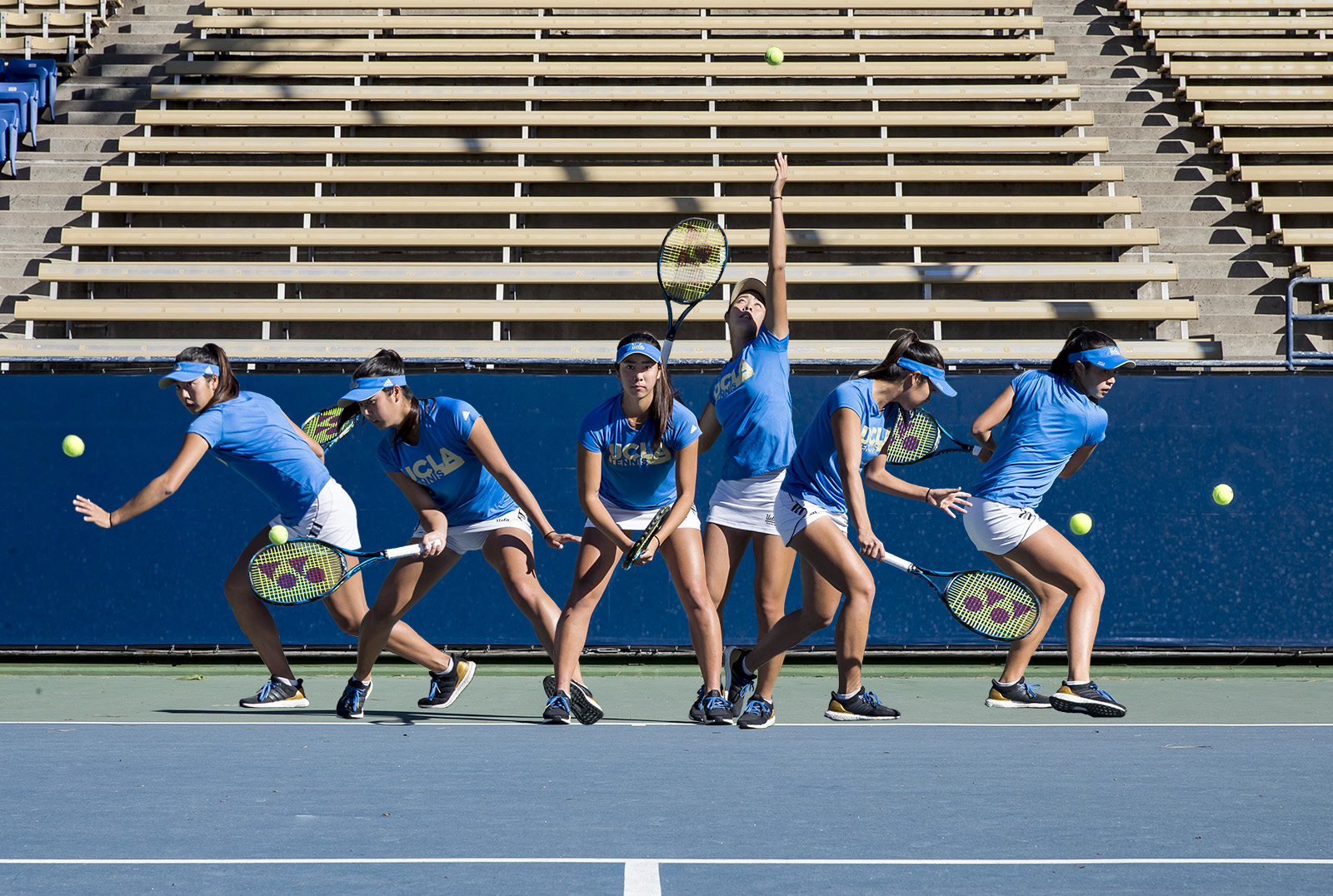 Ena Shibahara is the nation's third-ranked women's tennis singles player, and it's just her freshman year. She began forging a connection to UCLA by attending the Los Angeles Open. (Photo Illustration by Aubrey Yeo/Daily Bruin senior staff)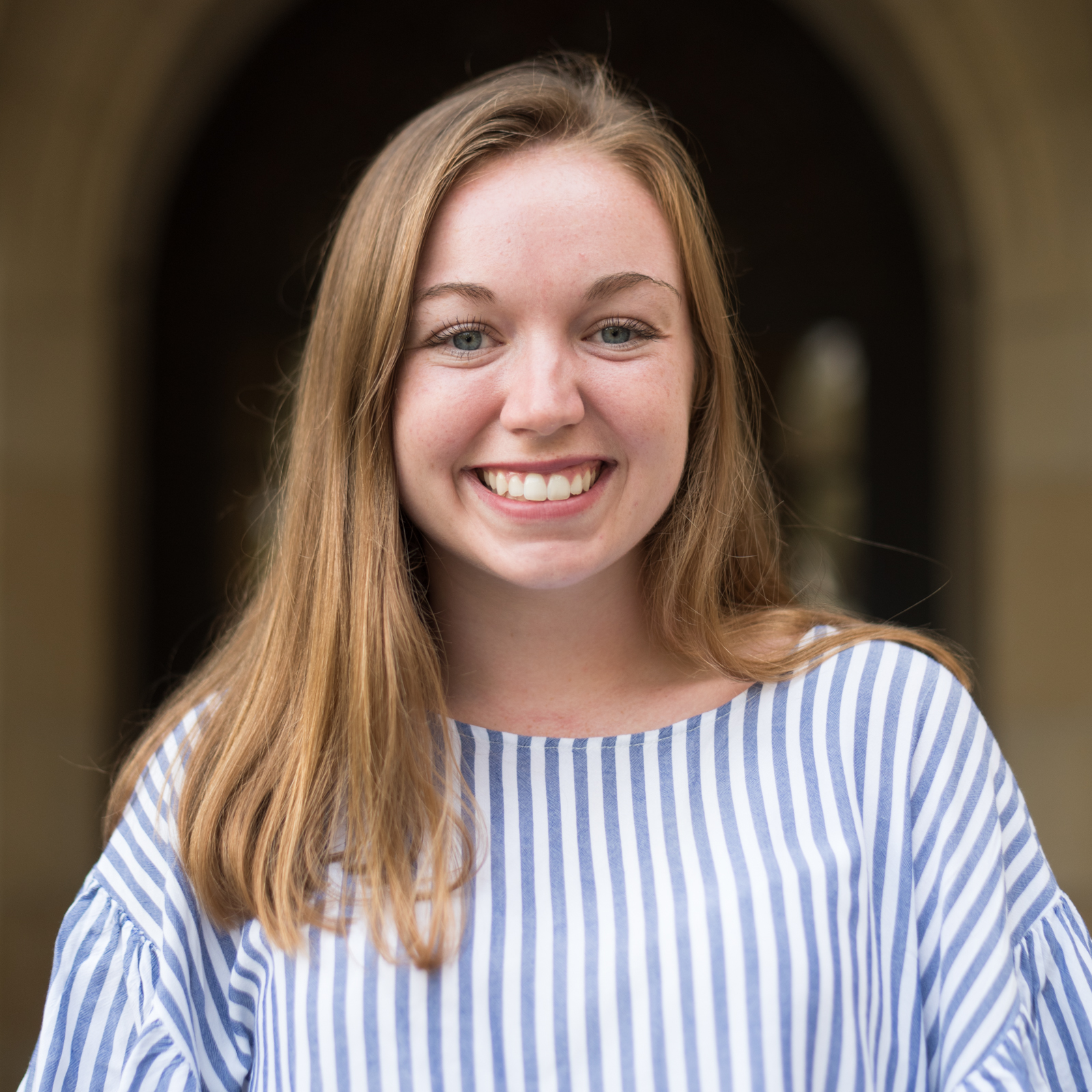 To 12-year-old Ena Shibahara, the Los Angeles Tennis Center didn't even seem like it was part of a school.
Growing up, all she knew about UCLA was that it was home to the Los Angeles Open, where a young Shibahara frequently watched professional tennis players compete.
But her view of the sprawling Westwood campus changed after she won a sportsmanship award as a 12-year-old and got a chance to hit on the Bruins' home court.
That experience was when the tennis standout learned another thing she didn't know about UCLA – how special it was.
At that moment, she wanted to be a Bruin.
"Every time I came here, it felt so special," Shibahara said, now a freshman with the UCLA women's tennis team. "But when I got to hit in the stadium, it felt so good and it opened my eyes up to this school. It was perfect and it was my school."
With two athletic older brothers, Shibahara grew up with competition in her household. The family began to develop a passion for tennis around the same time, which motivated Shibahara to be the best.
"At about 7 years old, my family would play doubles and I wanted to play with them, but they would tell me I was too small," Shibahara said. "I wanted to play so bad and would tell them 'I'm going to be better than all of you one day.' That was really my motivation to start and when I knew I wanted to play tennis for the rest of my life."
The family dynamic was always close, as Shibahara's dad and older brothers were her primary coaches. One of Shibahara's older brothers, Shuhei, took his passion for tennis to the collegiate level, playing at UC Irvine from 2011 through 2015. Her other brother, Mizuki, began playing late for his age, and enjoyed the sport more as a hobby throughout college. Their dedication was an inspiration to Shibahara, helping her pursue her dream.
From the moment of Shibahara's first tournament at 8 years old, the tennis court became her happy place.
"There was a point in my life when I was just playing tennis and was really stressed out about school and I just went out to practice and was able to enter a whole other world," Shibahara said. "Anything outside of the court didn't matter when I was hitting. It was just an escape for me."
The Palos Verdes, California, native attended Palos Verdes Peninsula High School, where she lettered in tennis all four years and was a four-time season MVP. Her skill was apparent, but what was more prominent was her dedication.
While many competitive tennis players opt not to attend a traditional high school full- time, including four of her current teammates, Shibahara managed both.
Going to school full-time while also traveling for tournaments was a balance that Shibahara had to master. Missing a couple weeks of school because of traveling, she said, was a challenge, but she was able to do independent study and finish her homework ahead of time.
Her good time management would be a continuing factor heading into UCLA, where the athletic and academic obligations are more demanding. But Shibahara's passion for being a Bruin was greater than the challenge of a rigorous schedule.
When UCLA took an interest in recruiting Shibahara, coach Stella Sampras Webster said she knew Shibahara was special, since her amount of skill and leadership was rare at such a young age.
"It's a dream (coaching a player like Ena)," Sampras Webster said. "She's got every shot in the book, so putting game plans together is very easy because she can do it all. She's been very consistent in her mentality and energy, coming out and ready to do everything."
Shibahara's skill pushes not only herself, but others, to be stronger athletes, said Sampras Webster. For redshirt freshman Jada Hart, playing doubles with Shibahara helps her to perform at the highest level.
[Related: US Open doubles champions bring new energy to women's tennis team]
"Ena can sometimes be very stingy, but that can be a positive thing," Hart said. "She wants to take over the net, and that aggressiveness is a really dominant factor for our doubles play and it helps me be aggressive too. The great thing about playing with Ena is that if one of us is not doing so well, we're able to pick each other up."
Shibahara's contribution to the Bruins extends far beyond her tennis abilities, according to her coach and teammates. Her competitive nature has lessened the blow of losing last year's top two singles players, Catherine Harrison and Kyle McPhillips, to graduation.
[Related: Women's tennis grapples with maintaining late-game momentum]
Hart, being Shibahara's roommate, is close with Shibahara on and off the court and is familiar with the spirit and positive personality that she exudes.
"I've known Ena for almost 10 years, so we have a very close friendship," Hart said. "She's a great person to be around. She's always smiling and having a good time, so I love having her as a roommate and one of my closest friends."
One quirk the roommates have is using the app House Party, which is typically used for video chatting in large groups. Instead of including many people, the two talk over the app while sitting next to each other in their room.
Goofiness aside, Shibahara has established herself as a leader, despite spending less than six months as a Bruin. Ranked third in the nation and only losing two singles matches thus far this season, Shibahara is a source of energy and inspiration for her teammates.
"She's playing No. 1 for us and, because of the way she competes, she's a great role model for our players," Sampras Webster said. "Her energy that she brings to the matches, I see it spreading to the rest of the players, and that's how I think she really leads."
While veterans serve as captains for the Bruins, Shibahara serves as a motivator, using her energy to push her team to play its best tennis.
"If I could describe her, it would be energetic," Hart said. "Off the court, she's always giggling. But, on the court, she has a competitive spirit and is always pumping herself up, which helps pump our team up too."
Thus far at UCLA, Shibahara said she has embraced the experience and atmosphere of being a Bruin, from Bruin Walk to Westwood Village. Just walking with the students, she said, makes her feel special and like a part of the school.
She said she came to college to build a strong mentality and embrace the team aspects of the game.
Based on her No. 3 ranking and a 42-9 combined singles and doubles record, she has already done this.
Forburger joined the Bruin as a freshman in 2016 and contributed until she graduated in 2020. She was the Editor in Chief for the 2019-2020 academic year and an assistant Sports editor for the 2017-2018 and 2018-2019 academic years. Forburger spent time on the women's volleyball, gymnastics, softball, swim & dive and rowing beats.
Forburger joined the Bruin as a freshman in 2016 and contributed until she graduated in 2020. She was the Editor in Chief for the 2019-2020 academic year and an assistant Sports editor for the 2017-2018 and 2018-2019 academic years. Forburger spent time on the women's volleyball, gymnastics, softball, swim & dive and rowing beats.