UC to vote on proposal to limit nonresident enrollment to 20 percent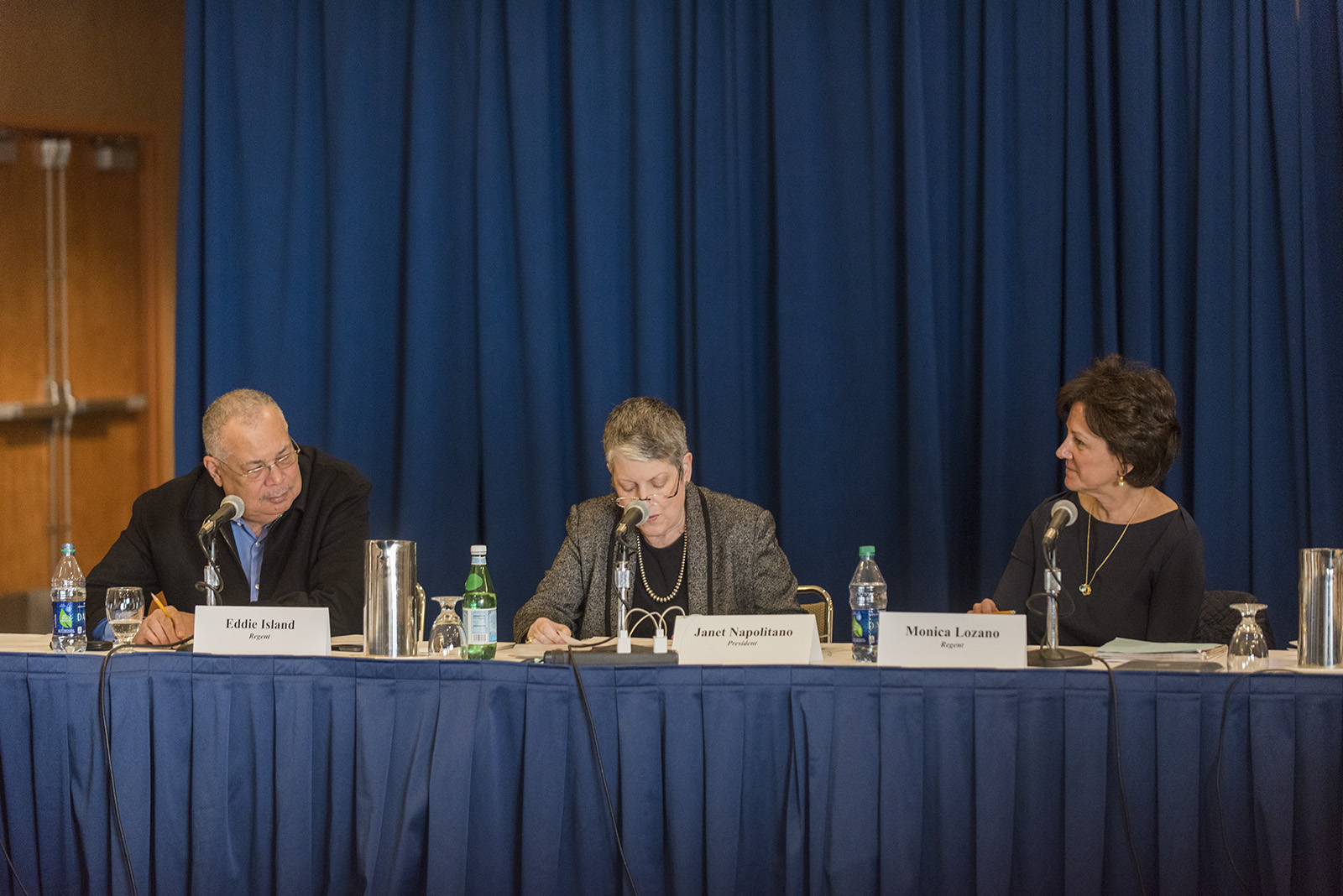 The University of California Board of Regents will vote on whether to cap nonresident student enrollment at 20 percent next week at their bimonthly board meeting at UC San Francisco. (Grace Zhu/Daily Bruin)
International and out-of-state student enrollment could be capped at 20 percent under a proposal the University of California Board of Regents will debate next week.
UC President Janet Napolitano proposed the cap to satisfy a provision in last year's budget that required UC to adopt a nonresident limit by May 1.
"This is to receive $18.5 million in state funds to grow California resident enrollment by 2,500 this fall, which we are on track to do," said UC spokesperson Claire Doan.
According to the proposal, nonresident undergraduates helped support California resident enrollment when the UC received less state funding.
For example, between 2007 and 2008 and 2016 and 2017, state funding for UCLA declined by $152 million and UCLA increased the number of nonresident undergraduates it enrolled.
Some have criticized the UC for lowering admissions standards for nonresident undergraduate students. A state audit from March 2016 found the UC relaxed admission requirements for nonresidents in 2011 and admitted about 16,000 nonresidents whose standardized test scores fell below the median and grade point average for admitted residents at the same campus.
Doan said nonresident students do not replace resident students.
"Nonresident undergraduates may only be enrolled in addition to California undergraduates, never in place of them." Doan said. "At the same time that we're capping nonresident enrollment, we are increasing enrollment of California residents by 10,000 students over three years."
Under the proposal, the three most popular campuses would be able to keep, but not increase, their proportions of nonresident students. UC Berkeley had 24.4 percent nonresident students, UCLA had 22.8 percent nonresident students and UC San Diego had 22.9 percent nonresident students.
UC Berkeley, UCLA and UC San Diego would lose $56 million total if they had to reduce nonresident enrollment to 20 percent. According to the proposal, $56 million is equivalent to the salary and benefits of about 340 full-time faculty positions.
The proposal said that the supplemental funds nonresidents pay have been key to UC's ability to maintain academic programs for California residents during periods when growth in state funding has not kept pace with increased costs. This funding has also enabled the University to improve the quality and effectiveness of instruction and add $70 million in financial aid for California residents.
The UC has said it will enroll an additional 2,500 California residents by fall 2017, but more people apply every year. UCLA became the first university in the nation to receive more than 100,000 freshman applications for fall 2017.
[Related: UCLA becomes first school to receive over 100,000 freshman applications]
"UC admissions policies overwhelmingly favor California residents," Doan said. "UC policies guarantee a spot at a UC campus for the top one-eighth of California high school graduates. No such commitment is offered to out-of-state students. California residents are also admitted at higher rates and to more campuses than nonresidents."
The UC Board of Regents will vote on the enrollment cap at their meeting at UC San Francisco next Thursday.
Contributing reports from Mary Manukyan, Daily Bruin contributor.