Women's basketball ready for postseason push as Pac-12 tournament starts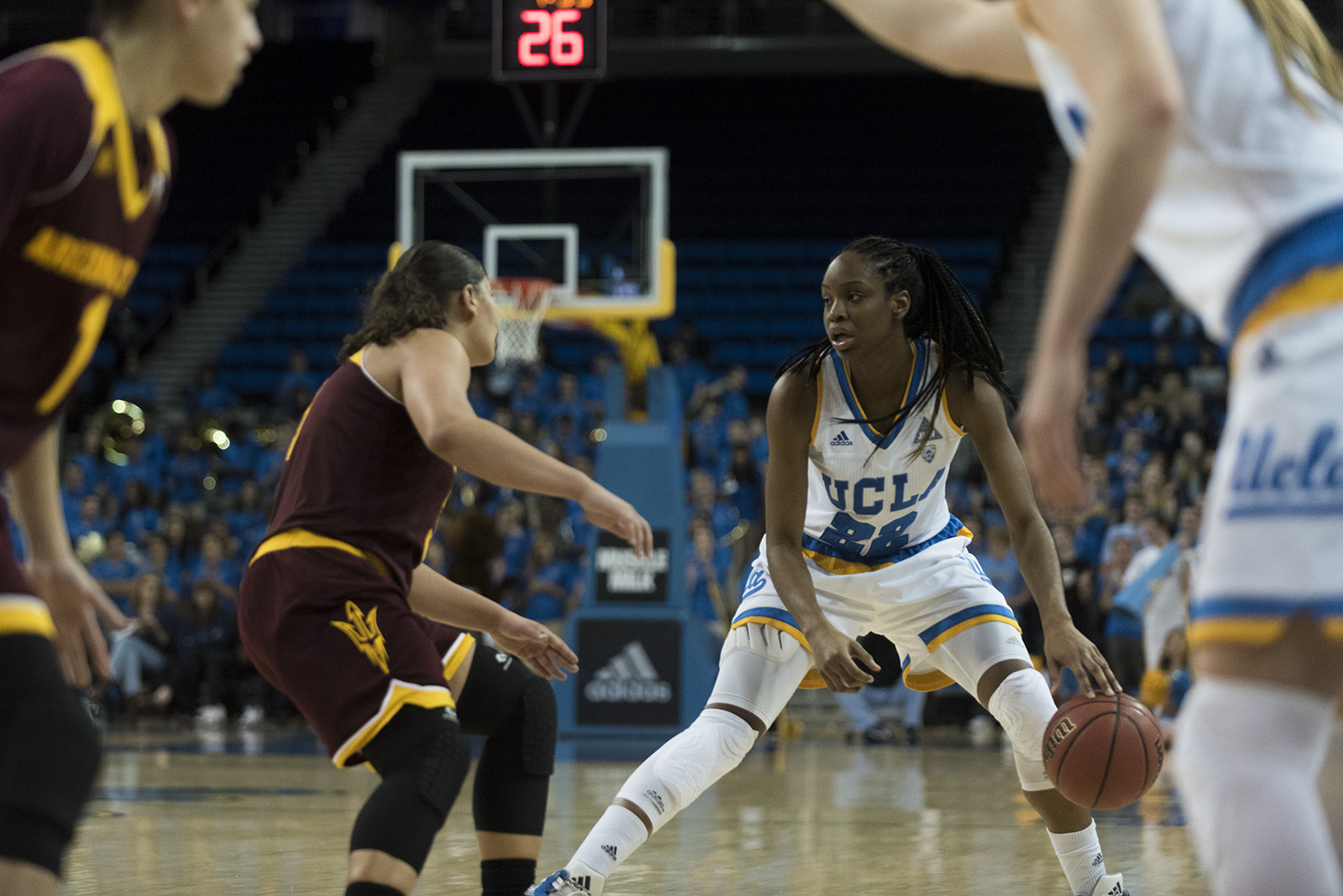 Sophomore guard Kennedy Burke received All-Pac-12 Honorable Mention honors Tuesday. She averages 12.6 points and 4.8 assists per game. (Kristie-Valerie Hoang/Daily Bruin)
The Pac-12 tournament is here, and it's been a season of highs and lows for UCLA women's basketball.
The Bruins (22-7, 13-5 Pac-12) started out the season 17-4, looking like the team that was picked to win the conference.
Over the course of the season, they would lose three players to injuries and five of their first seven conference road games, leading to teamwide confrontations.
[Related: Confrontation key to restoring unity for UCLA's women's basketball]
Still, after winning its last four games and earning the No. 10 ranking in the nation and a first-round bye in the Pac-12 tournament as the No. 4 seed, the team seems to be back where it started. It'll play the winner of Arizona State (18-11, 9-9) and Utah (16-13, 5-13), two teams that it has already beaten this season, in its first game of the tournament.
"There's twists and turns," said coach Cori Close. "We thought we'd have … some of those (players) that we haven't been able to play. We've had to pivot as a leadership group and coaches. I'm proud of how we've adjusted."
[Related: Women's basketball ends regular season with sweep of Arizona schools]
Close gave credit to role players for stepping up when the team needed it. One of those was sophomore guard Kennedy Burke, who received an All-Pac-12 Honorable Mention on Tuesday.
Burke said she wasn't bothered by the relative volatility of the season.
"Every team goes through that," Burke said. "We have to learn how to be a great team and bounce back quicker and just not look at the past."
The team has been through ups and downs before.
Last year, after a more consistent regular season, it came into the Pac-12 tournament and won its semifinal game over California in overtime. The next day the Bruins played on national television and got throttled by the Oregon State Beavers in the final.
"You can never get too high or too low in those tournaments situations," Close said. "We got way too high in our overtime win against Cal, and I thought we came out flat – how you came out flat I don't know – against Oregon State in the finals."
The Beavers are back as the front-runners again. The Bruins will likely play them in the semifinals if they get past their first opponent.
Last year's finals game still looms large in junior guard Jordin Canada's mind.
"In the finals you can't come out sluggish," Canada said. "They deserved to win it last year because we didn't give it our all. (It's about) knowing coming into the tournament that it's going to be the same thing – that you got to play from the jump."
Though the team has been somewhat inconsistent this season, Canada has been one of the focal points of the program for years. She was named to the All-Conference Team and the All-Defensive Team on Tuesday, her second time for both awards.
Canada was also the starting point guard on the team that didn't even make the NCAA Tournament two years ago. The rough patches of the season don't seem to bother her.
"Obviously we've had some disappointing losses," Canada said. "I also think that helps us learn … so when we get into the Pac-12 tournament we see those teams again, or in the NCAA Tournament we can learn from those mistakes and we can conquer them."
MacDonald joined the Bruin as a sophomore in 2015 and contributed until he graduated in 2018. He spent time on the women's basketball, women's soccer and rowing beats.
MacDonald joined the Bruin as a sophomore in 2015 and contributed until he graduated in 2018. He spent time on the women's basketball, women's soccer and rowing beats.