Bruin baseball swings in series win against Gonzaga Bulldogs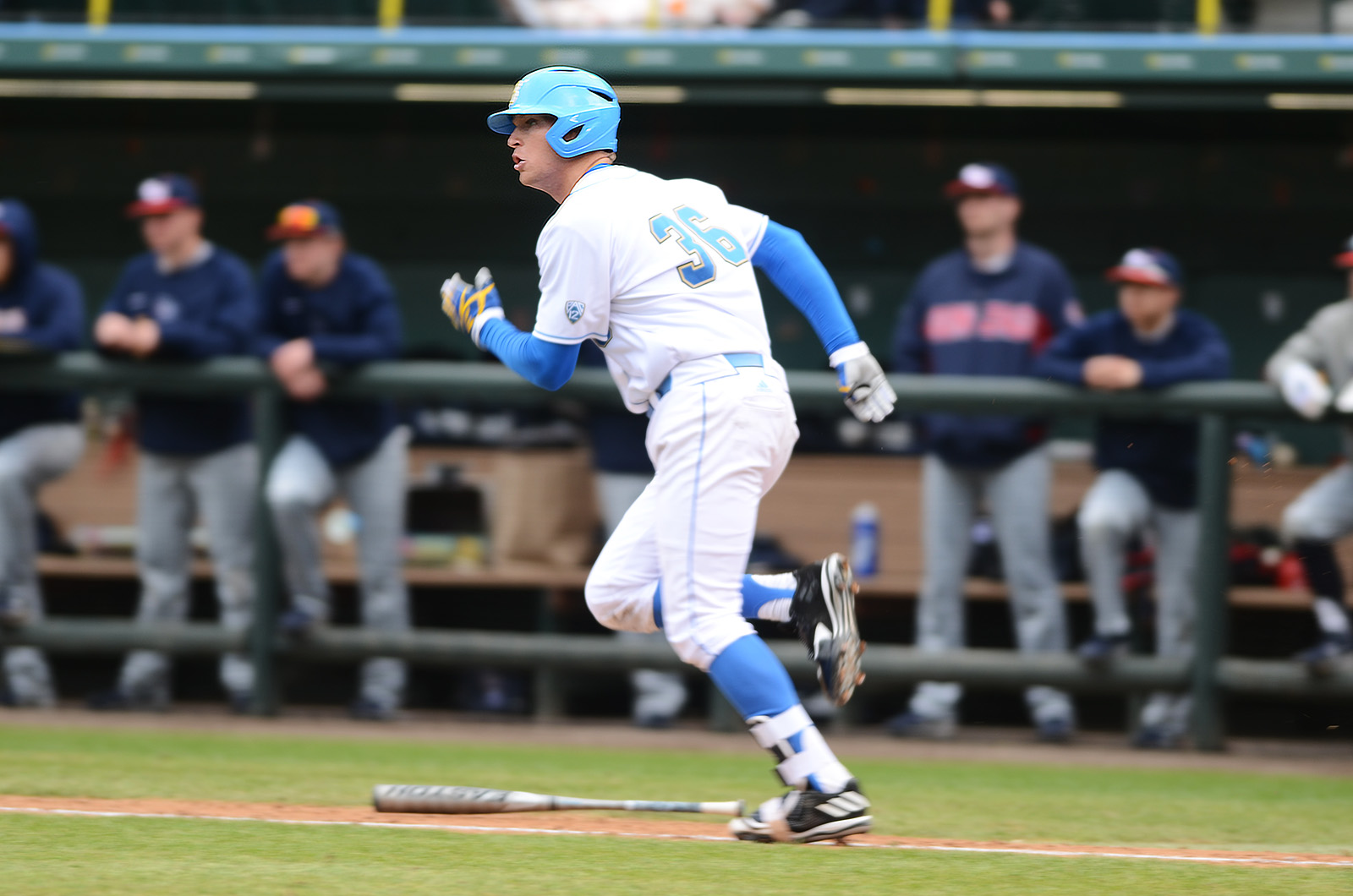 Sophomore designated hitter Jake Pries went 3-of-4 with a home run in Sunday's rubber match against Gonzaga. The Bruins came back to beat the Bulldogs 5-4. (Farida Saleh/Daily Bruin)
The early innings have not been a problem for UCLA baseball's pitching staff. That changed five batters into the first inning of Sunday's matchup.
The Bruins hadn't given up a run in innings one through six all year, but sophomore right-hander Jon Olsen put UCLA in a two-run hole in the first inning.
But the early setback did not faze UCLA (4-2), which earned a 5-4 comeback win over Gonzaga (3-4) to close out the three-game series.
"We made a couple of mistakes in the first, they got their two runs," said UCLA coach John Savage. "I was proud of how we fought. … You got to learn to play when you're down."
After stranding two runners in the first inning, the Bruins put four runs on the board in the second without the benefit of an extra-base hit.
Sophomore designated hitter Jake Pries and freshman second baseman Chase Strumpf led off with back-to-back singles. A pair of bunt singles later, they had both crossed home plate to even the score.
Senior left fielder Brett Stephens and junior first baseman Sean Bouchard each singled to drive in two more runs that inning to give UCLA a 4-2 lead.
"We had a pretty good bottom of the first inning. … We just wanted to build on it," Stephens said. "Then it got to the point where we had some runners in scoring position and had a couple of good at-bats to score four."
The Bruins proved their power matched their small-ball abilities in the following inning. After the Bulldogs pulled within a run in the top of the third, Pries answered with a one-out solo shot over the left field fence to put the Bruins up by three.
The home run, one of five hit by UCLA this weekend, was the first of Pries' career.
"(Gonzaga starter Casey Legumina) threw me a show-me fastball … so I figured he was coming back with the slider," Pries said. "He did, and that was the pitch that I was looking for."
Olsen was pulled after giving up seven hits and four runs in four innings, yielding to a bullpen that did not allow a run. Freshman left-hander Nick Scheidler held off the Bulldogs for 1 2/3 innings before running into trouble in the sixth.
Fellow freshman Ryan Garcia stepped in with two on and two out. After loading the bases with a walk, he pitched first baseman Jake Vieth to a 3-2 count and eventually forced a long fly out to end the inning.
UCLA's set relievers for the seventh, eighth and ninth innings – redshirt sophomore Matt Walker, senior Scott Burke and sophomore Brian Gadsby – put up their strongest performances of the year. The trio took down Gonzaga's last nine batters in order.
"It was good to see those guys do well in their roles," Savage said. "They were against a very veteran team."
The relievers' shutdown performances came after two rough late inning stretches earlier in the weekend. On Friday, Gadsby gave up the tying run in the ninth, allowing Gonzaga to snag a 2-1 victory in 10 innings. Senior right-hander Moises Ceja allowed two hits and a run Saturday afternoon, but UCLA held on to its 6-1 lead.
With its victory Sunday, UCLA took the series against Gonzaga, the first full series of the season after Monday's rainout against San Jose State.
This week the Bruins face a packed schedule, including games against Cal State Northridge, Michigan, San Diego and USC. Their first road matchup against CSUN will take place in Matador Stadium on Tuesday at 2 p.m.
Sanders joined the Bruin as a freshman in 2016 and contributed until 2017. He spent time on the baseball, softball and men's soccer beats.
Sanders joined the Bruin as a freshman in 2016 and contributed until 2017. He spent time on the baseball, softball and men's soccer beats.