UCLA earns highest away-game score in 197.875-197.500 loss to Utah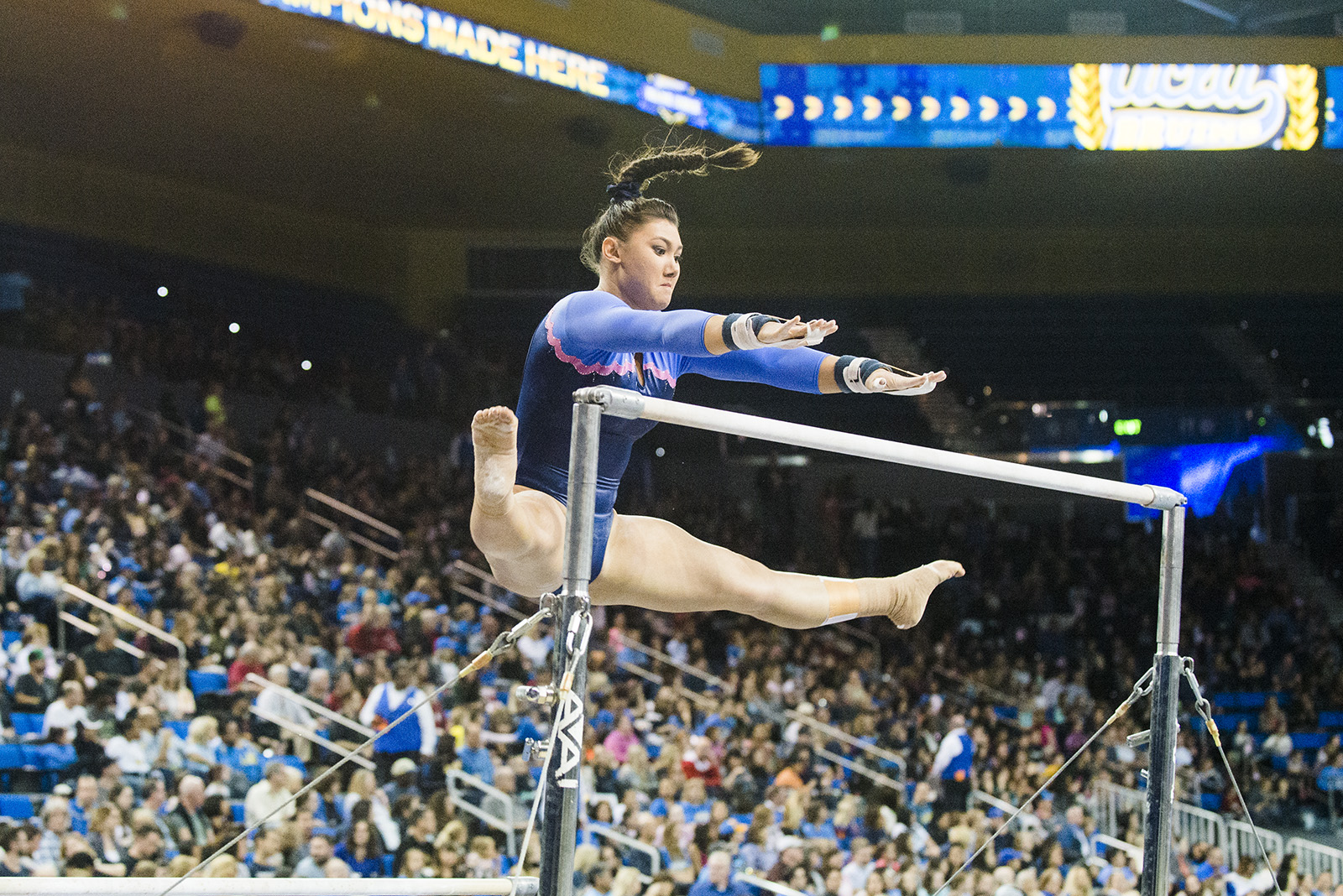 Kyla Ross claimed her second perfect 10 of the season in a road meet against Utah on Saturday. The freshman said her next goal is to get the same score at Pauley Pavilion. (Angie Wang/Daily Bruin senior staff)
February 19, 2017 5:03 pm
Freshman Kyla Ross hopped onto the uneven bars. Last week, at home against Stanford, the judges almost awarded her a second 10.0 of the season in the event.
This time, however, she would not be denied.
Ross caught all of her handstands and moved from bar to bar without a hitch. Then, on the dismount, she stuck her landing.
The judges liked what they saw and handed her a 10.0, her second of the season. Like her first one against Oregon State, this one in against Utah came on the road.
"I was super excited to get another 10," Ross said. "But I'm also a little sad because I want to get a 10 in Pauley. That's definitely my next goal – get a 10 in front of the home crowd and in front of my family and friends."
No. 4 UCLA gymnastics (4-2, 3-1 Pac-12), despite accumulating its highest away score of the season at 197.5, was outdone by No. 5 Utah (6-1, 3-1), which notched a season-high 197.875 before a sold-out home crowd of over 15,000 in the Jon M. Huntsman Center.
"We weren't as crisp as we were last week," said coach Valorie Kondos Field. "On any given day we're a mid-197 team. Had (redshirt senior) Peng-Peng Lee done her normal routine on bars, we would've been a high-197 team. Then you put all of those little things together on vault, and we're right where we were last week."
The biggest difference-maker in the meet came on vault.
Utah hit most of its landings and nabbed a 49.4 in the event. UCLA, on the other hand, could not repeat the efficiency they showed against Stanford, and posted a 49.2.
All of the Bruins had steps or hops in their landings, no sticks. Sophomore Madison Preston had a miscue in her launch that threw off her landing completely.
"We played a little tight on vault," Kondos Field said. "They were trying to stick too hard and be perfect, especially (sophomore) Madison Preston, who got a 9.95 last weekend. They just need to keep going big, not trying to be perfect. When they go big, they're all great vaulters."
On the other three events, the Bruins were clean and made up for falls with five solid scores.
Freshman Madison Kocian was her consistent self in every event, but she lost the all-around competition to Utah's ace freshman MyKayla Skinner, who closed the meet with an energetic floor routine that gave her home crowd plenty to cheer about.
Senior Hallie Mossett also stepped up with season highs on balance beam and floor exercise. She helped lead the team to a season-high 49.55 on balance beam.
"Definitely a good away meet," Mossett said. "This meet was really exciting because we did have some mistakes but we were not falling down on our spirit, so we were able to keep it up."
The meet presented a noncompetition related obstacle as well. UCLA's travel plans were muddled by s Pacific storm. The team's original flight from the Los Angeles International Airport got canceled because of rain, forcing it to take a 16-person charter flight to Utah.
That group of competing gymnasts and coaches arrived in Salt Lake City without further complications. The remaining staff did not encounter the same luck.
"They took a bus to Palm Springs to catch a flight, and ended up missing the flight because of traffic," Ross said. "They stayed the night there and had a 6 a.m. flight. Also, we had to leave three girls at home."
Now, the Bruins return home Monday for a tri-meet with Utah State and Bridgeport.
Because of the quick turnaround, the team will make wholesale changes to the lineup.
"We'll have four or five different floor people – a whole new floor lineup," Kondos Field said. "I think they're going to come out and do great."
Kocian, for the first time this season, is not slated to compete all-around. She and others are currently set to be rested.
As a result, UCLA gets a chance to display something it has not been able to on a consistent basis this year – depth.
"We have so much depth that we haven't been able to showcase this season," Mossett said. "We're excited for everyone who hasn't been able to compete or those who haven't competed that much to get out there and show their routines because they are definitely ready."
Bribach joined the Bruin as a sophomore in 2016 and contributed until he graduated in 2018. He spent time on the gymnastics, women's basketball, women's soccer and beach volleyball beats.
Bribach joined the Bruin as a sophomore in 2016 and contributed until he graduated in 2018. He spent time on the gymnastics, women's basketball, women's soccer and beach volleyball beats.