UCLA professors launch website to help students affected by travel ban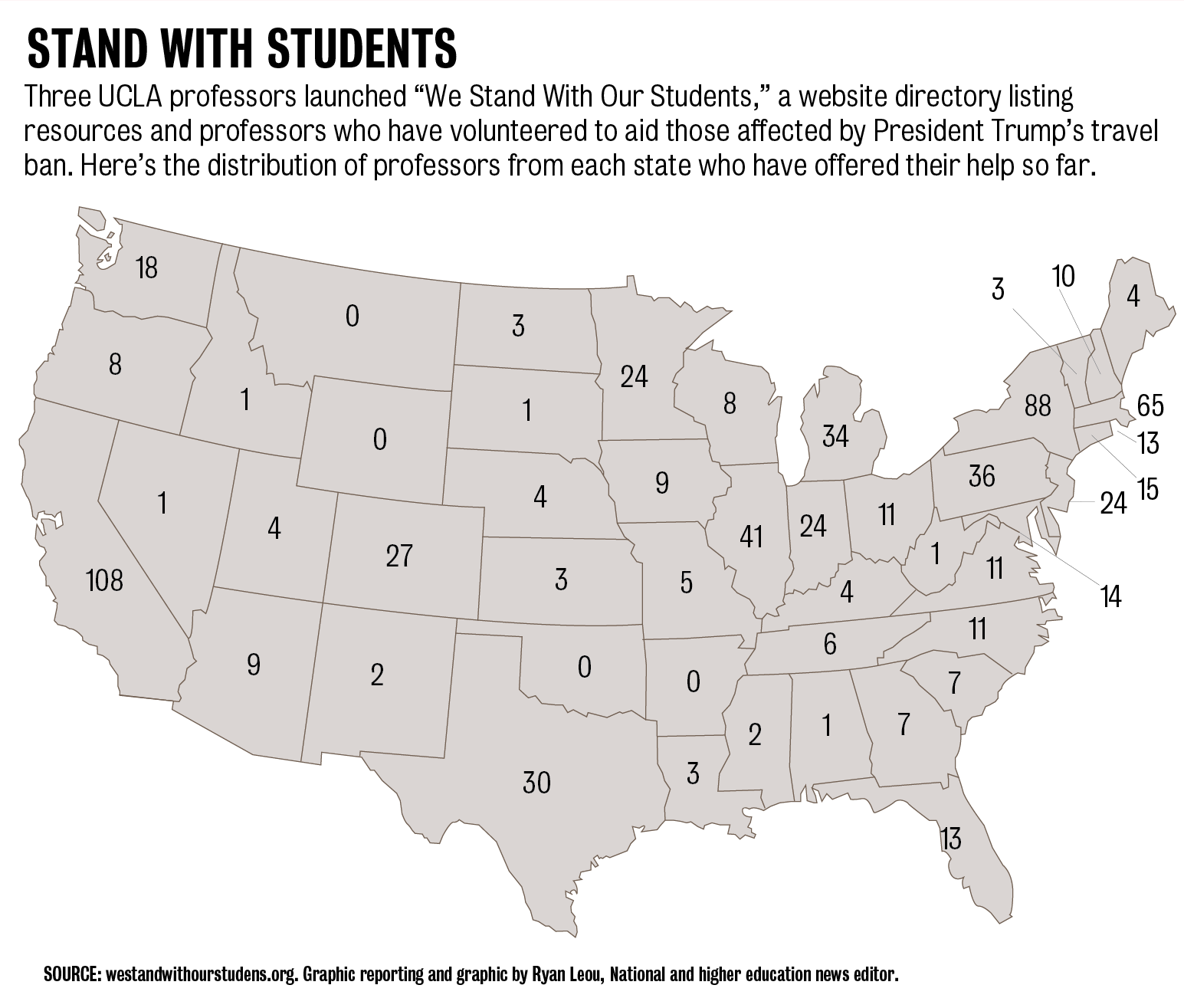 This post was updated Feb. 17 at 3:50 p.m.
A team of UCLA professors launched a website last week to support international students affected by President Donald Trump's travel ban.
Professors Graeme Blair, Darin Christensen, Michael Chwe, Erin Hartman, Chad Hazlett, Aliza Luft and Maggie Peters created We Stand with Our Students to help stranded students. The website aims to advise and assist students in navigating the potential risks of deportation or refusal of entry.
"We were all motivated by conversations with students who are affected by the executive orders over the weekend after it happened," said Blair, an assistant professor of political science. "We learned that there were many professors and students who didn't (know) how to get the right information, and the right advice about what they should do."
Chwe, a political science professor, said he thinks he has a responsibility because of his position to analyze and maintain democratic values violated by the ban.
Luft, an assistant professor in sociology, said she thinks it is a professor's responsibility to support his or her students.
"We all feel quite strongly that it is important for us not to shirk our duty as professors, not just in a classroom, but beyond the classroom as we try to connect the kind of things we teach to what is going on around us, " Luft said.
Chwe and Blair said they think the ban is a direct threat to universities' academic mission because it blocks foreign students and scholars from pursuing higher education.
We Stand with Our Students has gathered a list of over 700 allies in almost 300 educational institutions. Students can use the information on the website to directly contact faculty members on their campuses for assistance, advice and support.
"Because of the sensitivity of the issue, we designed it as such that we are not in the middle of that connection between students and faculty," Blair said. "That's the safest way for students at risk."
The website also offers a page with stories from students who feel comfortable sharing how they have been affected by the executive orders.
Chwe said he thinks it is rare to see one protest directly cause immediate national change, but any given resistance can be part of a bigger movement.
"Every time we can get together to speak as a group, not just individuals, every time we can sign a petition, or show up for a demonstration, these all add up to become a large movement and it can make a difference," Chwe said. " It (shows) that people here still care about intolerance and welcome refugees, trying to be fair and not racist."
Thousands of faculty members and students in universities are boycotting U.S.-based conferences, refusing to review articles in U.S.-based academic journals, and signing petitions denouncing the ban.
In one petition, more than 31,000 U.S. faculty members denounced the ban, including 220 UCLA affiliated academic supporters.
American Chemical Society Nano, a nanoscience and nanotechnology research journal, published an editorial that said the journal reflects the geographic, ethnic and cultural diversity that underpins great science.
Scientists on ACS Nano's editorial board, including the journal's editor in chief, UCLA nanoscience professor Paul S. Weiss, said immigrants from the seven countries on the ban have made major contributions to American science, engineering, medicine and entrepreneurship.
"This temporary ban would affect refugees fleeing war-torn areas, challenging the long-standing notion that the United States is a safe haven for those fleeing persecution and war in addition to being a magnet for talent from every corner of the world," the editorial said.