Women's basketball creates unique, personalized recruitment process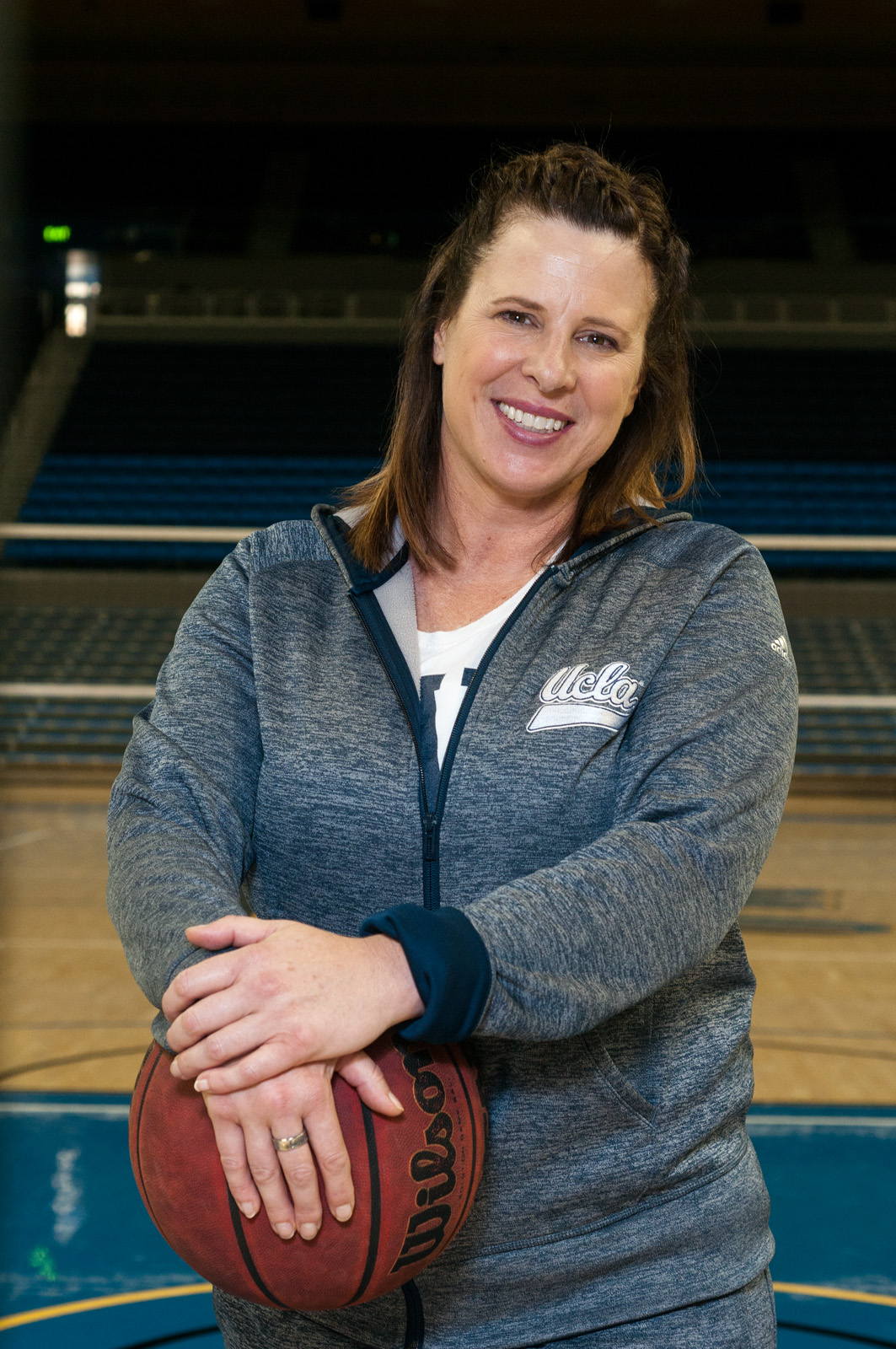 UCLA women's basketball coach Cori Close utilizes a highly engaging and unorthodox recruitment method when it comes to building the future of the Bruins. (Jintak Han/Assistant Photo editor)
An email was sent around the UCLA women's basketball office marked "classified" and "top secret."
The team was in the middle of a battle – as it is every year – to recruit the best players in the country.
The subject of the email was Natalie Chou, a highly touted player visiting from Texas. She would be moving a long way from home if she came to Westwood, which was an obstacle. As one of the best players in the country, she was also being recruited by more traditional powerhouse programs, so UCLA had to get clever.
The staff did its research. Among other things, Chou liked superheroes.
Recruiting coordinator Shannon Perry knew she could work with that and formed a secret mission. It was going to be the first operation of its kind, but would keep with the pattern that UCLA had used before. It would be well-researched, carefully orchestrated and most importantly to the staff, almost excruciatingly personal.
---
Perry's office is filled with names of prospects, some of whom are years away from graduating high school. She has a spreadsheet of all the potential recruits, with names highlighted to reflect their interest in UCLA.
A laminated chart sits on her desk of how she expects the roster to change over the years, and what positional needs she has to fill. Perry, who is also an assistant coach, calls it "a numbers game" and treats it as a science.
On the surface, the process feels formulaic. The recruits are just names on a spreadsheet.
To Perry though, and the coaching staff as a whole, the process is anything but.
---
The Texan recruit's favorite superhero comic was "The Avengers." During her tour of campus, the UCLA coaches were determined to make "the most epic campus tour ever."
Perry dressed up as Nick Fury. Her assistant, who had masterminded the operation, dressed as Black Widow. And the strength and conditioning coach, who is as built as anyone expected in that position, dressed as The Incredible Hulk.
Coach Cori Close was all for it.
"We have a boss that totally sells out," Perry said of Close. " (Close) says 'If you have a creative idea, run with it.'"
Members of the scout team were their enemies. Some of them dressed up as supervillains while others dressed to represent the other schools that they were competing against for the recruit. They would randomly appear during the tour and shoot at the recruit with Nerf guns. In line with the message that they had been telling the player, the coaches protected her.
This was the first and only time the team has done a superhero tour, mostly because not all of their recruits like superheroes as much as this one in particular.
"We find out what they like and what their interests are. We do a lot of research," said assistant coach Jenny Huth. "We don't let them give us vague answers, because we really like to tailor things to fit their interests. If we don't know their interests, we can't tailor things to fit their needs."
Huth mentioned Lauryn Miller, a three-star recruit from Missouri. Almost as important to the coaching staff, Miller also takes photographs for her high school newspaper.
Close takes photographs as well and that was all the connection they needed.
The team put together a pamphlet of how to take good action shots, much of which they took from the internet.
When Miller visited, the coaches took her on a "photography tour," where they went around all of Los Angeles and Close coached Miller on how to take good pictures of moving objects.
Miller went back to Missouri and relayed what she had learned to her friends on the newspaper.
"All of her pictures her senior year are way better," Huth said.
Miller signed with UCLA in November.
The process does not end with specific interests like photography. The team gives many of the recruits a "colors test," which is a version of the Myers-Briggs personality profile. Once the team gets a better idea of the recruit's personality, the coaches can be more deliberate in the way they relate to the recruit.
"Not everyone has this obsession with superheroes or is really excited about photography," Huth said. "It just shows the kids that we're really paying attention. We're not just listening to them, we're hearing them."
---
Another step in the recruiting trips involves a psychic. He claims to be able to be able to see into the recruit's future, and calls himself "Swami Tony."
For Chou's visit, he had set up a table on campus with a crystal ball and tarot cards. While much of the superhero tour was designed specifically for her, Swami Tony was a staple.
Behind the crystal ball was Tony Newman, an assistant coach who has been with the program since 2011.
Newman's bread and butter as the psychic is his tarot-card reading. After researching the recruit, the team designs cards that apply to the recruit's personality or interests. When the recruit chooses several cards, Newman flips them over and makes up a story with the cards that applies specifically to the recruit.
"It usually works out pretty well that the cards come up and I'm good enough at lying about a story that they're just totally shocked at what happened to them," Newman said.
Newman said he enjoys it in the moment, but couldn't hold back a hint of embarrassment. He describes the psychic readings as "kind of hokey, kind of stupid."
Perry was less embarrassed about the trick.
"He's so good and the kids are looking like 'How did you do that?' every time," Perry said. "That's one of the best things we do."
Newman is also known for being able to create a good rapport with parents. Early in the process, the coaches find the five most influential people in the recruit's life and try to make connections with them.
Often these influential people are parents, and Newman claims it is sometimes easier to get an idea of where the recruit will go from them than the player.
"Usually the parents are more open to chat," Newman said. "(When parents say) 'I'm going to miss my daughter when she goes away from home' … that means she's not going away from home."
Since Chou came from out of state, Newman was faced with that predicament. To compensate, his psychic reading game needed to be stronger than ever. When he was telling the recruit her future, he added a twist. The recruit, too, had a superpower: She was an Avenger.
"They're all coach Cori's ideas," Newman said. "Coach Cori is thinking of creative, funny, silly things that we do on visits, so I execute whatever Cori asks me to execute."
---
The process isn't always about being fun and extravagant to Close, but it's always deeply personal.
Close is also known to have recruits over to her house. She entertains them by playing "Minute to Win It" games or doing lip-syncing contests. Sometimes Close invites the current players over and – when they do karaoke or lip-syncing – the players know ahead of time what the recruit's favorite song is.
Their homework is always done.
"It's about building sincere relationships (and) there's no shortcut to that," Close said. "If you're going to have sincere, organic investment in people, that does not happen in a short period of time."
Last year she recalled the recruitment of Kennedy Burke, known as being a quiet but genuinely nice person. When the five-star recruit visited, Close showed her a video of the team giving out shoes as part of a charity program. Burke cried.
"We build sincere relationships and invest in those families and then see where the chips lie," Close said.
---
After Chou's superhero tour ended, all the chips were on the table. The recruit, now equipped with her own superpower, made one last stand against her enemies.
Perry has a picture of the event tacked to her wall. She recalled the climactic Nerf gun battle with a grin.
"There was a big epic battle at the end and everyone was fighting," Perry said, before pausing while still smiling. "And we didn't get her."
At the end of the day, Chou didn't want to move far away from home. Perry guesses that if UCLA was geographically closer, she would have signed with them.
"We see her and her mom (and they) can't wait to talk to us and say 'hey.' They're just good people," Perry said.
It's not all rejections for the team, however. In the 2014 class the Bruins signed six recruits, giving them the highest-ranked class in the nation.
"At the time we had three players (visiting) and only two scholarships left," Perry said. "It became a first-come, first-serve."
They sold that class on the idea that they could be the first UCLA team to reach the Final Four. Last year the Bruins lost a back-and-forth game in the Sweet 16, and this year the team has struggled on the road, but has also beaten some of the conference's best teams.
Whether they reach that goal of the Final Four is still up in the air. Basketball and recruiting are very different games.
MacDonald joined the Bruin as a sophomore in 2015 and contributed until he graduated in 2018. He spent time on the women's basketball, women's soccer and rowing beats.
MacDonald joined the Bruin as a sophomore in 2015 and contributed until he graduated in 2018. He spent time on the women's basketball, women's soccer and rowing beats.