CDC acting director talks preventing disease breakouts at Burkle event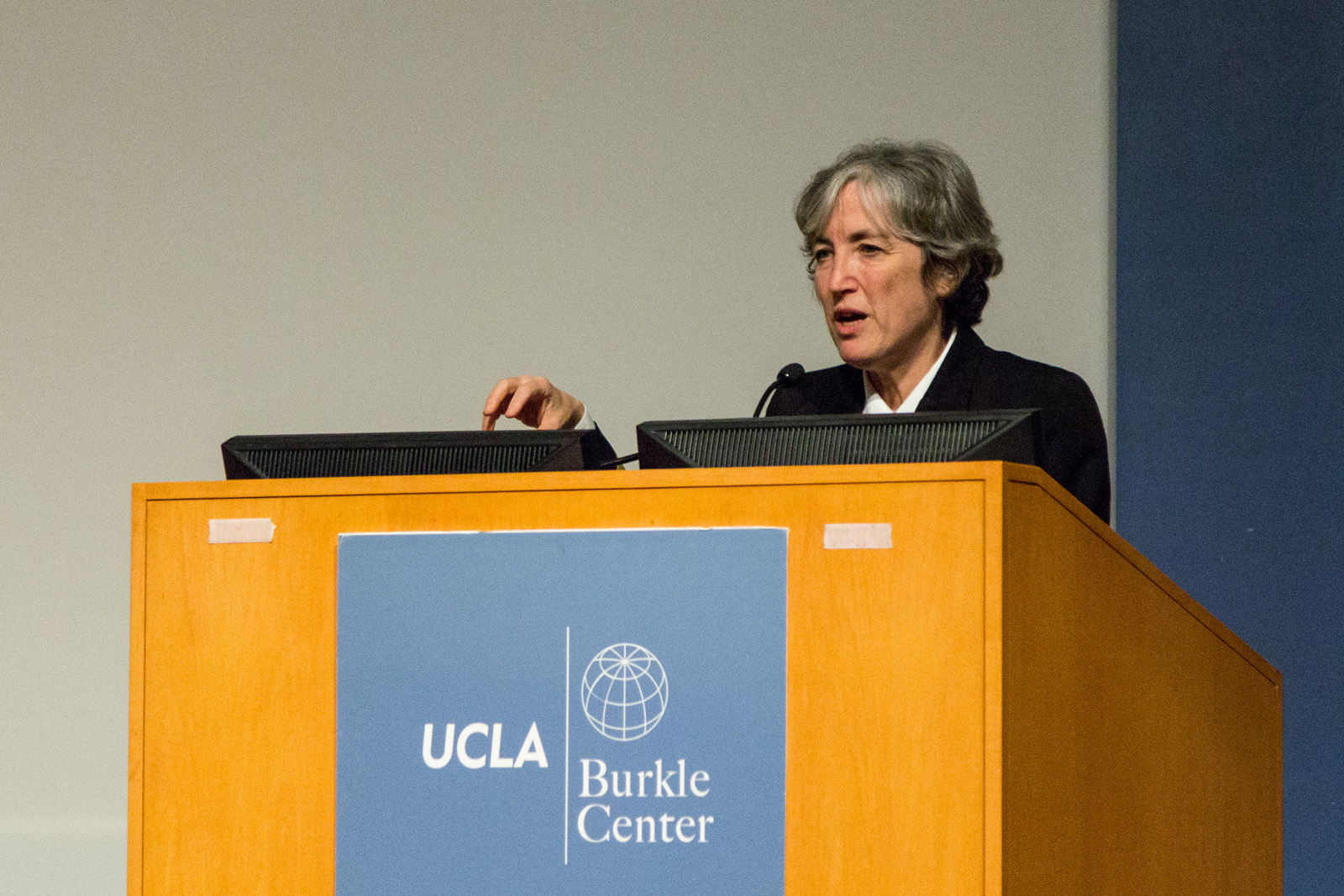 Dr. Anne Schuchat, acting director of the Centers for Disease Control and Prevention, shared her experiences tackling global health crises at UCLA Ronald Reagan Medical Center on Monday evening. (Amy Dixon/Daily Bruin)
UCLA students, faculty and physicians learned more about measures in the international health community that aim to prevent major disease breakouts at an event Monday night.
The Burkle Center for International Relations, UCLA Center for World Health and the Health and Human Rights Law Project at the UCLA School of Law, organized the event with Anne Schuchat, the acting director of the Center for Disease Control and Prevention.
The centers hosted Schuchat because they thought her experience in public health could give students and faculty deeper insight into global health crises and the challenges the CDC faces.
Schuchat discussed major outbreaks in the past, including the Severe Acute Respiratory Syndrome, disease epidemic in East Asia and the ongoing work to stop the spread of the Zika virus in South America.
"The CDC is often labelled as the world's 911," Schuchat said. "But we want every country to get the capacity to respond effectively and independently on disease outbreaks."
Schuchat said she thinks increasing globalization has made the impact of potential large-scale outbreaks even more dangerous. She pointed to the SARS outbreak as an example, citing the $50-billion economic impact the virus had on the world economy.
She added the CDC plans to help other countries around the world to try to strengthen their health infrastructure as a preventative measure for these types of outbreaks.
Schuchat also said the CDC is focusing on improving four factors of health infrastructure in other countries: disease tracking, lab systems, building a larger workforce of disease detectives and disease outbreak responses.
The CDC is helping create a global accountability framework to evaluate and examine flaws of the public health sectors in every country, Schuchat said.
Many students at the event said they were interested in learning about Schuchat's experience working in the public health sector for more than 30 years.

"She has a general understanding of all these different diseases," said Divya Prajapati, a second-year molecular, cell and developmental biology student. "She had an idea of the history of the disease along with many anecdotes about coming up with solutions for them."
Shaun Shanmukha, a fourth-year psychobiology student, said Schuchat's lecture gave him perspective into the difference between theory and implementation of a solution.
"She made me realize how pertinent (an) infectious disease is to the whole world," Shanmukha said.