UCLA offers Fiat Lux courses about Trump campaign, presidency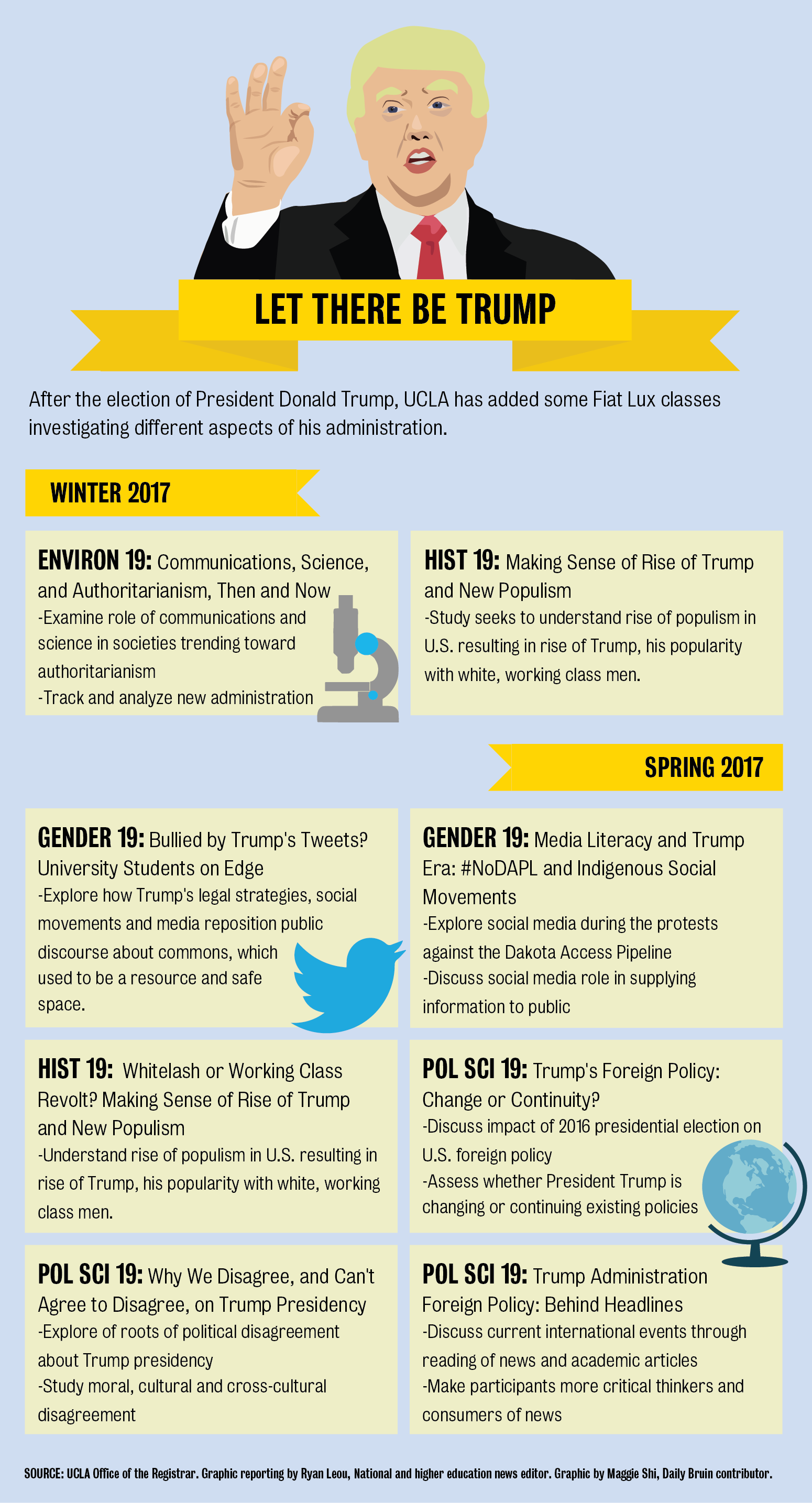 The UCLA Division of Social Sciences offered faculty up to $1000 to teach seminars about President Donald Trump and the 2016 election in the spring.
Faculty will lead six seminars about issues relating to the 2016 election, some of which were awarded funds through the Social Sciences Dean's Fund for Programs & Teaching Related to the 2016 Presidential Election.
Professors who are teaching the seminars said they want to help students better understand the intricacies of President Trump's unconventional campaign and the 2016 election.
Fiat Lux seminars are one-unit courses on specific topics, designed for first-year students. The seminars are offered only to first-year students on first pass, but upperclassmen can enroll in them on second pass.
"Trump's presidency raises a lot of questions about what can or will happen," said Susanne Lohmann, a political science professor who will be teaching a Fiat Lux titled Political Science 19: "Why We Disagree, and Can't Agree to Disagree, on Trump Presidency."
Lohmann added she thinks students are eager to better understand the president, his policies and the ideology that propelled them.
Fiat Lux courses often cover current socio-political phenomena. The Fiat Lux program originated in 2001 as a direct response to the terrorist attacks on Sept. 11. The first seminars were intended to provide students with a space to facilitate discussions about topics that would otherwise go unaddressed in traditional classroom settings.
Following the 2008 presidential election, UCLA offered three Fiat Lux seminars about Barack Obama.
This quarter, faculty offered two seminars about President Trump in the history and environmental science departments.
In spring quarter, two political science Fiat Lux courses will discuss Trump's foreign policy and the many disagreements people have had about Trump.
One gender studies seminar will study the effect Trump's campaign and presidency has had on people and the media's depiction of the Dakota Access Pipeline in the "Trump-era."
Additionally, the history department will offer one seminar about the historical context that facilitated Trump's election, focusing on Trump's popularity with white, working-class men.
Laura Gómez, interim dean of social sciences, implemented the Dean's Fund for Programs & Teaching Related to the 2016 Presidential Election this year to incentivize professors to teach seminars regarding the 2016 election.
Professor Reynaldo Macías, who served as the dean of social sciences during Obama's election, said he did not offer any supplemental funding for specific Fiat Lux seminars in 2009, though he did support the Fiat Lux program in general.
Leslie Johns, a political science professor, said she had not considered teaching a Fiat Lux until she heard about the fund.
"Faculty don't receive teaching credit for teaching Fiat Lux seminars," Johns said.
She will teach a Fiat Lux on Trump's foreign policy in the spring quarter.
Some students have expressed an interest in the new seminars.
Alliance Megala, a second-year theater student, said she thinks the course offerings are timely.
"It's better to understand something now than later," Megala said. "It gives a good introduction of what's going to happen in the next four years."
Niki Kashfian, a first-year undeclared student, said she wouldn't take a Trump-related Fiat Lux seminar because she doesn't think it's necessary.
"There's so many other better Fiat Luxes I could take, but I feel like other people would feel differently," she said.
Megan White, a first-year undeclared student said taking a Trump-related Fiat Lux would be a good way to explore both sides of contemporary politics.
"I tend to agree with many of the opinions that the campus has, but at the same time I think it's important to discuss both sides and talk about it," she said.
Contributing reports from Yiling Liu, Daily Bruin contributor.