Softball takes all five games against four schools at weekend tournament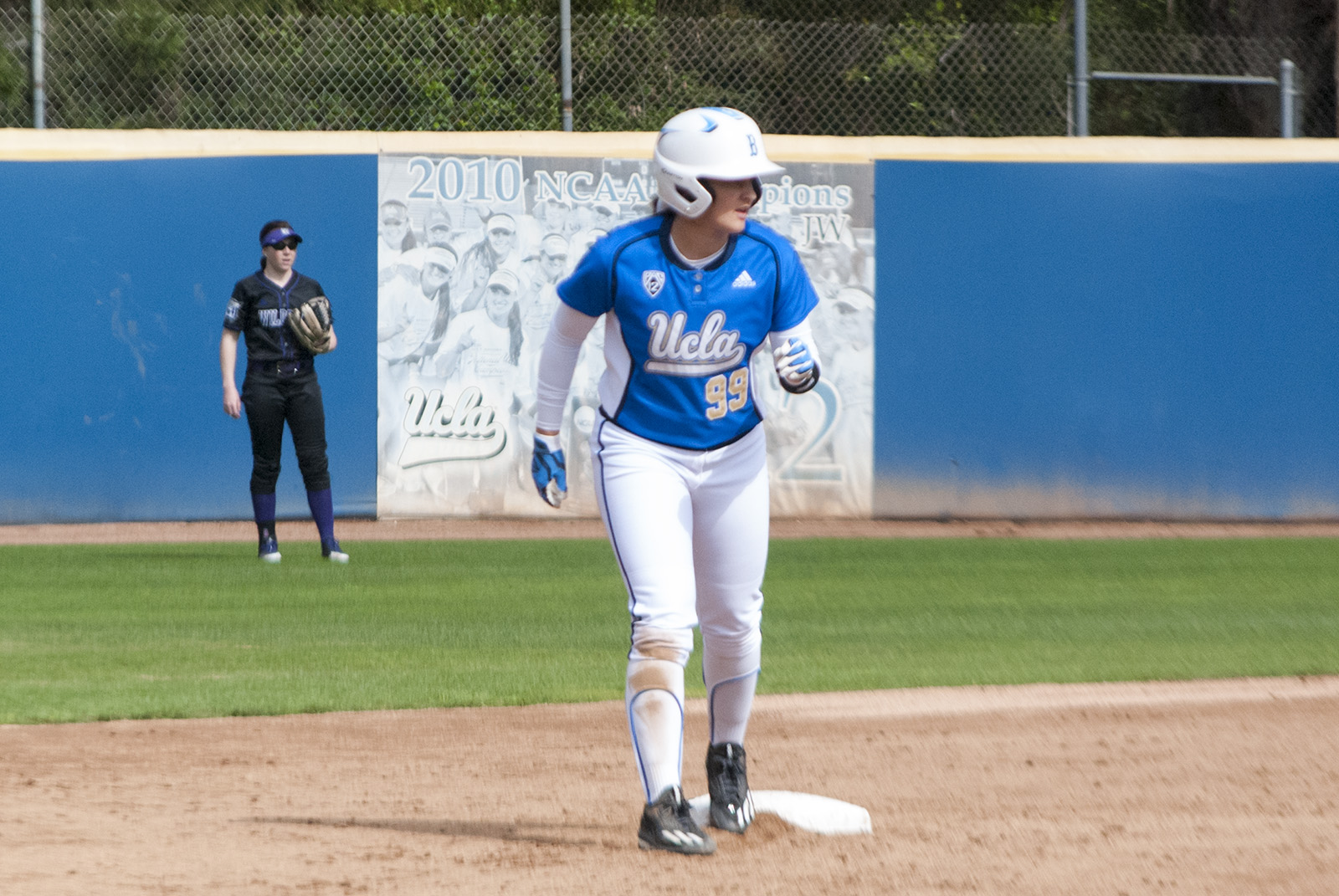 Delaney Spaulding tore it up in the first five games of the season. The senior shortstop hit .706 with two home runs and six RBIs. (Nick Kardan/Daily Bruin)
No. 8 UCLA softball scored 48 runs in five games last weekend.
The opposition scored two.
"We have been attacking the strike zone, allowed for no free passes and provided confidence in our offense," said coach Kelly Inouye-Perez.
UCLA (5-0) dominated the field at the Stacy Winsberg Memorial Tournament, beating South Dakota (0-6), San Diego State (2-3), Weber State (0-4-1) – twice – and No. 22 Notre Dame (3-2) to start its season.
UCLA competed against South Dakota on Friday. The verdict: a complete game shutout by junior pitcher Johanna Grauer and a 6-0 victory.
The scoreboard remained empty until the bottom of the third, when shortstop Delaney Spaulding opened the scoring with a home run to center field. The senior hit .706 on the series.
"Delaney Spaulding all weekend has done an amazing job at the plate," Inouye-Perez said. "She has had quality at bats all weekend."
Sophomore right fielder Paige Halstead and redshirt freshman Rachel Garcia – as the designated player – each added a home run as well to beat the Coyotes.
UCLA would hit three home runs again when it played San Diego State later that day, en route to a 8-0 victory. Garcia made her NCAA debut in the circle, firing five scoreless innings and striking out seven to earn her first win.
The Bruins took a pair of games Saturday against Weber State. In the first game, freshman third baseman Bubba Nickles extended UCLA's lead with a two-run shot to right field in the fifth inning.
Junior Selina Ta'amilo pitched all seven innings in the 4-1 win, surrendering the Wildcats' only run on an RBI single to center.
In the second game, the Bruins picked up a decisive 22-1 victory. The mercy rule shortened the game down to just four and a half innings, but three UCLA players still had three-hit games.
The Bruins trailed briefly in the blowout, with Grauer surrendering a solo shot in the top of the first.
UCLA faced a ranked team for the first time Sunday, beating Notre Dame 8-0. The Bruins activated the mercy rule in the bottom of the fifth on a two-RBI triple from Spaulding, ending the game and the weekend.
The Bruins will host No. 20 Kentucky (3-2) on Wednesday.
Sered joined the Bruin as a junior in 2017 and contributed until she graduated in 2018. She spent time on the softball, men's volleyball and men's soccer beats
Sered joined the Bruin as a junior in 2017 and contributed until she graduated in 2018. She spent time on the softball, men's volleyball and men's soccer beats