New USAC campaign encourages students to vote 'no' on LA's Measure S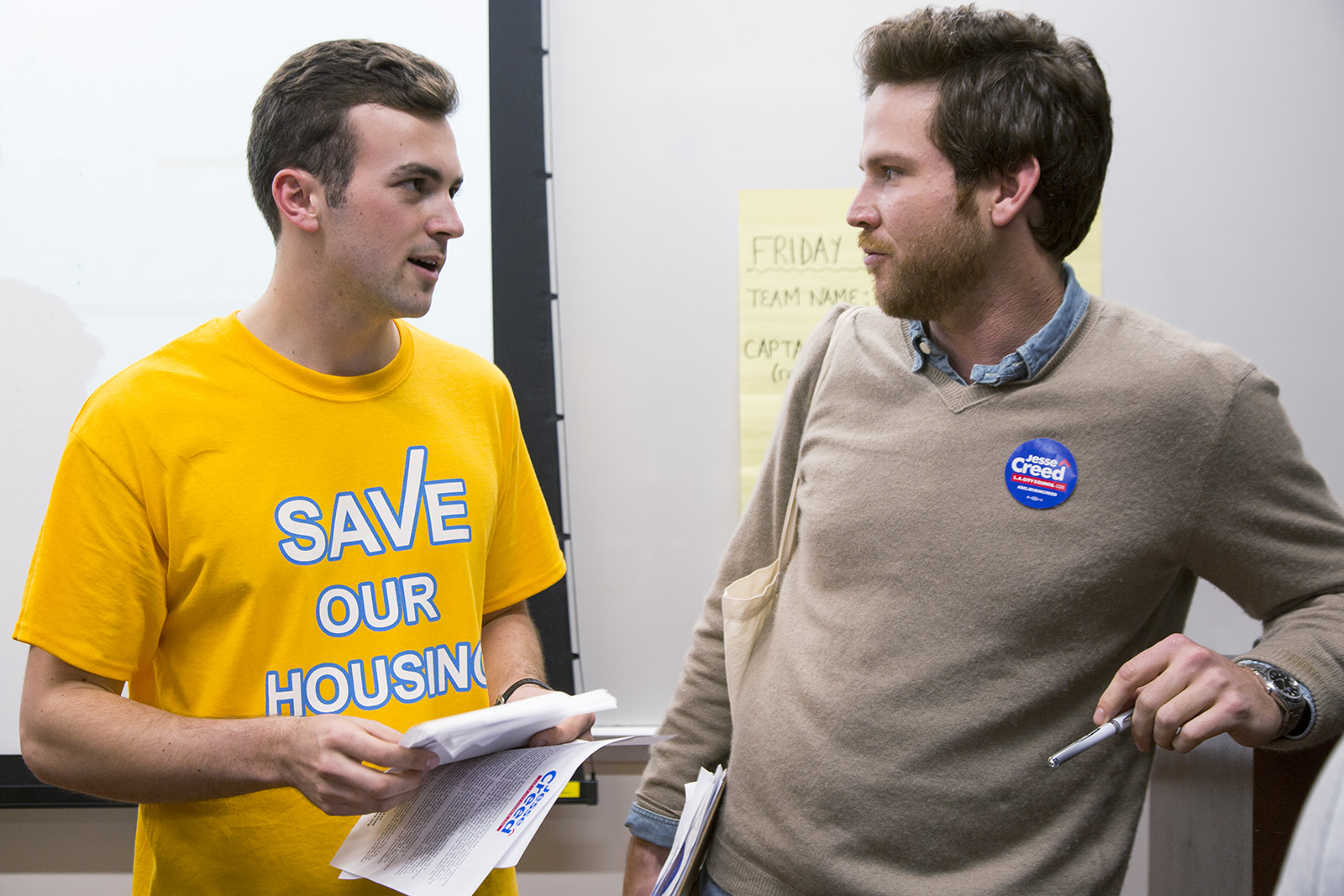 Rafi Sands, USAC external vice president, engaged in a discussion with Matthew Ziering, member of Jesse Creed for LA City Council campaign, on the need to vote against Measure S and ways to increase student voter turn out during the campaign's first meeting on Thursday. (Haoyang Yan/Daily Bruin)
February 11, 2017 2:47 pm
Students began preparing for a campaign Thursday against a new housing measure that would restrict off-campus housing developments.
The undergraduate student government external vice president's office held an event for a new campaign, Save UCLA Housing: No on Measure S, to encourage discussion about the Measure S ballot initiative. About 70 students listened to speakers and discussed the consequences of the measure.
Measure S would restrict new housing developments in terms of height and density limits on the upcoming March 7 city election. The measure would limit construction of Westwood apartments to a maximum of three stories tall.
"Given that Westwood housing can't expand outwards because of the limited building space, the only option is to build upwards." said Madeleine Powell, an EVP staff member. "But the measure will make it hard for developers to increase housing development, which would really impact off-campus housing for UCLA students."
Enrollment is increasing every year and students will eventually face problems of limited housing, said Rafi Sands, Undergraduate Students Association Council external vice president.
In addition to decreasing housing supply, the measure would eventually increase rent across the city, said Matthew Ziering, a member of the Jesse Creed for Los Angeles City Council campaign. This means it will become even harder for students to live on and around campus, he added.
Students were organized into teams during the campaign's first meeting to advocate on Bruin Walk to increase voter turnout for the Los Angeles County elections during weeks six, eight and nine. The campaign will target voter registration throughout week six, similar to the efforts of UCLA's BruinsVote! coalition in fall. Campaigners will also be out on Bruin Walk starting from week eight to reach more students and get them to vote on Tuesday of week nine, Powell said.
Andrew Kratzer, outreach coordinator of No on Measure S, spoke to students about the urgency of the upcoming election, and encouraged them to act against Measure S.
Supporters of the measure claim the initiative would curtail city politicians' ability to give space favors to developers. However, the speakers at the meeting argued the measure is poorly written and it will not fix the dishonesty in politics, but rather incur greater consequences on Los Angeles' affordability crisis and UCLA students.
Kratzer then urged attendees to put in their greatest efforts to get the word across campus about the measure.
With city elections less than a month away, the office of the external vice president said they hope to change the outcome of the elections.
"The key of the campaign is to educate the students and get them to the polls," Sands said. "The efforts of the campaigners can make a huge difference."
The office is still confirming exact on-campus polling locations, which will be located in similar locations to the November election polling spots for convenience, added Powell.
The meeting ended with students signing up to help advocate for the campaign in the next few weeks.
Ian May, a second-year political science and statistics student, said that as a student who is considering off-campus housing next year, he thinks Measure S is a huge problem. May said students will be forced to find options further away if housing becomes expensive.
Isaiah Rutledge, a first-year political science student, said he thinks this campaign is a good start toward student advocacy against the measure.
"Although I don't live off campus, we are all connected as Bruins," Rutledge said. "And if students suffer from this measure then I see it impacting the whole campus."
Considering the large scale of the measure's impact, international students should also get involved even if they cannot individually vote, Ziering said.
"International students can go door to door, phone banking or even get involved in local communities," Ziering said. "They need to empower themselves and realize that one volunteer could potentially bring in a lot of votes."
Sands said he thinks every student should show up to vote or engage in advocacy over the next three weeks, since the outcome of the ballot will impact a large population of students at UCLA.
Kim is the assistant news editor for the campus politics beat. She was previously a contributor for the beat.
Kim is the assistant news editor for the campus politics beat. She was previously a contributor for the beat.