Ankita Nair: Pre-medical students need centralized resource center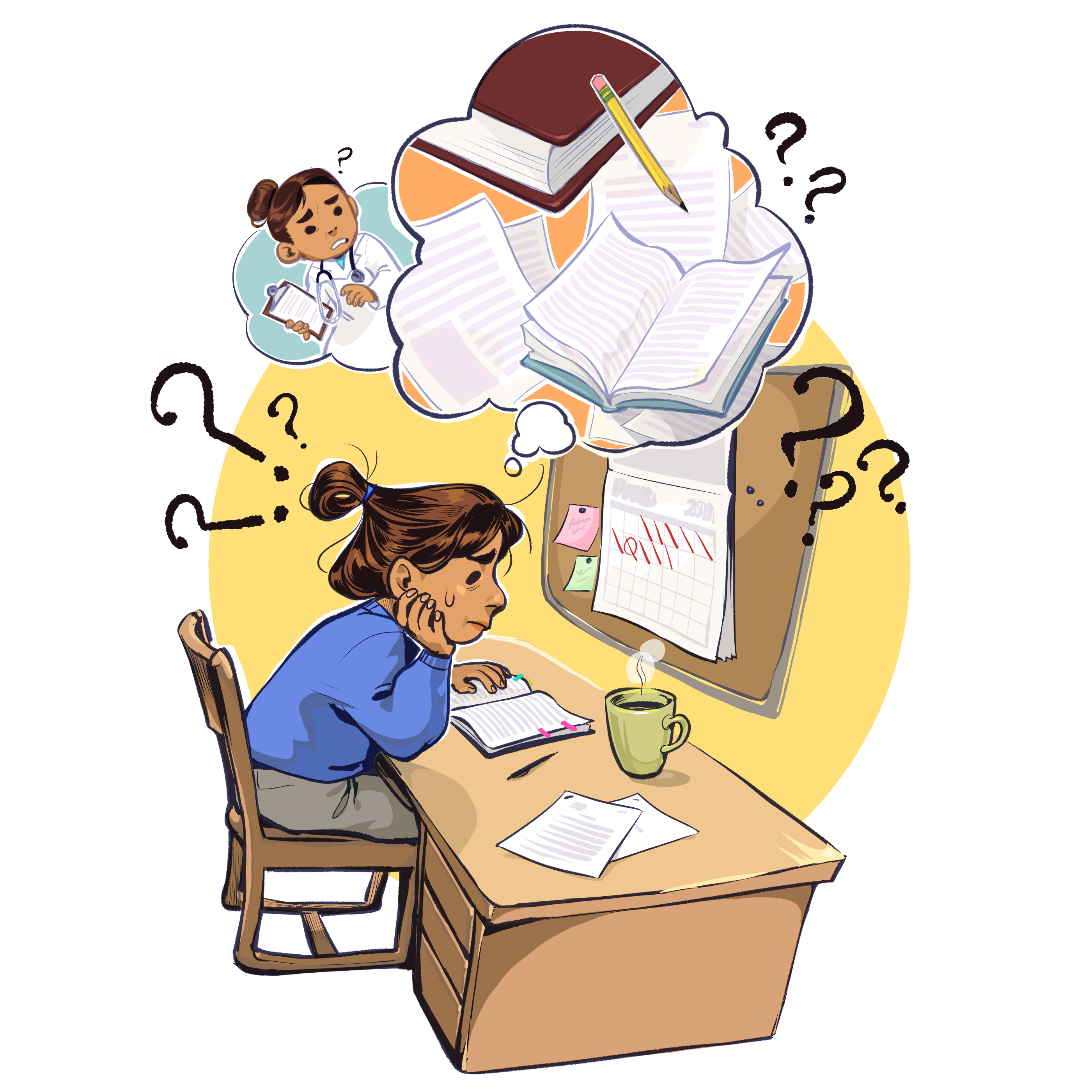 I'll never forget how I felt walking around campus during zero week. I had just decided I wanted to attend medical school and couldn't help but be amazed by the sheer number of health-related clubs, organizations and informational events on campus.
I thought it would be easy to find health-related activities that would catch my interest. But as fall quarter progressed, I received fewer emails from clubs, heard less about pre-medical opportunities and info sessions and began to question whether UCLA would help prepare me effectively for medical school.
I'm not alone. UCLA has thousands of pre-medical students and hundreds of pre-medical related clubs and activities, yet students often struggle to find the extracurricular opportunities that are right for them.
It's important they do, though. Admission into medical school is incredibly competitive. The David Geffen Medical School at UCLA accepted only 1.45 percent of applicants last year. As a result, it's become more important than ever for pre-medical students to be involved in meaningful research and clinical, volunteer and extracurricular commitments.
Pre-medical students receive official information from career and departmental counselors who advise them on which classes to take and help them with the process of applying medical school.
They also receive weekly emails from their departmental advisors about opportunities. Unfortunately, these emails only include opportunities from certain student groups and campus organizations. Additionally, they are only sent out to students within specific majors.
Consequently, the opportunities sent out to students are only a small sampling of the offerings available at UCLA and not every student receives the same information. For example, a pre-medical student studying ecology, behavior and evolution might be notified of different extracurricular opportunities than a pre-medical student studying human biology and society.
It can be challenging for students to figure out how exactly to be involved in these activities. Pre-medical resources at UCLA are scattered around campus and there isn't a central source of information pre-medical students can access.
To better support pre-medical students, UCLA needs to establish a centralized source of information where students can access a comprehensive listing of pre-medical related internships, volunteer opportunities, clubs and research opportunities. Such a database would make it easier for students to find opportunities that are the right fit for them and would help them present a stronger medical school application.
Any pre-medical student can show you the apparent confusion and lack of organization of resources for them on campus.
For example, Athena Dong, a first-year neuroscience student, said she receives most of her advice from upperclassmen in clubs she participates in, like Medical Friends and the Alumni Scholars Club, but sometimes she still has questions.
"Generally I ask upperclassmen. I have mentors in two clubs," Dong said. "But in terms of taking classes and what clubs to join, I'm sometimes lost and I don't know what to do."
Derek Zhang, a second-year linguistics student, said he receives most of his information from classmates and through the UCLA student Facebook group "Premed Advising @ UCLA." He added he thinks it's annoying that students have to do their own extensive research to find out about the various resources and activities available on campus.
These students, along with several others I interviewed, bring up a relevant point: They are unaware of the numerous enriching activities happening both on and off campus and aren't able to take advantage of all the opportunities around them.
There is also a valid point to be made about the resources UCLA currently provides for students. Departmental advisors like Inna Gergel from the Department of Integrative Biology and Physiology and Cyndi Tando from the UCLA Institute for Society and Genetics – under which the human biology and society degrees fall – said they rarely hear questions about extracurricular activities from students.
Gergel emphasized that students should meet with their department counselors not just for academic help, but also for advice on extracurricular activities and other aspects of the pre-medical experience. Additionally, she recommended students contact campus resources like Partnership UCLA, the Career Center, the Undergraduate Research Center and the Center for Education Innovation and Learning in the Sciences.
While the advice Gergel suggests is helpful to students, it's just one way of tackling a multifaceted problem. Students should definitely be reaching out and building their networks to discover more opportunities, but at the same time, a world-renowned institution like UCLA is expected to provide these basic resources – especially since Ronald Reagan UCLA Medical Center holds the title "Best in the West," for churning out the top medical students and doctors.
One ideal way to do this would be to build a website where anyone can access information regarding clubs, volunteering opportunities, internships and other experiences relevant to pre-medical students. This would provide a comprehensive and reliable source that pre-medical departments could promote to their students, or even to student groups aimed at nurturing pre-medical career paths. Only then would it be easier for pre-medical students to ensure they are taking steps in the right direction.
While UCLA offers a range of opportunities for pre-medical students, such as Medical College Admission Test preparation sessions from the Career Center, the upper division course Life Sciences 110: "Career Exploration in the Life Sciences" and volunteering opportunities on behalf of student groups, few pre-medical students are actually aware of them.
Ultimately, UCLA is a top school with high-caliber pre-medical students. Improving access to pre-medical resources will not only help students become better medical school applicants, but it will also help them be better doctors. After all, UCLA's hopeful doctors deserve a fair shot to learn at the "Best in the West."