Cycling team's Eric Bryan continues to pursue biking dream in college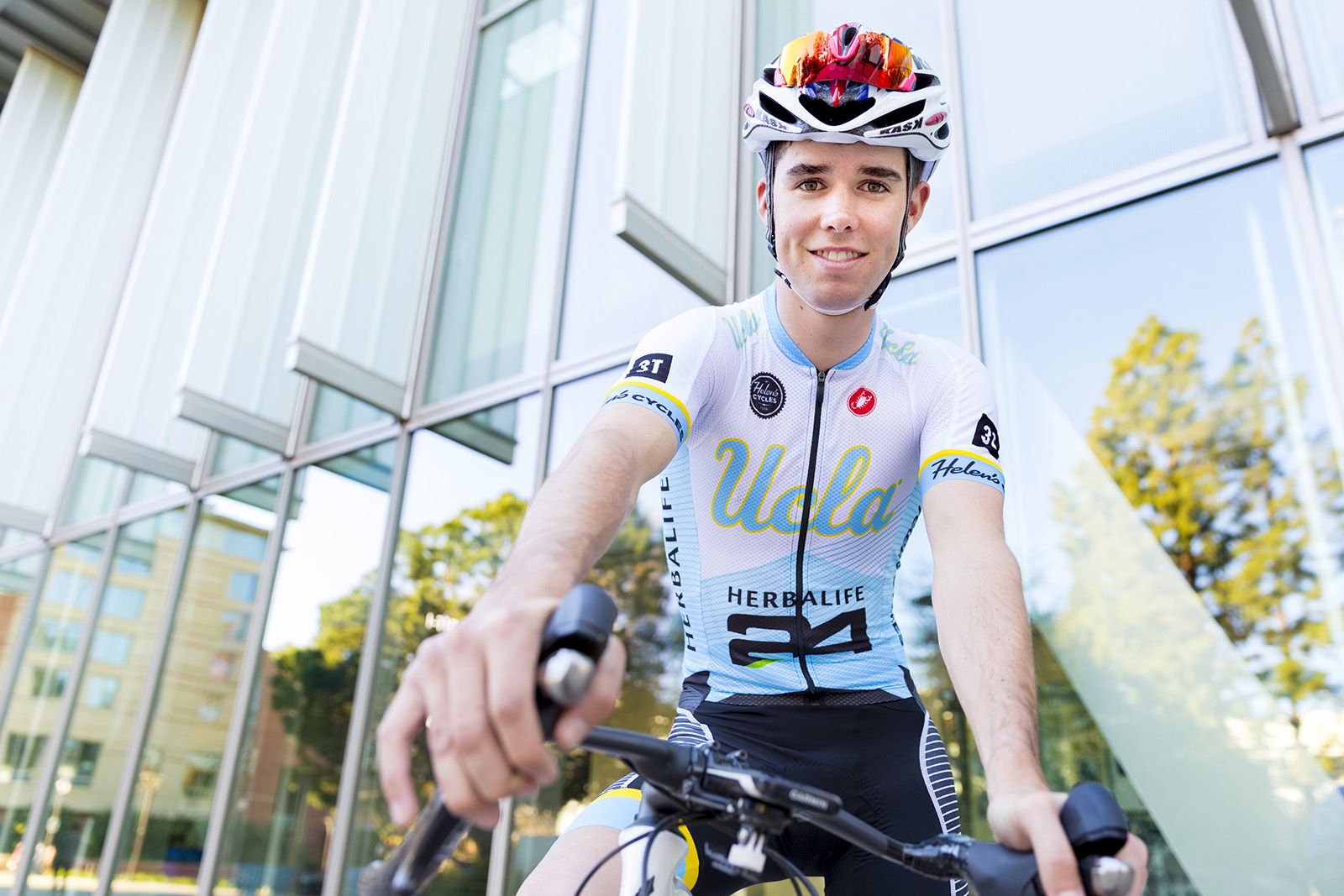 Third-year biomedical engineering and economics student Eric Bryan, the vice president of the UCLA cycling club team, said he usually rides two to four hours each morning. (Hannah Ye/Daily Bruin senior staff)
Mount Tamalpais, Marin County, Caifornia – a 2,572-foot peak often considered symbolic of Eric Bryan's hometown.
That's where the vice president of the UCLA club cycling team found his passion for the sport, but it was years later and thousands of miles away where he experienced a biker's dream.
Last fall, Bryan was invited to participate in the Formosa 900, a round-island cycling tour of Taiwan that covers 900 kilometers over nine days. He thought it was too good to be true when the invitation said the two-week trip would be all-expenses-paid.
Every day was a grind. On the fourth day, he rode 72.2 miles through the southern end of the island. One of the segments was an 11.6 kilometer stretch through Daren Township, where the third-year biomedical engineering and economics student bettered the course's record by over three minutes.
His 26-minute-and-51-seconds trip on Nov. 8 over the 445 meter elevation change, for which he was crowned Strava's King of the Mountain, remains the best time in the world to this day.
But Bryan's cycling career started with a spill on Mt. Tam.
"I totally wiped out, scratched myself all out," Bryan said. "I got up and was like, 'That was super fun, I want to keep doing this,' even though I was kind of hurt."
Now, he leads descending skills clinics for the UCLA club team.
After the fall, he switched from his high school's track and field team to the club mountain biking team.
"He was more excited about getting a new bike than his driver's license," said Dale Bryan, Eric's father. "Second year on the mountain bike team, he was really pushing himself and getting involved with the local cycling community."
His Redwood High School club team has consistently sent multiple riders to the state championship, and has taken trips outside California for more training.
Dave Carbonell, Bryan's high school coach, still remembers one such trip with Bryan years after his graduation, when the team went to Oregon.
"I could tell from listening to his breathing and how hard he was working, this was not the best day he had on a bike by far," Carbonell said. "In spite of all that he never complained, just kept it cool. He had that positive attitude the whole way through."
Continuing his cycling career was never a question for Bryan after he graduated from Redwood in 2014 – he joined the club road cycling team his first year at UCLA.
Bryan had initially expected road cycling to be easy given his prior experience in mountain biking, but he said he had a tough time transitioning.
"I'm a really competitive person, I like to win a lot," Bryan said. "When I started road biking in college, I thought having mountain biked a bit, I would do pretty well. But road biking is a whole different sport."
Besides the obvious differences of terrain, the bikes are starkly different as well. Road bikes are built for speed – lightweight, thin tires and thin wheels – while mountain bikes are built to withstand a lot of damage.
With the team here, Bryan gets a little of both. The team has road-biked through the Santa Monica and Malibu mountains on trips that Bryan has organized.
The club has ridden alongside former pros like Phil Gaimon and former German World Tour racer and hour-record holder Jens Voigt on a few of those trips.
The cycle with Voigt was especially memorable for Bryan, as he managed to one-up the five-time Critérium International winner. The ride had initially started out with a big group of people in Los Angeles, but many racers were left behind midway through in the Santa Monica mountains.
"We all went really hard and raced up the mountain and people start falling off the back," Eric said. "Then it was just me and Jens racing to the top, and I beat him to the top of the mountain."
That feat doesn't come without a work ethic that has continued long past Bryan's days with Carbonell.
"He is unbelievably motivated just because he sets really high expectations for himself and does everything to achieve them," said third-year English and Spanish student Sam Boardman, Bryan's teammate and roommate. "When we're doing intervals, he is focused on pretty much nothing else other than that interval … He has very intense levels of concentration when he is riding, it's really impressive."
The work ethic, and the heart.
In the midst of more mountains on the border of California and Nevada, Bryan and his friends had triumphed up a large hill in the Death Ride – a 129 mile one-day trip through the Sierra Nevadas. They were on their way back down while Dale Bryan was struggling on the uphill portion.
"He saw me and turned around and rode me all the way back up to the top again, even though he had already ridden more than enough for the day," Dale Bryan said. "He hung in there and did it again, and made sure I finished."
That sacrifice was only a few miles. Eric Bryan's ridden way more than that over the years.
Teo joined the Bruin as a freshman in 2016 and contributed until 2017. She spent time on the women's volleyball, beach volleyball and swim and dive beats.
Teo joined the Bruin as a freshman in 2016 and contributed until 2017. She spent time on the women's volleyball, beach volleyball and swim and dive beats.