Kyla Ross brings gold talent to UCLA after quitting elite gymnastics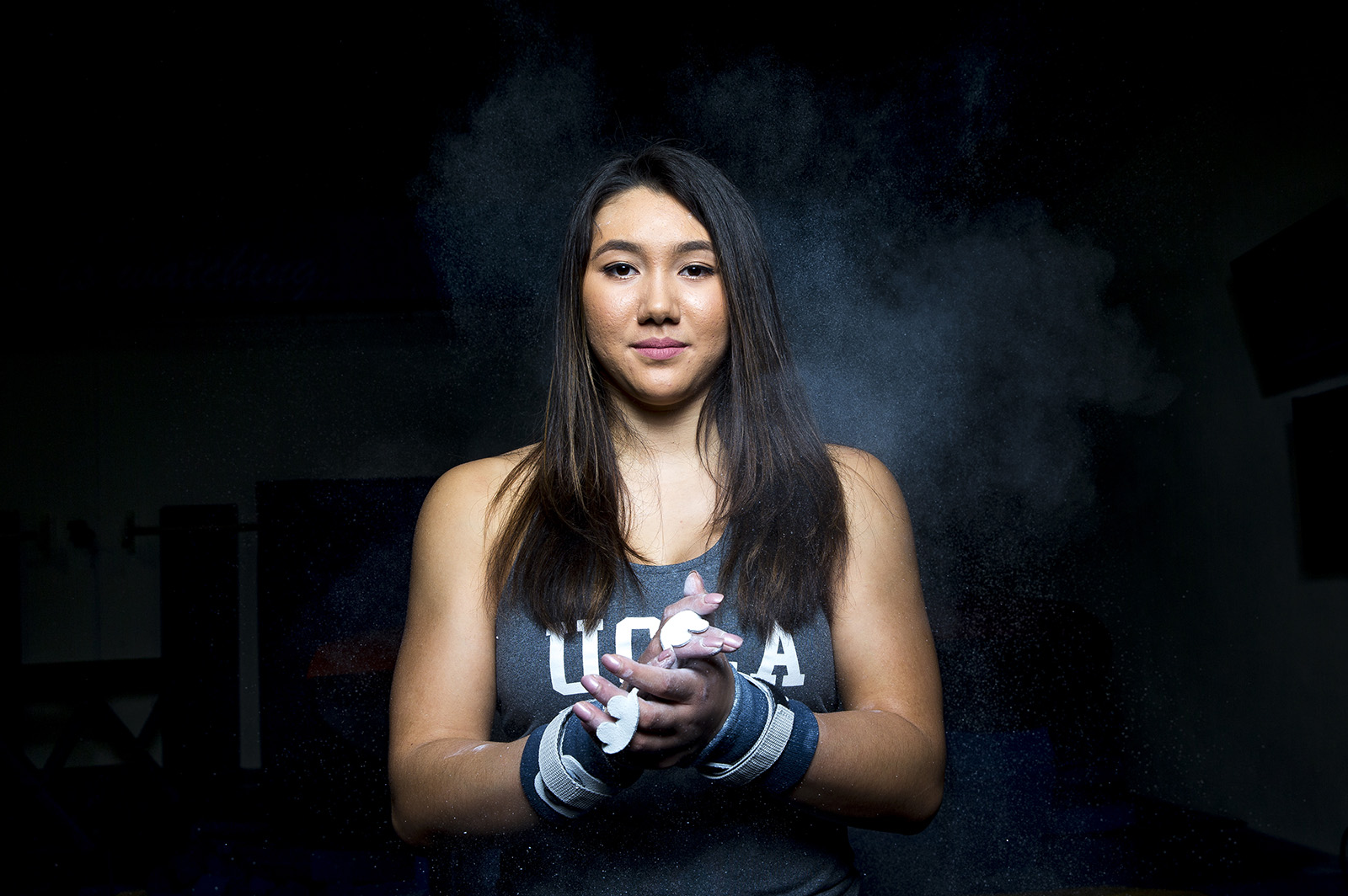 Ross captured silver medals in the all-around, balance beam and uneven bars at the 2013 World Championships. They are her most successful individual performances at the world or Olympic level. (Keila Mayberry/Daily Bruin staff)
January 26, 2017 12:36 am
In 2012, the O2 Arena in London hosted the Olympic Women's Artistic Gymnastics Team final.
Team USA, dubbed the "Fierce Five," after a great start on vault, struggled a little on the uneven bars. The Russians, on the strength of two solid rotations, were less than half a point behind and gaining momentum.
Kyla Ross, the youngest of the American contingent, followed her teammates to the team's third event – balance beam. She was named to the team partly for her aptitude on beam, and it showed. Her routine contained few hitches and the landing was clean.
The judges rewarded her with a 15.133, enabling the team to keep Russia at arm's length.
"Going out onto the competition floor, I was nervous, but once I started competing, all those nerves went away because I'd been training my whole life for that moment," Ross said. "I went up, relaxed and relied on all of my previous training."
Following three clean floor routines, including one from current UCLA student and volunteer assistant coach for the Bruins' gymnastics team, Jordyn Wieber, the Americans celebrated their victory.
Standing on the podium, Ross was the last of the Fierce Five to have the gold medal draped around her neck.
Her parents, Jason and Kiana Ross, taking in the moment, found it hard to describe.
"Cheerful, joyous – you think back to when she first started and you put her in gymnastics class when she's five, that little face, that little body," Jason Ross said. "Now, it's 2012 at the Olympics and winning the gold medal and seeing that your child's one of the few individuals to experience that. It's unexplainable."
Move forward four years.
Early in 2016, in late February, Ross decided to retire from elite gymnastics and passed on the possibility of heading to a second Olympics.
That summer, Ross set aside time in her busy summer class schedule at UCLA to watch her former teammates battle for gold at the Rio Games.
Being a spectator was not easy for her, even from afar.
[Related: Gold medalists to lead UCLA Gymnastics in 2017]
"It was hard to watch in the beginning because my retirement from elite gymnastics was so fresh," Ross said.
A steady string of injuries, alongside the mental and physical wear and tear from devoting her life to gymnastics, wore her down.
"I just felt like my passion and my desire wasn't there," Ross said.
Such a statement from Ross was unimaginable at any point leading up to the 2012 Olympics.
In 2009, a 12-year-old Ross burst onto the national scene. Wieber still remembers following her future teammate's meteoric rise from her home in Michigan, where she was recovering from injuries.
During training, Wieber's coach used Ross' name as motivation.
"If I was having a hard day," Wieber said. "He'd be like, 'How hard do you think Kyla's working today?'"
The two would eventually meet at the 2012 U.S. Olympic Trials in San Jose, California.
Wieber, at this point, was a shoe-in to make the team as the reigning all-around World Champion. Her selection came as no surprise.
Ross, on the other hand, was a relative outsider in her first year at the senior level. She called her selection "surreal."
Her coaches, Jenny Zhang and Howie Liang, who also coached McKayla Maroney – another member of the "Fierce Five" – set the Olympics as the goal well before the official announcement.
Her father, however, viewed this aspiration with skepticism.
"Some of the years, coach talked about it, and I was like 'Okay, whatever,'" Jason Ross said. "Then, it got closer and closer, and it was like 'Holy crap, this might happen.'"
Then, at the HP Pavilion, now the SAP Center, it did happen.
"It was a crazy, crazy experience," Jason Ross said. "There was a little bit of relief in the sense of the work and the pressure, and she made it. It was kind of a relief of joy."
At the conclusion of the London Olympics a little over a month later, Ross, instead of basking in the gold medal glory and sitting on her laurels, returned home to business as usual.
She was not swayed by the siren call of endorsement deals like her London teammates.
Her family was also unimpressed by the professional prospects.
"Dancing with the Stars, endorsements, things like that (were never an option)," Jason Ross said. "We want her to be a smart, educated woman that can have a career and profession, and live life afterwards without having to ride on the past glories of being an Olympic gymnast."
2013 proved to be a big year for Ross.
Physically, she hit a growth spurt and stood at 5 feet 7 inches tall – a 4 1/2 inch jump.
Such a change could have undermined her ability to perform, but instead her height became an advantage, a strength.
"I think Kyla's especially special because she's a lot taller than almost every other gymnast," Wieber said. "She's able to show off these beautiful lines on bars that not a lot of other gymnasts can accomplish."
At the 2013 World Championships, Ross claimed silver in the all-around, beam and uneven bars. In the all-around, she led going into the final rotation, but Simone Biles, whose reign as gymnastics' all-conquering queen was just beginning, overtook her.
The silver medals were Ross' most successful individual showings at the World or Olympic levels.
"The Olympics were the high point of my elite career, but it was also the starting point in my breakout year," Ross said. "The World Championships were more individual based and I was able to compete all-around and be successful in that."
Retirement had not yet creeped into her mind.
Her competitors and teammates, Madison Kocian and Biles, committed to UCLA in 2014. Wieber was already at the university.
Ross began to feel the pull towards Westwood.
"Throughout high school, when we were on the national team, Kocian and Biles were trying to convince me to come to UCLA," Ross said.
Stanford was also in her sights, so she delayed her commitment.
At the 2014 World Championships, Ross collected the all-around bronze medal. Her status as one of the world's top female gymnasts was once again confirmed.
In February 2015, Ross finally committed to UCLA.
"A number of things (led her to UCLA)," Jason Ross said. "She wanted to stay close to home. It was a great school from an education standpoint. Also, gymnastics. They have the history and a support system."
Her enrollment, like Kocian's would be deferred one year, due to the following year's Olympics. Biles was in the same boat, but the call to turn pro was too strong for her to resist.
Then, injuries started piling up for Ross. They prevented her from competing at her peak levels.
Her poor showings at the Secret U.S. Classic and the P&G Championships led Ross to take herself out of contention for a spot at the 2015 World Championships.
That was the beginning of the end for her elite gymnastics career. Thoughts of retiring grew stronger and stronger, until they couldn't be ignored.
"Contemplating it over the holidays and getting ready for the Olympic year, I didn't feel the same as I did leading up to 2012," Ross said.
Another factor was school. Until 2015, Ross went to high school like everyone else her age, and competed in gymnastics.
But during her deferment year, she trained for 7-8 hours a day without academics to balance it out. Complete devotion to gymnastics wore her down.
"Having a normal balance between school and gym, made me more sane," Ross said.
That's when she decided to make her retirement from elite gymnastics official.
"For me, as a parent, and as an athlete, if your heart's not into it and you're not fully committed, then stop," her father, a former minor league baseball player, said. "Don't waste your time, their time and our time. We were happy that she was mature enough to make the decision."
Months later, all concerned parties agreed that Ross made the right call to retire from elite gymnastics.
Now, in early 2017, Ross has been introduced to the collegiate level, albeit it in a slightly limited capacity. She was unable to compete in the floor exercise during UCLA's first two meets due to an injury.
The injury is no longer an issue, and she looks forward to doing all four events for the Bruins.
With Ross at 100 percent, UCLA is getting one step closer to the mid-197 scores that coach Valerie Kondos Field desires.
[Related: Gymnastics takes positives from loss to Oklahoma]
Ross, however, occasionally takes the time to look back on the past, usually with someone who was there – Wieber.
"We look back and feel like it's a whole different time period," Wieber said. "It's really cool just to know we shared that experience together and now we're here."
Before the Bruins' first meet of the season on Jan. 7, Wieber posted an old picture of the two of them in London on Instagram.
"It was so funny because everyone was like, 'It doesn't even look like you guys,'" Ross said. "That was so long ago and we were both so young."
Bribach joined the Bruin as a sophomore in 2016 and contributed until he graduated in 2018. He spent time on the gymnastics, women's basketball, women's soccer and beach volleyball beats.
Bribach joined the Bruin as a sophomore in 2016 and contributed until he graduated in 2018. He spent time on the gymnastics, women's basketball, women's soccer and beach volleyball beats.