UCLA Transportation to reserve parking spots for grad students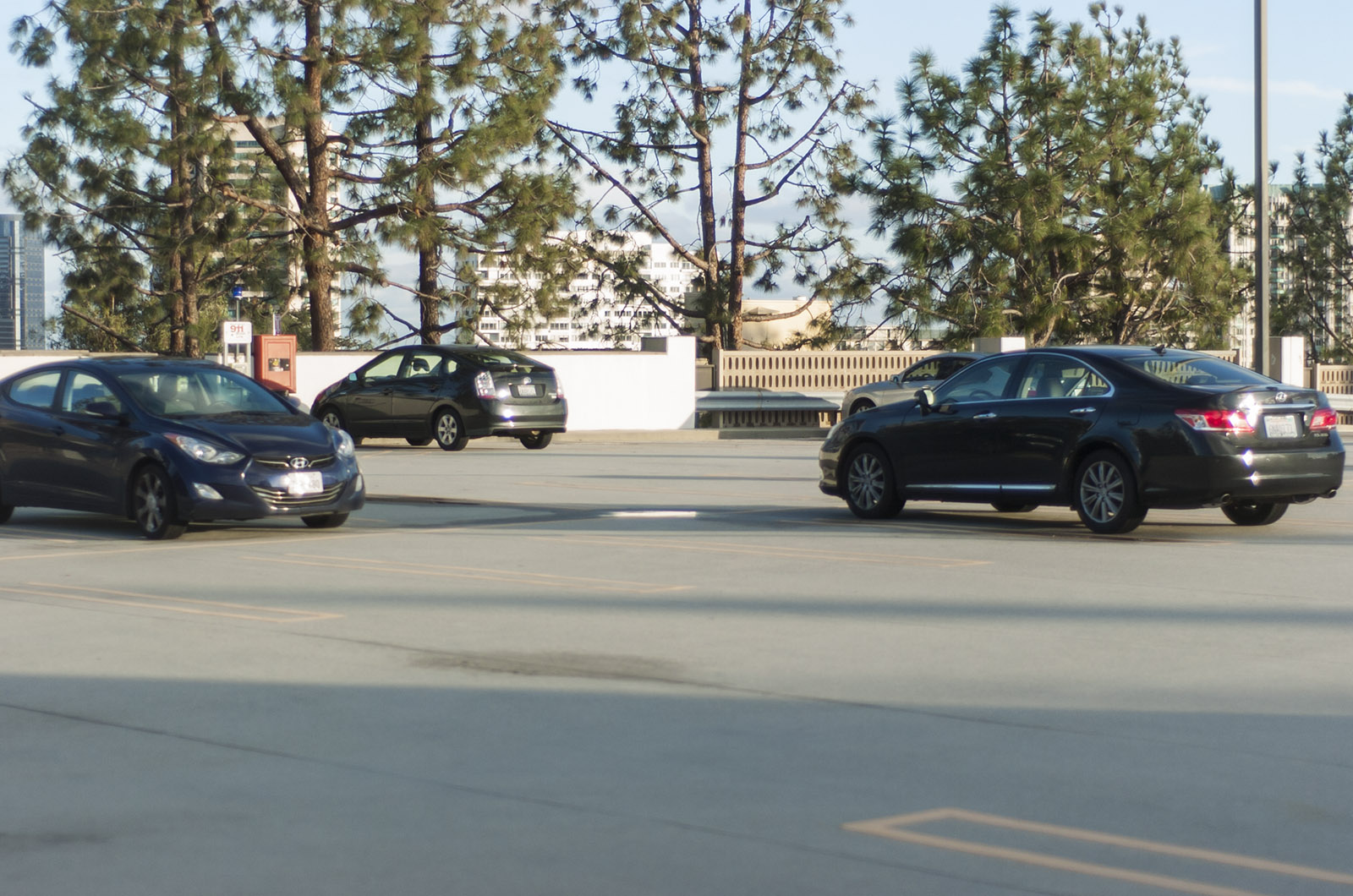 Parking Structure 2, located near South Campus, is one of the parking structures that will house the 30 parking spots reserved for graduate students. GSA President Michael Skiles said the Graduate Students Association has been documenting the times that Parking Structure 2 was not being fully utilized over the past year. (Michael Zshornack/Assistant Photo editor)
Graduate students who need to stay on campus late at night can enter a lottery over the summer for the chance to get a parking spot in Parking Structure 2 or Parking Structure 9.
UCLA Transportation will allocate 30 spots in Parking Structure 2 and Parking Structure 9 each quarter to graduate students starting next fall, said parking services director Lisa Koerbling. Interim Vice Chancellor Monroe Gorden, the Graduate Students Association and UCLA Transportation decided to establish the lottery during a Jan. 17 meeting.
Both parking structures are located close to South Campus, which houses most laboratories on campus. Koerbling said she is not sure how the 30 available spots will be distributed between the two parking structures.
The lottery is geared toward students who currently park at Parking Structure 7 and walk alone for approximately 20 minutes late at night to and from their laboratories, said GSA President Michael Skiles. He said a staff member who only works until 5 p.m. may not have as much of a need to park closer to campus, he added.
"(Earlier), all campus shuttles are working and there is daylight and no danger, and maybe for that staff person it would be okay if they were parking on the other side of campus," Skiles said. "But a grad student who works until 3 a.m. shouldn't be parking on the other side of campus."
Skiles estimated that about 100 graduate students stay on campus late.
[Related: Graduate students petition for parking access improvements]
In the past, graduate students typically parked in Parking Structure 2 while many staff members parked in Parking Structure 6, Skiles said. However, a few years ago, the university demolished 750 parking spots in Parking Structure 6 to make room for the UCLA Meyer and Renee Luskin Conference Center. Those staff members were transferred to Parking Structure 2 and graduate students were moved to Parking Structure 7, which is located west of the John Wooden Center, he said.
Graduate students have been advocating for closer spots since then, Skiles said.
He added some have noticed there seems to be enough room to fit more cars in Parking Structure 2, and GSA has been documenting what times Lot 2 was empty over the last year.
"Apparently last year, there were only nine times (when) Parking Structure 2 was even 95 percent full," Skiles said. "There basically has never been a time where the lot was completely full, but parking services was being overly cautious by not handing out enough spots."
[Related: Transportation allocates parking permits to transfer students]
Parking services also plans to encourage academic departments to examine more closely to whom it is giving the spots and prioritize students who work in laboratories at night, Skiles said.
However, some departments are concerned that parking services will not permanently reserve the parking spots for graduate students. Skiles said he will address this by helping to ensure the decisions are final.
"I got parking services to commit to making it very clear that if (the departments) did choose to use their staff allocations for grad students, parking services will treat those allocations as if they were set and not take them away," Skiles said.
Some graduate students said they think the extra allocation may help alleviate parking concerns.
Paul Kim, a dentistry graduate student, said he has friends who have been so desperate for parking permits that they bought them online from other students for as much as 600 dollars.
Sarah Ahadome, a postdoctoral scholar in cancer research, said she thinks the parking lots that are closer to South Campus are safer for students like herself who stay on campus late. She added that extra parking would relieve students who worry about parking.
"Ph.D students and grad students could get all the help they can get," Ahadome said.
Douglas Chen, a fourth-year materials science student, said he thinks the additional parking spots would help graduate students, and added that parking becomes particularly difficult when UCLA reserves spots for fans attending basketball games.
The exact dates for when the lottery will be open for entry are still being decided, Skiles said.
Contributing reports from Erica Drake, Daily Bruin contributor.