The Study at Hedrick receives positive feedback from students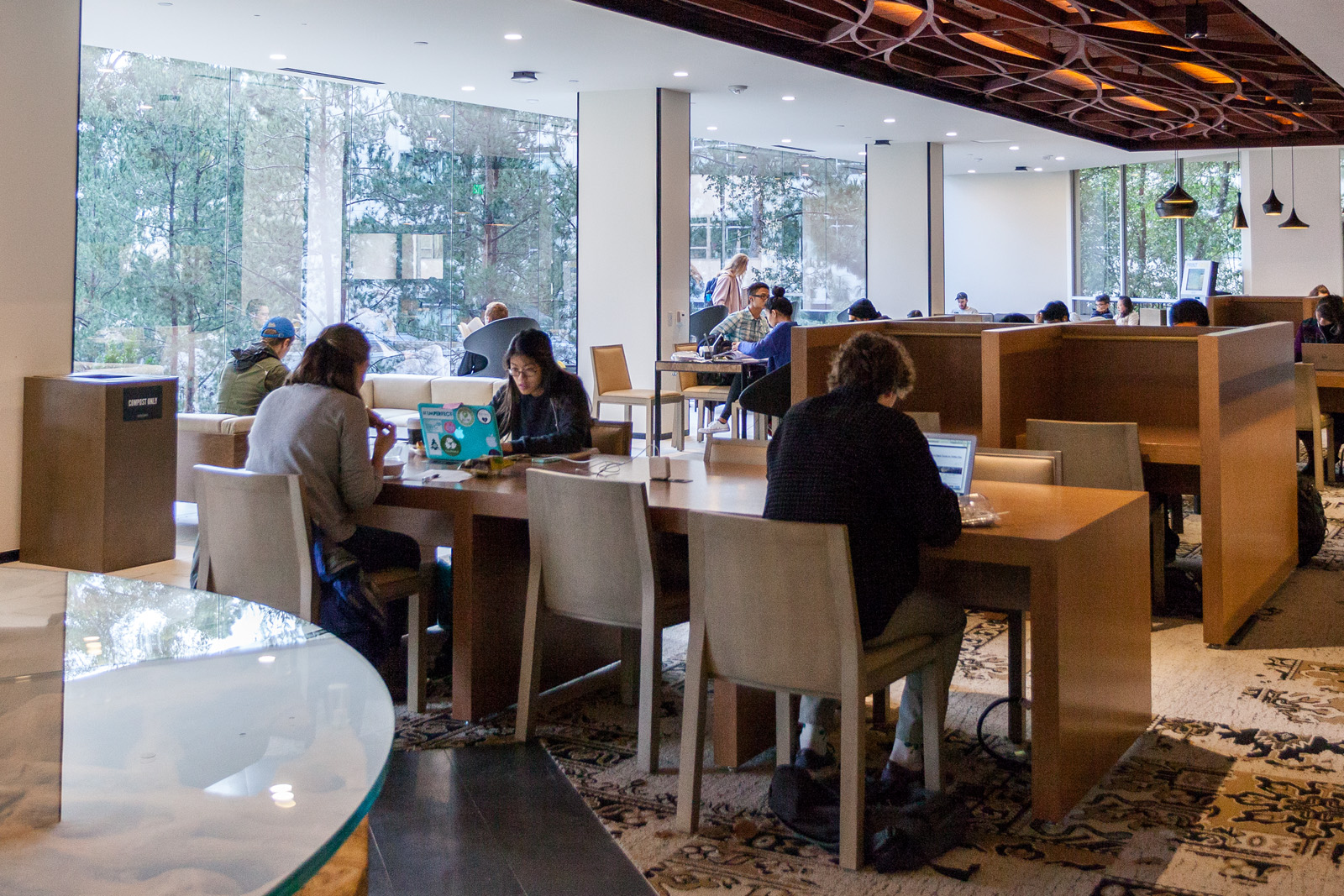 The Study at Hedrick, a new study hall and eatery, opened to UCLA students on the Hill on Jan. 8. It has been designed to look more like a coffee shop and lounge than a traditional cafeteria. (Tianyi Ruan/Daily Bruin)
With natural lighting, strong Wi-Fi and what some students call state-of-the-art design, The Study at Hedrick has received positive reactions from students.
Since the Study opened two weeks ago, it has remained busy through its 24 hours of operation. The Study, which offers multiple lounges including a reading room, and serves seasonal dishes made with locally sourced ingredients, cost UCLA $9.1 million to construct.
Patricia Capiral, a second-year physical sciences student, arrived at the Study hoping to get some work done Sunday morning. Capiral said she was pleasantly surprised to find the space quiet and half-empty when she walked in.
"The day they opened, it was crazy," she said. "I didn't really get to sit or do anything. It's really packed sometimes, so you have to come at a certain time to get lucky and find a seat."
Brian Cesson, a first-year theater, film and television student, said he thinks one of the Study's best features is its technology-friendly environment.
"I love how individualized it is," Cesson said. "There's a plug for everyone and a light for everyone, and everyone is quiet in the quiet parts of the space."
Cesson added he thinks the study lounges at the Study can often feel crowded, but he still finds the environment effective for studying.
"The design is really awesome," he said. "I love how everything is soundproofed, with that glass room in the middle, where you can see the people in there but you can't hear each other."
Michelle Lee, a second-year French and Italian student, said she appreciates the northern European cuisine available at the new space. However, Lee said she thought the portion sizes available for one swipe were small.
Despite minor issues such as this, students agreed the Study is a much-needed addition to student life on the Hill.
"Before the Study, I tried to get study rooms where I live in Sproul Hall, but they usually get packed really easily, so I would just kind of bounce around in different lounges," Capiral said.
Lee said she was impressed by the space. She added she thinks its simplistic beauty makes it perfect for a new sketching spot.
"I was in awe," she said. "It was just so gorgeous … I'm really appreciative of how much effort UCLA is putting into this."
---
Read more:
Review: The Study at Hedrick provides culinary extravagance
A fond farewell to late-night Bruin Cafe sandwiches