Humor, work ethic boost TJ Leaf to unexpected prominence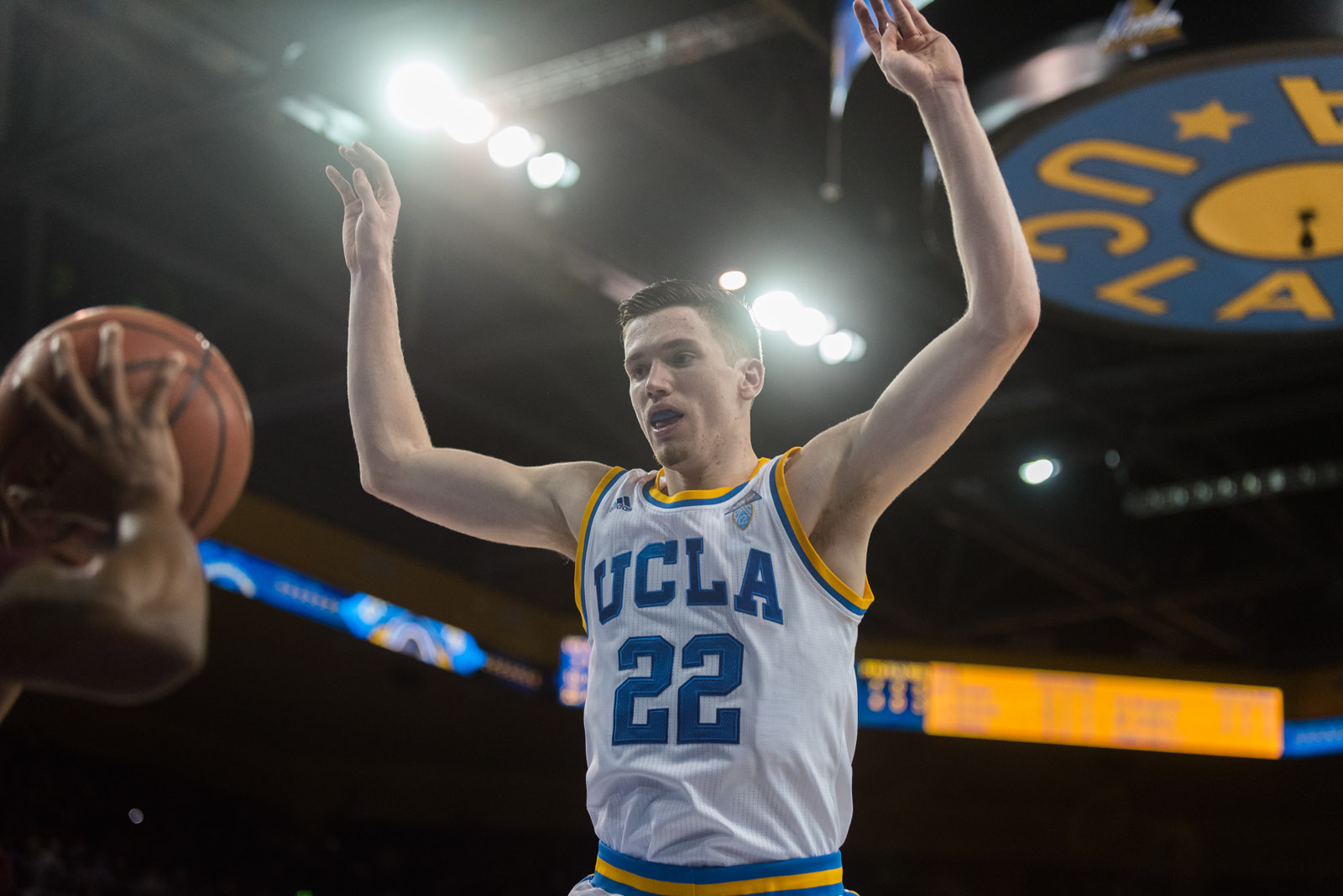 Lonzo Ball gets all the hype, but fellow freshman T.J. Leaf has emerged as a key cog for UCLA basketball. NBA scouts have projected the forward to be a potential top draft pick. (Mackenzie Possee/Assistant Photo editor)
For two weeks, T.J. Leaf was the best-kept secret in college basketball, the forward's dazzling play overshadowed by the wizardry of fellow freshman Lonzo Ball.
Then UCLA played Kentucky, and Leaf exploded onto the national stage with 17 points and 13 rebounds in the Bruins' victory. As Wildcat coach John Calipari put it afterward, Leaf "manhandled" the then-No. 1 team in the country.
He's been doing it to team after team this year, averaging 16.8 points and 8.9 rebounds while shooting 64.1 percent, including 51.3 percent from 3-point range.
Leaf's emergence as a veritable co-star to Ball is one of the major reasons the No. 3 Bruins (19-1, 6-1 Pac-12) have become the betting favorites to win the national title.
Leaf, who was not on the 50-player preseason watch list for the John R. Wooden Award, earned a spot on the 25-player midseason watch list for the national player of the year honor.
His all-around play has been crucial in UCLA's dangerous pace-and-space attack, which has thus far produced the nation's top offensive rating, and vaulted his draft stock into mid-first-round territory, according to an NBA scout.
"T.J.'s been unbelievable," the scout said. "His energy he plays with, his ability to finish around the rim, he can pick-and-pop, he can score it in so many ways. And I love his energy on the glass, offensively and defensively."
Leaf can run the fastbreak like an oversized guard and he's knocking down over 50 percent of his 3s, skills that are a testament to his background.
The product of a tight-knit, basketball-focused family, Leaf spent his early days milling about gyms as his dad coached or his older brother played.
His father, Brad, was a 6-foot-3 wing player who enjoyed a lengthy international career, and his older brother, Troy, is a 6-foot-2 guard who played college ball at Azusa Pacific.
Leaf eventually grew so much that he became a big man, but he spent his most of his childhood mimicking his brother's practice habits.
"Growing up, he worked on guard stuff – it's just what he knew how to work on," said his older brother, Troy Leaf. "But as he kept growing, it was like, wow, he's actually going to be a forward. All of a sudden, he's 6-foot-9 doing things that guys who are 6-foot-1, 6-foot-2 should be able to do."
The big man lists his older brother as one of the most influential people in his life. When they played against each other as kids, Troy Leaf, who is six years older, showed no mercy.
"He was never babied," Troy Leaf said. "It was, 'If you're gonna play, you've got to play like a big boy.'"
When he had friends over, they would lower the rim and run two-on-one fast breaks against the younger brother, not letting him play offense until he stopped them from scoring.
"I would get dunked on for hours and hours," T.J. Leaf said. "They would just murder me."
As they grew older, they became more best friends than brothers – they talk every day, and Troy Leaf, now an assistant coach at the Master's University, visits UCLA once or twice a week.
The two like to golf together, though T.J. is not – as he claimed on the Jumbotron during UCLA's exhibition game against the Master's University – a "world-class golfer."
"That is far from true," Troy Leaf said.
Asked to explain, T.J. Leaf laughs.
"It's kind of like a joke because I'm kind of really bad," he said. "I shot in the 80s – once."
He'll often preface a golf shot by claiming, with his 6-foot-10 frame unnaturally hunched over one of his brother's regular-sized golf clubs, that he has finally figured things out, only to shank the ball and end up throwing the club, laughing at himself.
"He's definitely a goofy kid," Troy Leaf said. "He has a good balance – knows when to be serious and then when it's time to goof around."
It's one of the reasons he quickly felt comfortable with UCLA coach Steve Alford.
"Me and my brothers, my family, have that kind of open relationship of joking around, poking fun at people, and he definitely has that," Leaf said of Alford. "But then we're both super competitive people. We want to win."
He didn't pick UCLA originally, though.
On June 15 after his sophomore year, when Leaf could finally talk to college coaches himself, he remembers fielding call after call and message after message for weeks.
"It was an awesome feeling knowing that your hard work was starting to pay off, but it was really overwhelming," Leaf said. "I think that's why I rushed into my first commitment. I wanted to just get it over with."
Leaf committed that fall to the University of Arizona. The next summer, though, he decommitted and reopened up his recruitment.
Alford quickly jumped at the renewed chance to land such a talented piece, and in December, Leaf announced that he would be heading to Westwood, partly because, he said, he was tired of losing to Ball, who beat him four times in high school.
Those two and fellow freshman Ike Anigbogu became fast friends when they moved in together at UCLA.
"It's basically just us three hanging out at all hours of the day," Leaf said.
Their first day in Westwood coincided with Game 7 of the NBA Finals. Though it took them until the third quarter to figure out how to work the cable system, they were all hooting and hollering together as LeBron James and the Cavaliers took over in the fourth quarter.
James is Leaf's favorite player, and when asked who he compares his game to, he joked "Probably LeBron," before rattling off the list of white NBA players that he's actually been compared to – Ryan Anderson, Chandler Parsons, and David Lee.
He didn't offer up a comparison of his own, though he said his decision to come to UCLA was influenced by the way Alford and the Bruins used Kevon Looney two years ago.
"Kevon was a guy that could play inside out, a guy that could take it off the backboard and run a break, very good rebounder," Alford said. "These are all things that T.J. does well, too."
Thus far, Leaf has even surpassed the play of Looney, who ended up a first-round pick.
Even if his numbers regress over the course of the season, he'll still likely end up averaging over 15 points and eight rebounds, and shooting over 55 percent.
The list of major-conference freshmen to do that is just seven names long: Ben Simmons, Jahlil Okafor, DeMarcus Cousins, Kevin Love, Greg Oden, Chris Bosh and Antawn Jamison.
Every one of them became a top-five draft pick.
Leaf likely won't be, but at the rate he's proving people wrong, it might not be wise to bet against him.
"Anything he does, he wants to be the best at it, especially basketball – he tries to outwork everybody," Troy Leaf said. "God's gift to him obviously was a 6-foot-10 frame, and not for one second do I think he's wasted an ounce of that because he works his butt off."
Cummings joined the Bruin as a freshman in 2014 and contributed until he graduated in 2018. He was an assistant Sports editor for the 2015-2016 academic year and spent time on the football, men's basketball, baseball, cross country, women's volleyball and men's tennis beats.
Cummings joined the Bruin as a freshman in 2014 and contributed until he graduated in 2018. He was an assistant Sports editor for the 2015-2016 academic year and spent time on the football, men's basketball, baseball, cross country, women's volleyball and men's tennis beats.