Breaking down Trump's foreign policy positions and endeavors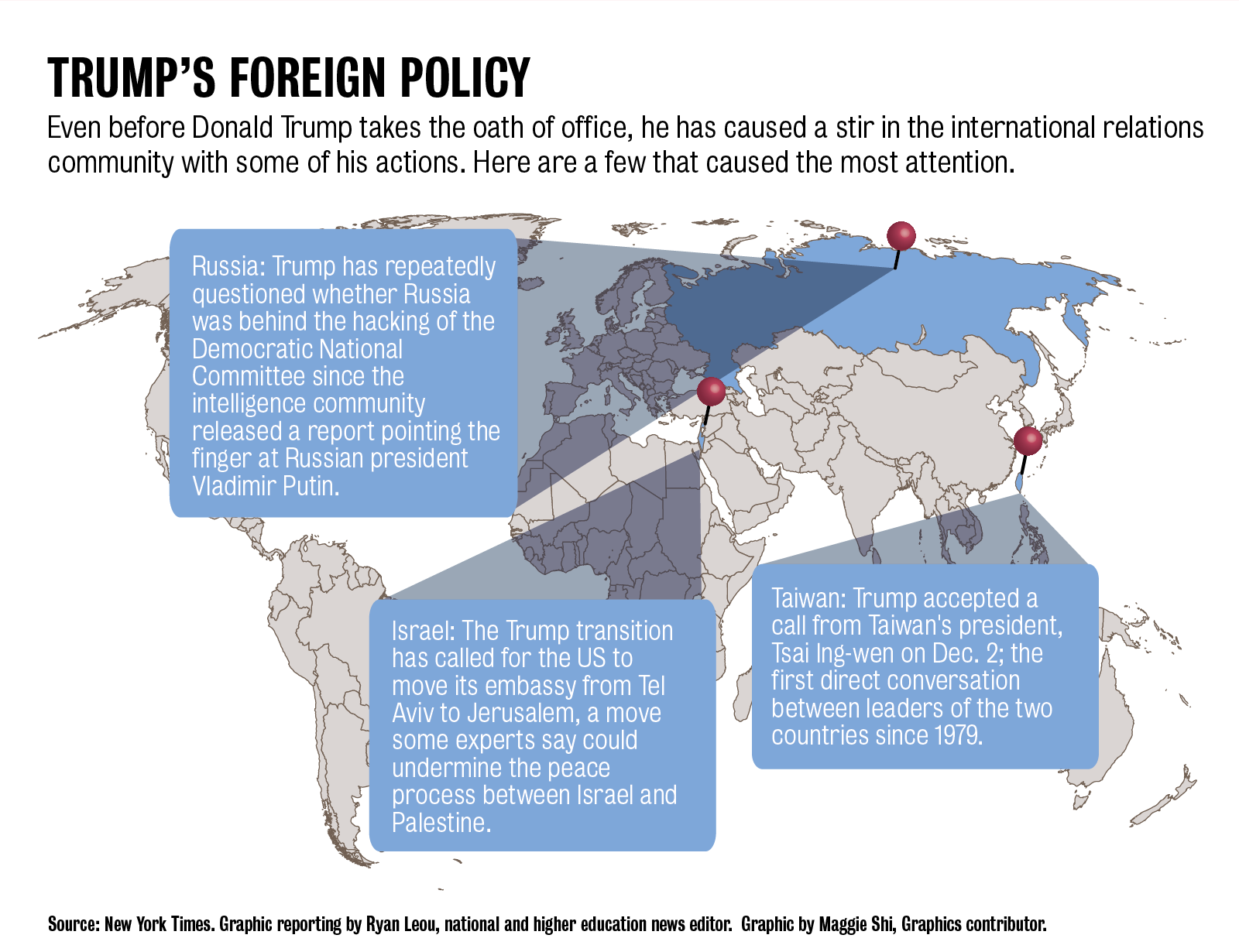 January 18, 2017 12:01 am
Correction: The original version of this article incorrectly stated Donald Trump was the first American president in 40 years to speak to a Taiwanese leader. In fact, Trump made the phone call as the president-elect.
The president serves as the public face of the country in foreign affairs. He leads negotiations on treaties and trade deals, deciding when to deploy the military and taking sides in international conflicts. The Daily Bruin examined some of President-elect Donald Trump's moves that have challenged diplomatic protocol and caused uncertainty in the international sphere.
RUSSIA
Trump's relationship with Russia has been highlighted by his repeated praise of President Vladimir Putin of Russia as a strong leader and someone Trump would like to work with in combating the Islamic State.
Daniel Treisman, a political science professor and Russia expert, said he thinks Trump's occasionally sympathetic views toward Russia puts him at odds with Democratic lawmakers and Republicans. He said after Russia annexed the Crimean Peninsula from Ukraine in 2014 and supported Syrian dictator Bashar al-Assad in the country's civil war, there had been a bipartisan consensus that Russian president Vladimir Putin was a hostile threat to United States security.
Leaders from both Democratic and Republican parties have also called for investigations into Russia's alleged hacking of the Democratic National Committee, which Trump refused to support until last week.
Rex Tillerson, Trump's nominee for secretary of state and former CEO of Exxon Mobil, has also been questioned over his close ties with Putin. Putin awarded Tillerson an "Order of Friendship" in 2013 for partnering Exxon Mobil with a Russian state-owned oil company.
Though Tillerson will resign as CEO and sell his stock holdings from Exxon Mobil, Treisman said he thinks the former CEO has potentially huge interests in strengthening U.S. ties with Russia.
"Even if he's completely sincere that he no longer represents Exxon at all, if he argues for removing sanctions, and Exxon makes hundreds of billions of dollars, it will look highly dubious and suspicious," Treisman said.
[More Trump analysis: Professors discuss predicted impact of Trump immigration policies on LA]
CHINA
On the campaign trail, Trump claimed China had taken advantage of Americans on trade by making it too easy for business owners to export jobs out of the U.S. In response to China's policies, he has proposed instilling a 45 percent tariff on Chinese imports. According to some economic experts, the tariffs could backfire on the U.S. if China retaliates by raising its own tariffs and engaging in a trade war.
Trump's recent phone call with Taiwanese President Tsai Ing-wen has also caused controversy. Taiwan, which sees itself as separate from China, has not been officially recognized by the U.S. since 1979. Before Trump's phone call, no American president or president-elect had spoken over the phone with a Taiwanese leader in almost 40 years.
Wendy Liu, a first-year physiological science student who grew up in Taipei, Taiwan, said she supports her home country's independence, but was initially shocked the call took place.
She added though she was often bothered the U.S. does not officially recognize Taiwan as a sovereign nation, she is worried about the possible repercussions the call might have for the island. She said if more nations begin to recognize Taiwan as a country, she is concerned China might retaliate and force those nations to sever all diplomatic ties with Taiwan.
"In some ways I'm glad that more people are aware of Taiwan's situation," Liu said. "But at the same time, we're somewhat endangered as well because China is becoming more aware of our growing sense of nationality."
Nick Wang, a third-year business economics student who was raised in Beijing, said he thinks Trump used the phone call to pressure China on reshaping their trade policies so the U.S. is not disadvantaged. He added he was not surprised by the move, given Trump's often hard stance against the country on the campaign trail.
ISRAEL-PALESTINE
After the United Nations Security Council's vote calling Israel's West Bank settlements violations of international law, Trump pledged to change America's policy on Israel.
Trump criticized the U.S.'s decision to abstain on the vote, instead of voting against the resolution in defense of Israel as the U.S. has done in the past.
James Gelvin, a history professor, said he thinks Trump's actions toward Israel, including the appointment of David Friedman as American ambassador to Israel and the call to move the U.S. Embassy from Tel Aviv to Jerusalem, position him as the most pro-Israeli right-wing American president in history.
Gelvin added that moving the U.S. Embassy to Jerusalem, a city Israel claims as its undivided capital, could instigate more conflict in the Middle East.
"By moving the American Embassy from Tel Aviv, the United States would be symbolically recognizing the Israeli claim to Jerusalem," he said.
He added such a move could be problematic because Muslim Palestinians view the city as their third holiest site, and Muslim countries whose residents consider the sites sacred could be forced to respond.
"Trump is moving towards a position (on Israel) that the United States has never really been in before," Gelvin said. "Sometimes we've tilted toward Israel, sometimes we've been an impartial broker, but never have we been sort of fawning over (Israeli Prime Minister) Benjamin Netanyahu, the settler movement and the Israeli right-wing."
Jackie Schaeffer, a second-year political science student and policy director for the Bruin-Israel Public Affairs Committee, said she thinks the media's portrayal of the embassy controversy is often inaccurate, partly because the building could be located in West Jerusalem.
Schaeffer added she would rather see the U.S. media focus its attention on potential security threats to Israel and other geopolitical issues like Russian aggression.
Omar Mansour, a third-year anthropology student and outreach director for Students for Justice in Palestine, said though he is unsure whether Trump will keep his campaign promises, he does feel the president-elect poses a threat to peace in the Middle East.
Mansour also said Trump's appointment of son-in-law Jared Kushner as a Middle East envoy would not be suitable for brokering peace between Israel and Palestine because Kushner's family has donated money to right-wing Israeli causes.
Mansour said that by moving the U.S. embassy from Tel Aviv to East Jerusalem the U.S. would be recognizing the illegal annexation of the area, and, as a result, would violate international law.
"The moving of the embassy would be dumping oil on fire, and it would not be moving towards any peaceful solution," he said.
—
Read more Daily Bruin coverage of the presidential inauguration, along with analysis of California and federal policy under the Trump Administration: