Graduate students raise funds to host conference on women in physics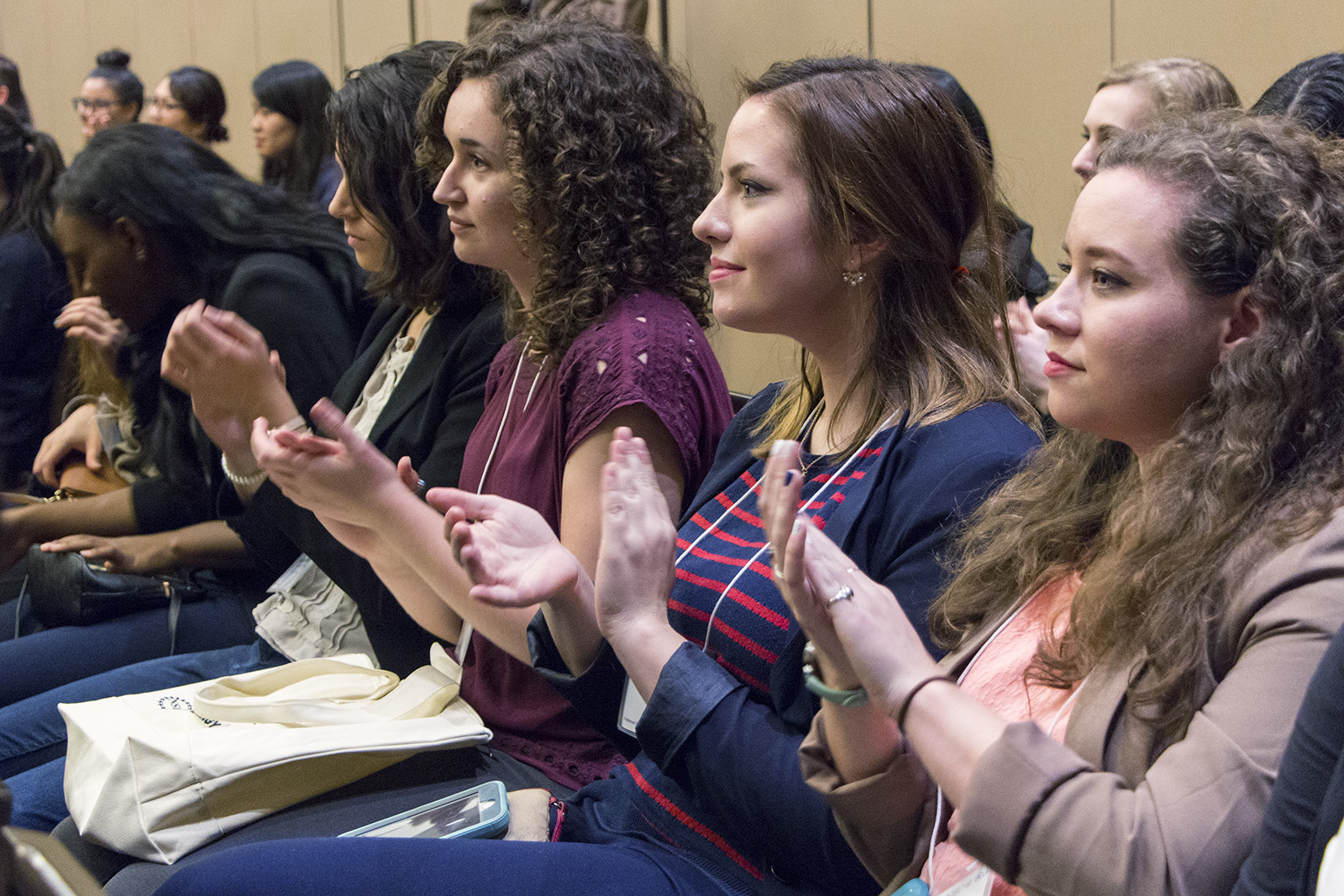 About 250 students attended the Conference for Undergraduate Women in Physics last weekend at the UCLA Meyer and Renee Luskin Conference Center. (Yixuan Gong/Daily Bruin)
Correction: The original version of this article incorrectly stated Alexandra Latshaw and Elizabeth Mills are co-founders of Women in Physics and Astronomy and referred to Stuart Brown graduate student advisor. In fact, Latshaw and Mills are co-chairs and Stuart Brown is the UCLA site faculty advisor.
This post was updated on Jan. 24 at 4:50 p.m.
Alexandra Latshaw and Elizabeth Mills spend much of their time in physics laboratories, meticulously planning experiments and scribbling down equations that look like they belong on a "The Big Bang Theory" whiteboard.
However, because they are women in a male-dominated field, they said they don't always feel like physicists.
"At times, I couldn't call myself a physicist," said Latshaw, a physics graduate student. "Whenever I would struggle, I would often seriously doubt my own abilities and think 'Maybe it's me. Maybe I'm just not cut out for this.'"
According to an American Physical Society and American Institute of Physics report, women earn less than 20 percent of all US bachelor's degrees in physics, and that number shrinks even further at the graduate level.
Latshaw and Mills, co-chairs of the student group Women in Physics and Astronomy, raised more than $50,000 to host the Conference for Undergraduate Women in Physics at the Meyer and Renee Luskin Conference Center from Friday to Saturday. About 250 students attended the event, which is sponsored annually by APS.
The conference included workshops on professional development and psychological issues affecting physics students, such as impostor syndrome. Many women in science, technology, engineering and math fields suffer from impostor syndrome, a psychological effect that causes individuals to doubt their own accomplishments and consider themselves frauds, Latshaw said.
Mills, a graduate student in physics, said the conference was designed to educate students about ways to pursue careers in physics and to facilitate lifelong connections between women in the physical sciences.
Mills said the gender disparity in physics can have subtle effects on women's confidence and that she has felt these effects herself during her academic career.
[Related: The Quad: The underrepresentation of women in STEM at UCLA]
"Being different is hard," Mills said. "When you are in an environment where you feel like an outsider, it's very easy to lose your sense of self and to doubt your own abilities."
Students at the conference said seeing so many other female STEM students at the conference was inspiring.
"I was always afraid to take STEM classes because I wasn't good enough," said Maipaluku Moua, a biotechnology student from Sacramento who attended the conference. "Coming to a conference like this and seeing so many other bright, ambitious women makes (being a female physics major) feel more normal, and it's very empowering."
APS, a nonprofit organization focused on advancing physics education, selected one West Coast university out of several applicants to host the conference. Mills and Latshaw, with the aid of the UCLA site faculty advisor Stuart Brown, started working on their proposal more than two years ago. The APS chose UCLA to host the conference last summer.
Though the APS provides some basic funding for the conference, because of the event's large scale, Latshaw and Mills said they had to raise funds for much of the event on their own. They said they relied mostly on university funding sources and also received financial support from organizations such as NASA.
According to Latshaw and Mills, they used their fundraising to include more programming than any previous conference and also generated one of the largest attendances in the conference's history.
"We would really like to expand our outreach in the future," Mills said. "We realize that there are several other groups, like ethnic and racial minorities, that also face similar issues, and that's something we would love to focus on in the future."
[Related: Student group seeks to support minority STEM students, boost diversity]
Mills and Latshaw added they hope the conference helps people feel more comfortable embracing their differences.
"We really want these women to be confident in their abilities and see their diversity as a good thing," Latshaw said.