Two residents elected to Westwood Neighborhood Council renter seats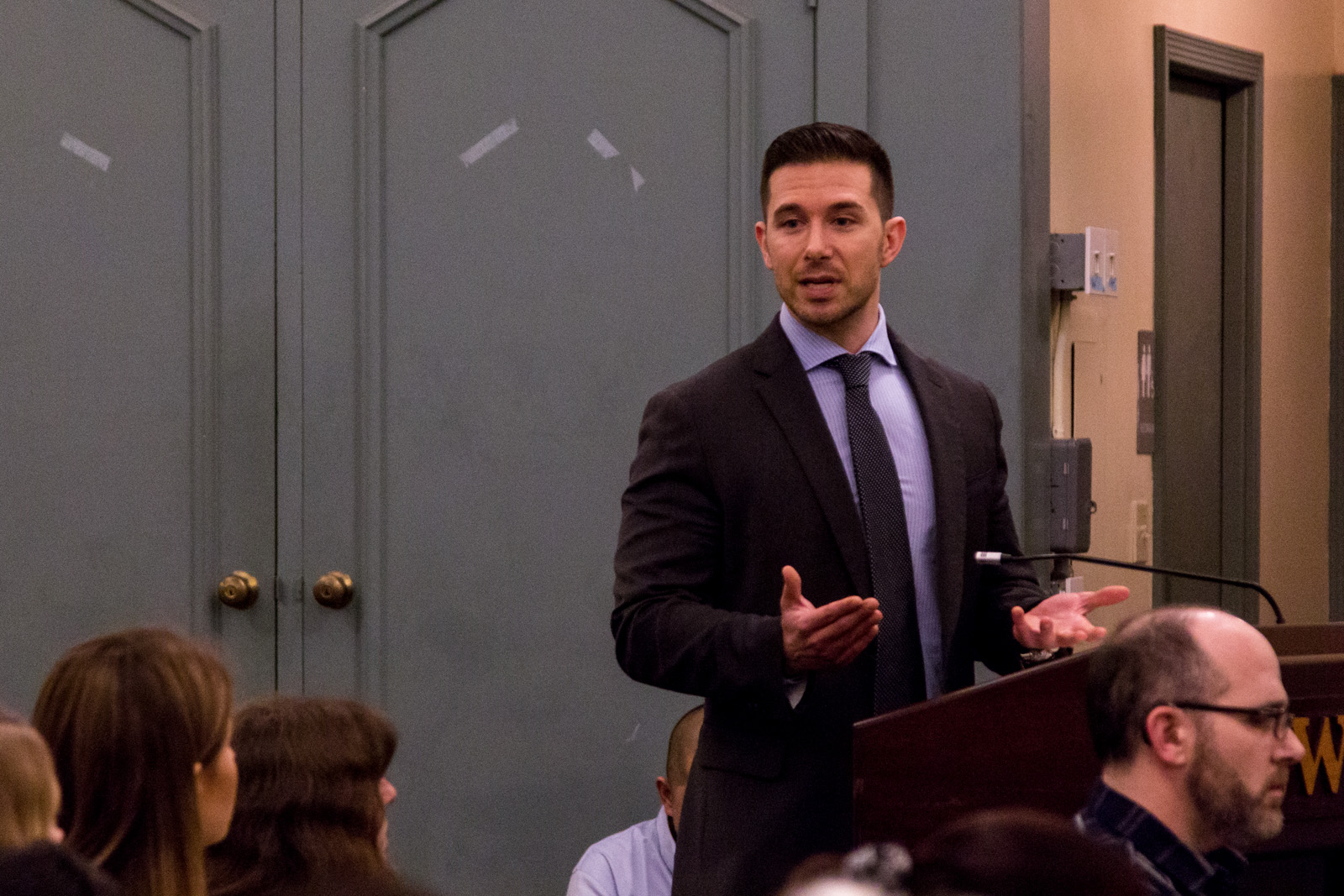 Cyrus Baraghoush, a director of coordinated patient services for UCLA Health, won one of the two vacant renter's seats. (Amy Dixon/Daily Bruin)
The Westwood Neighborhood Council selected two Westwood residents at its Wednesday meeting to fill recently vacated board seats.
Cyrus Baraghoush, a director of coordinated patient services for UCLA Health, and Shelby Kretz, a UCLA doctoral student in urban schooling and nonprofit director, won seats reserved for individuals who rent property in Westwood. Each candidate received 10 council member votes.
Kretz, Baraghoush and four other candidates submitted written statements and presented their experience and platforms to the council Wednesday.
Kretz, who moved to Westwood from Ohio in September to start her graduate program, founded an organization called 1girl, which provides leadership training to young women, and GiveBackHack, which hosts events to design technological solutions for social issues. Kretz said she will enter a career involving public policy and wants to gain experience through the council.
Kretz said she thinks Westwood Village should incorporate more bars, restaurants and outdoor spaces. She added she thinks the council should help renters by cleaning up or preventing curbside garbage dumping in the North Village and encouraging landlords to provide better service.
Baraghoush, who has lived in Westwood for two years and worked at UCLA for seven years, said experiencing a home invasion robbery 10 years ago made him want to become more active as a neighbor and citizen. He said he manages a large staff, makes impactful decisions and hears complaints in his daily work, which he thinks is similar to running a community.
Baraghoush said he thinks Westwood has heritage, including historical buildings, that should be preserved. He said he would like to see property values continue to rise while still allowing students to live close to UCLA.
Ken Cluskey, Cesar Flores, Rawad Hani and Naomi Kisel also ran for the vacant seats. Flores and Cluskey received no votes. Hani, who has public policy experience in traffic and civil engineering, received two votes.
Kisel, a second-year political science and Russian language student, received eight votes. Council members said Kisel would represent a desirable student voice on the council, but expressed concern that her internship in council member Paul Koretz's office would present a conflict of interest.
Baraghoush and Kretz joined the council for the rest of the meeting and will be able to vote on motions at the council's February meeting.
Pauker is the managing editor. She was previously an assistant news editor for the City beat and a reporter for the City beat.
Pauker is the managing editor. She was previously an assistant news editor for the City beat and a reporter for the City beat.