Submission: Piterberg's return exposes dangerous tolerance in administration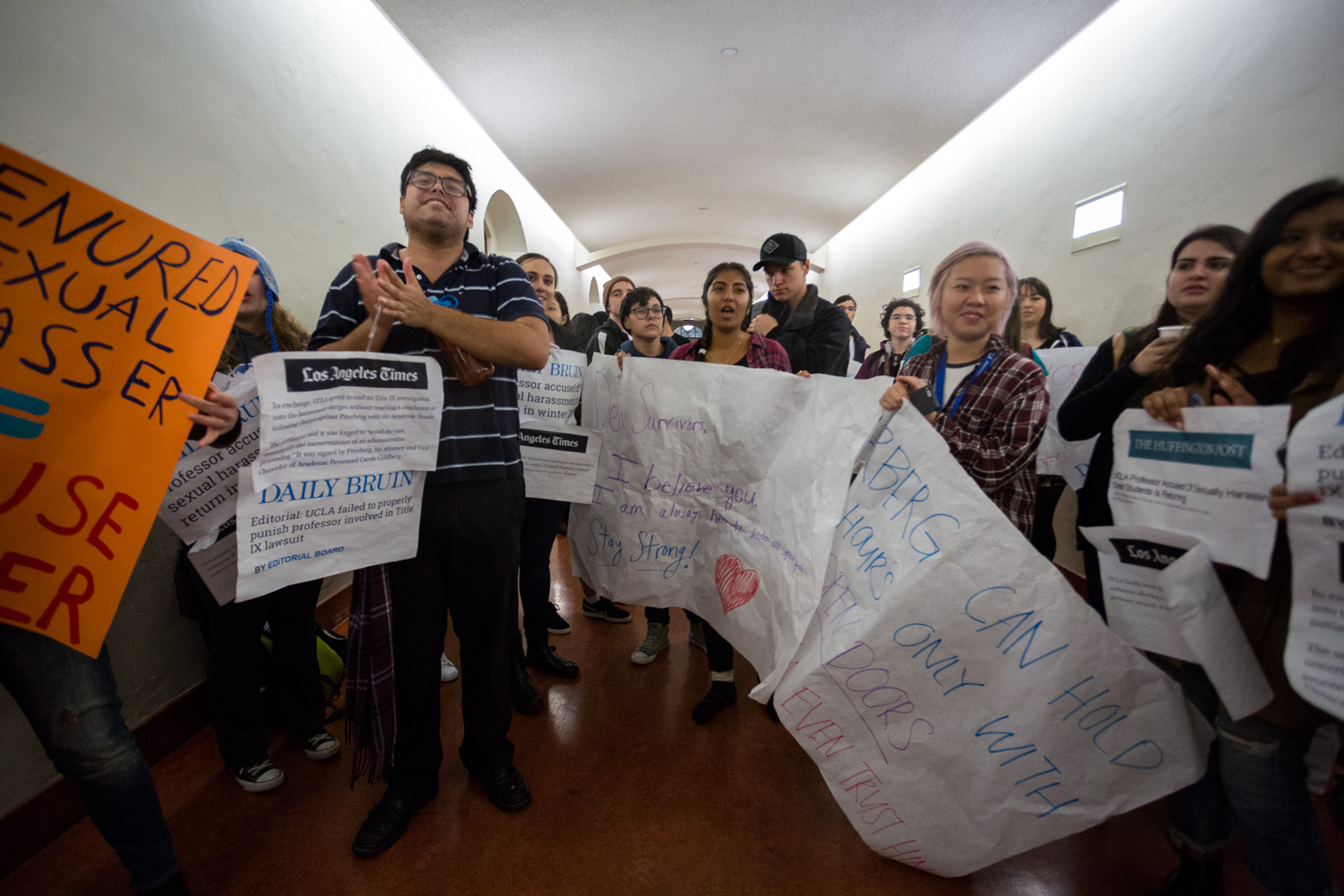 Members of Bruins Against Sexual Harassment and the Bruin Consent Coalition protested outside Gabriel Piterberg's class Monday morning. Piterberg has been accused of sexual harassment by two of his former students. (Jintak Han/Assistant Photo editor)
On the first day of winter quarter, professor Gabriel Piterberg's two history classes were canceled due to student protests against the professor. Protesters were present inside the classroom, silent and bearing signs, during Wednesday's classes as well.
We at Bruins Against Sexual Harassment are aware that the people most directly affected by this protest are the students in Piterberg's class. But we want to be absolutely clear about the situation and its ramifications.
Piterberg was accused of sexual harassment by two of his graduate students in 2013. Instead of carrying the investigation through, the university unilaterally decided to settle with Piterberg in order to avoid the cost, uncertainty and inconvenience of an administrative proceeding, according to the settlement. This settlement was woefully inadequate not only because it lacked transparency, but also because it was arbitrary: one quarter without pay (which Piterberg delayed until he was on a fellowship in Europe) and a $3,000 fine.
As of this quarter, Piterberg is back to teaching. The university made no effort to inform incoming students of the allegations against him.
On Monday, protesters distributed flyers in Piterberg's classroom, detailing why they believe the students deserve, and should demand, a better professor. A professor who is not forced by the university to hold office hours in a glass box at Charles E. Young Research Library, rather than in his office, as he makes his colleagues and peers feel, according to their accounts, unsafe and uncomfortable. A professor who has not been accused of sexual misconduct systematically since 2006 or been forced to resign from a prestigious international visiting position because of these accusations. Quite simply, a professor who does not violate the University of California Faculty Code of Conduct and who respects the UCLA Principles of Community, which states acts of harassment will not be tolerated.
All of us at UCLA deserve professors that act as mentors, educators, advisors and peers. Piterberg's return to the classroom sends a dangerous signal that a climate of tolerance for harassment persists at UCLA. We ask the students in his class to take responsibility for their education and affirm their rights as undergraduate students by emailing the dean of social sciences and the chair of the history department, demanding a new instructor who shows excellence in scholarship as well as in professional ethics.
These are the issues the university should answer to, not the quenching of a legitimate protest. On Jan. 10 Laura Gómez, interim dean of social sciences, invited the students enrolled in Piterberg's classes to a last-minute meeting in the presence of, among others, Stephen Aron, the chair of the history department, and Jasmine Rush, associate dean and director of the Office of Student Conduct. The purpose of the meeting was not, as one might assume, to discuss Piterberg's behavior or the university's response to it, but rather to assure the students that protests will not be allowed to disrupt the class. Piterberg's classes have been moved to a soundproof, windowless room at the far end of campus, and students are now allowed not to attend the classes at all, but must watch them online.
Providing such "safe spaces" for professors accused of sexual harassment is certainly not what we hope for from our educational institution. The administration is pitting the protesters against the students, trying to divide us instead of addressing its responsibility to protect the entire student community from harassment and abuse of power.
We understand the struggles of students simply trying to take a class. Like the dean, we all hope that students can take the classes they want and need for their degree. Unlike the dean, we want a commitment that all the students – us included, because we are undergraduate and graduate students too – can take classes with professors who honor their work and their privilege, respecting the Faculty Code of Conduct that regulates teaching ethics in professors' relationships with their students.
Our university is only as good as we demand it to be. Bruins Against Sexual Harassment will continue to protest Piterberg's unacceptable teaching position until he steps down and promote a safe and empowering work and study environment for all members of the campus community. As students, we must stand united to ensure the quality and integrity of our education.
Alon is a graduate student in comparative literature and Melpignano is a graduate student in world arts and cultures.