Groups continue protests against history professor Gabriel Piterberg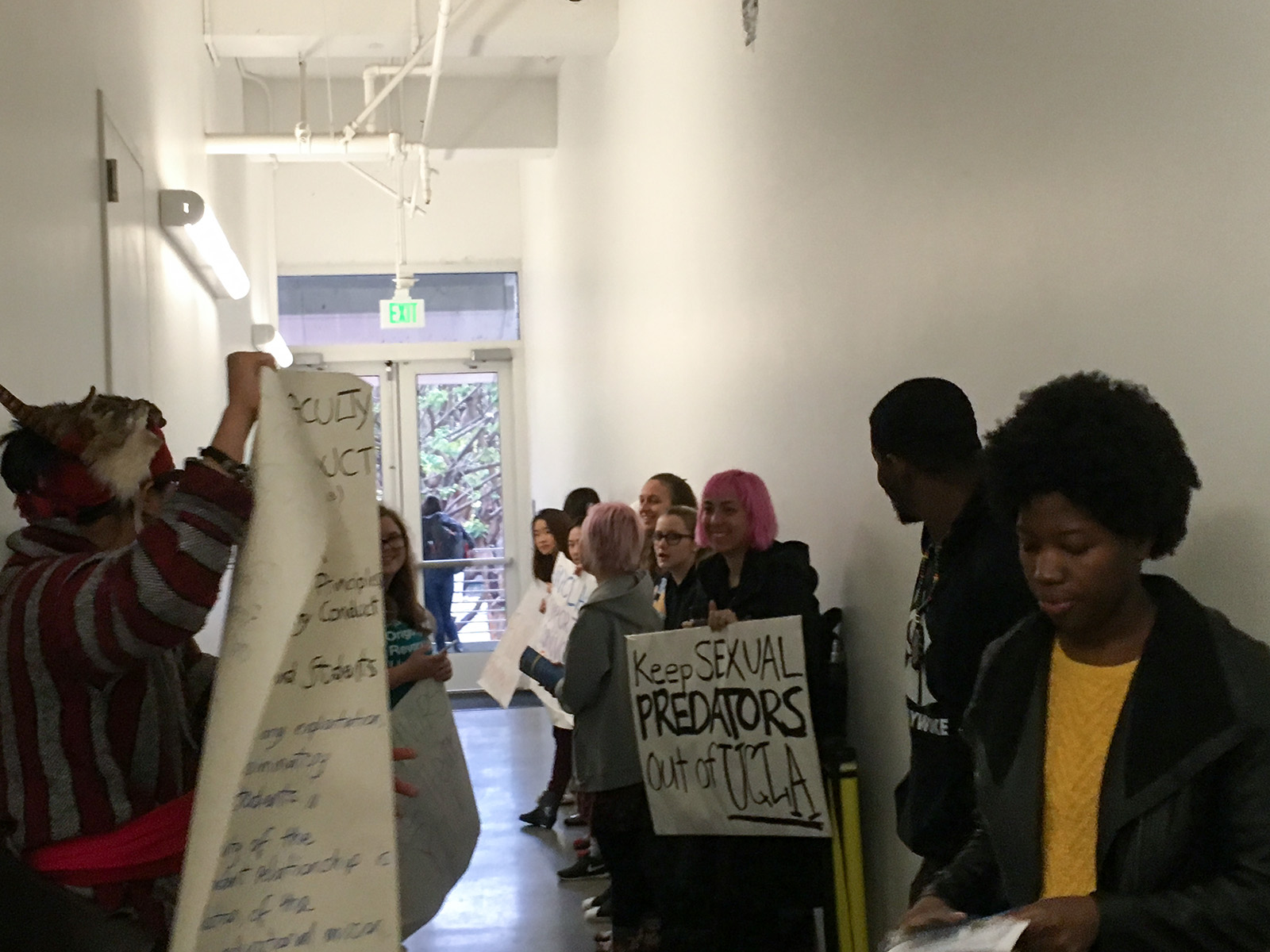 Protesters with several campus groups demonstrated outside the classroom of history professor Gabriel Pieterberg on Wednesday, after larger protests on Monday forced one class to be cancelled and one to be dismissed early. (Courtesy of Bruins Against Sexual Harassment)
Correction: The original version of this article incorrectly stated the protesters in Gabriel Piterberg's 8 a.m. class held one poster. In fact, the protesters held three posters before a student in the class grabbed two and threw them away.
Students with several campus groups continued their protests against a professor accused of sexual harassment Wednesday.
Bruin Consent Coalition, United Auto Workers Local 2865 and Bruins Against Sexual Harassment members held up signs in the hallway outside the classroom in Broad Art Center where Gabriel Piterberg, a history professor, was lecturing.
UAW 2865 represents academic student workers, who are mostly graduate student teaching assistants, readers and tutors.
Nefertiti Takla and Kristen Glasgow, both graduate students in history, accused Piterberg of sexually harassing them in 2014.
Unlike the protests on Monday, in which students' chants could be heard through the walls as Piterberg tried to lecture, Wednesday's demonstrations were relatively quiet, save for a drum player in the Broad courtyard.
Some students in Piterberg's 8 a.m. class grabbed posters out of the hands of protesters standing in the hallway.
Three protesters stood silently in Piterberg's 10:30 a.m. class as he lectured. All initially held signs before a student ripped two out of protesters' hands and threw them away. On Monday, protesters disrupted Piterberg's 8 a.m. class, which he dismissed 20 minutes in. The department of history cancelled Piterberg's following 10:30 a.m. class Monday.
Zeke Trautenberg, head steward of UAW 2865, said the groups are protesting because they want to inform students of the allegations against Piterberg, call for his removal from campus and find a replacement professor to teach his classes.
"The university has an obligation to provide a safe learning environment," Trautenberg said. "Putting a guy who doesn't represent the university's values in classroom is not morally defendable."
UCLA officials referred to a past statement that said the university is committed to maintaining an atmosphere where students can learn free of discrimination, harassment, exploitation or intimidation.
Some students who signed up for Piterberg's class said they either did not know about the accusations against him or had to enroll to fulfill major requirements. Some also said if protests continued, they would consider dropping the class.
Trautenberg said he understands students' frustrations but said he thinks the university is at fault for not hiring more faculty or lecturers to offer more class options.
[Gallery: Students protest Piterberg's return]
Madina Thiam, a member of BASH and a history graduate student, said she wants to let university administration know she does not feel safe with Piterberg on campus and wanted him removed.
She added that as a teaching assistant, she cares about giving students good learning conditions, but does not think they can learn well with someone who has been accused of sexual harassment teaching them.
"We're not trying to prevent student learning, but we've been unable to get the administration's attention," Thiam said.
Viola Ardeni, a member of BASH and graduate student in Italian, said the groups also want more transparency in how the Title IX office and administration deal with sexual assault cases.
She added BASH plans to meet with Title IX officer Kathleen Salvaty later this week.