Women's basketball falls to Washington, continues road losing streak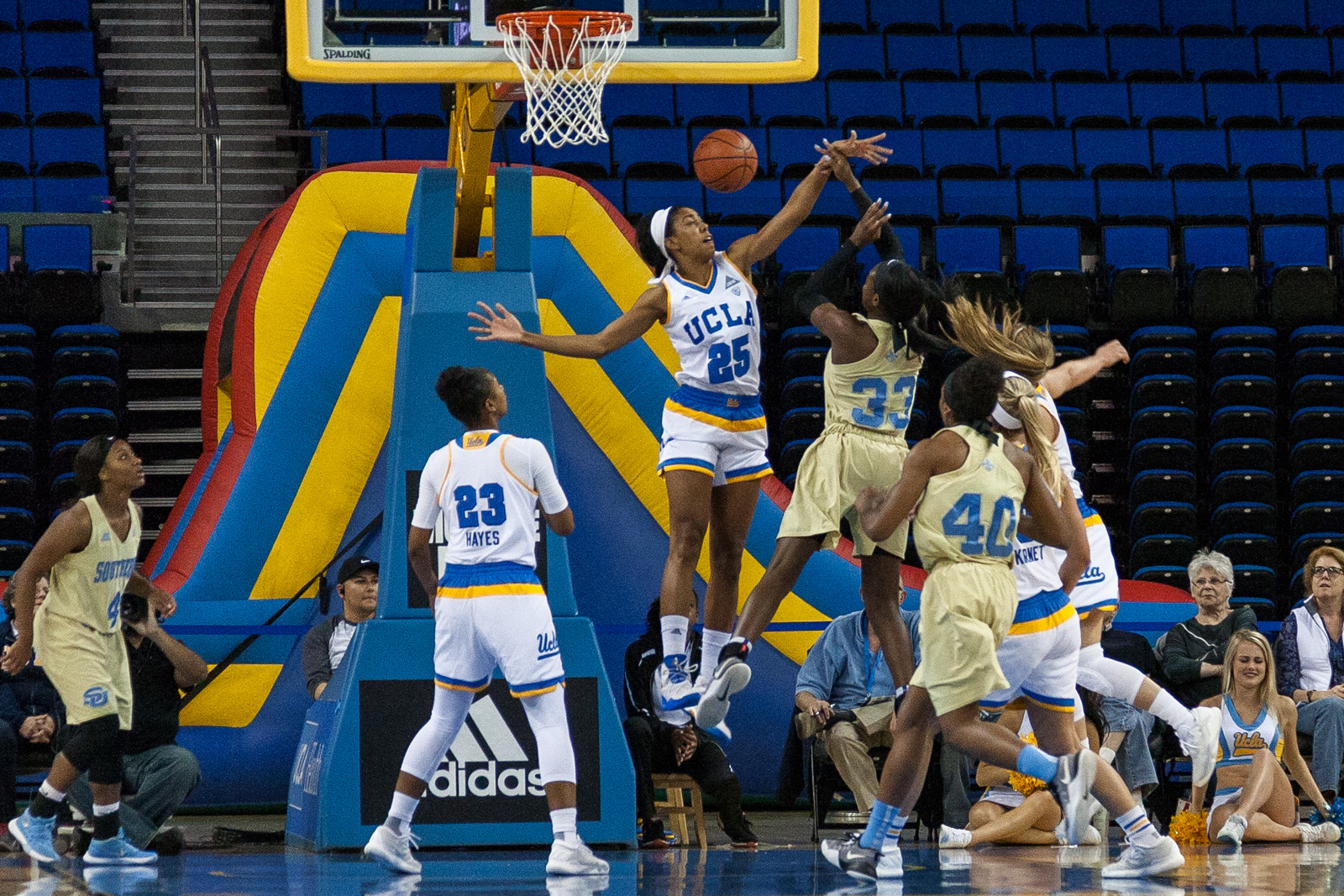 Junior forward Monique Billings went for 10 of her team's 15 first-quarter points, but it wasn't enough to put off the Bruins' eventual 82-70 loss. (Kristie Hoang/Daily Bruin)
A one-hour power outage caused by heavy rain outside of the Alaska Airlines Arena did little to impair the No. 12 Washington Huskies' offense as they dropped 12 3-pointers en route to their 82-70 win over the No. 9 UCLA Bruins.
The loss brings UCLA's conference record to .500 as the Bruins conclude their first conference road trip to the state of Washington winless following an 82-73 upset by unranked Washington State.
Washington (16-2, 4-1) outscored UCLA (11-4, 2-2) in all four quarters, headlined by the play from its seniors, guard Kelsey Plum and forward Chantel Osahor.
Plum, leading the nation with 30.0 points per game, was just one shy of 40 points. She finished with 39 points on an efficient 13-of-26 shooting clip.
Meanwhile, Osahor, the country's leading rebounder, pulled down 16 boards in addition to her 19 points, doing her damage from both inside and outside with three 3-pointers.
Both teams looked to their offensive advantages to begin the game with Washington launching from behind the arc and UCLA going into its interior, composed of junior forward Monique Billings and sophomore guard Kennedy Burke.
"I want to be consistent," Billings said. "I want to be able to be a go-to player for my teammates. If I have an opportunity to shoot, that's what I'll do. And if I'm doubled, I'll just pass it out to my teammates."
Billings scored 10 of her team's 15 first-quarter points, going 5-of-6 from the field as the rest of the team struggled with just one made basket in 15 attempts. But it was not enough to combat Washington.
The Huskies' 3-point shooting nearly mirrored their total field goal percentage in the first half, tallying seven first-half 3-pointers. Washington's scoring runs, combined with UCLA's turnovers and offensive problems, allowed them to jump to a 39-31 halftime lead.
The Bruins found some success in the third quarter with junior guard Jordin Canada going for five straight points out of the break and pushing the pace, consequently collapsing the defense and finding her teammates for open opportunities around the arc. While running the more up-tempo rhythm, UCLA was able to convert on seven 3-pointers after going for 1-of-13 in the first half.
"That's always our identity," Close said. "We always want to play at a high pace in transition and that's not a game-to-game thing. That's how we always want to play. But you have get stops in order to keep that pace up, and that's the key factor. (Washington) isn't even crashing that many people to the boards. They're running back and packing the paint. So, it's hard to get the transition game going without stops or steals."
UCLA came within six points with 7:34 remaining in the contest before Plum went for back-to-back 3-pointers and eight of her team's next 10 points to pull the lead back to 73-59. UCLA guards redshirt senior Nicole Kornet and Burke netted three 3-pointers in the last three minutes to cut into the lead, but it was not enough to overcome the Huskies' eventual 82-70 win.
"Washington is a hard matchup for us," Close said. "They dared us to shoot jump shots and, credit to them, they did a nice job of following their game plan. But I'll look forward to making adjustments and having another shot at them in the Pac-12 season."
UCLA's road losing streak against ranked opponents grows to 15 as the Bruins will look to end their two-game skid back at home Friday against No. 16 Oregon State.
Cheong joined the Bruin as a freshman in 2016 and contributed until 2017. He spent time on the women's basketball and women's soccer beats.
Cheong joined the Bruin as a freshman in 2016 and contributed until 2017. He spent time on the women's basketball and women's soccer beats.