Editorial: UCLA child care center must implement changes following complaints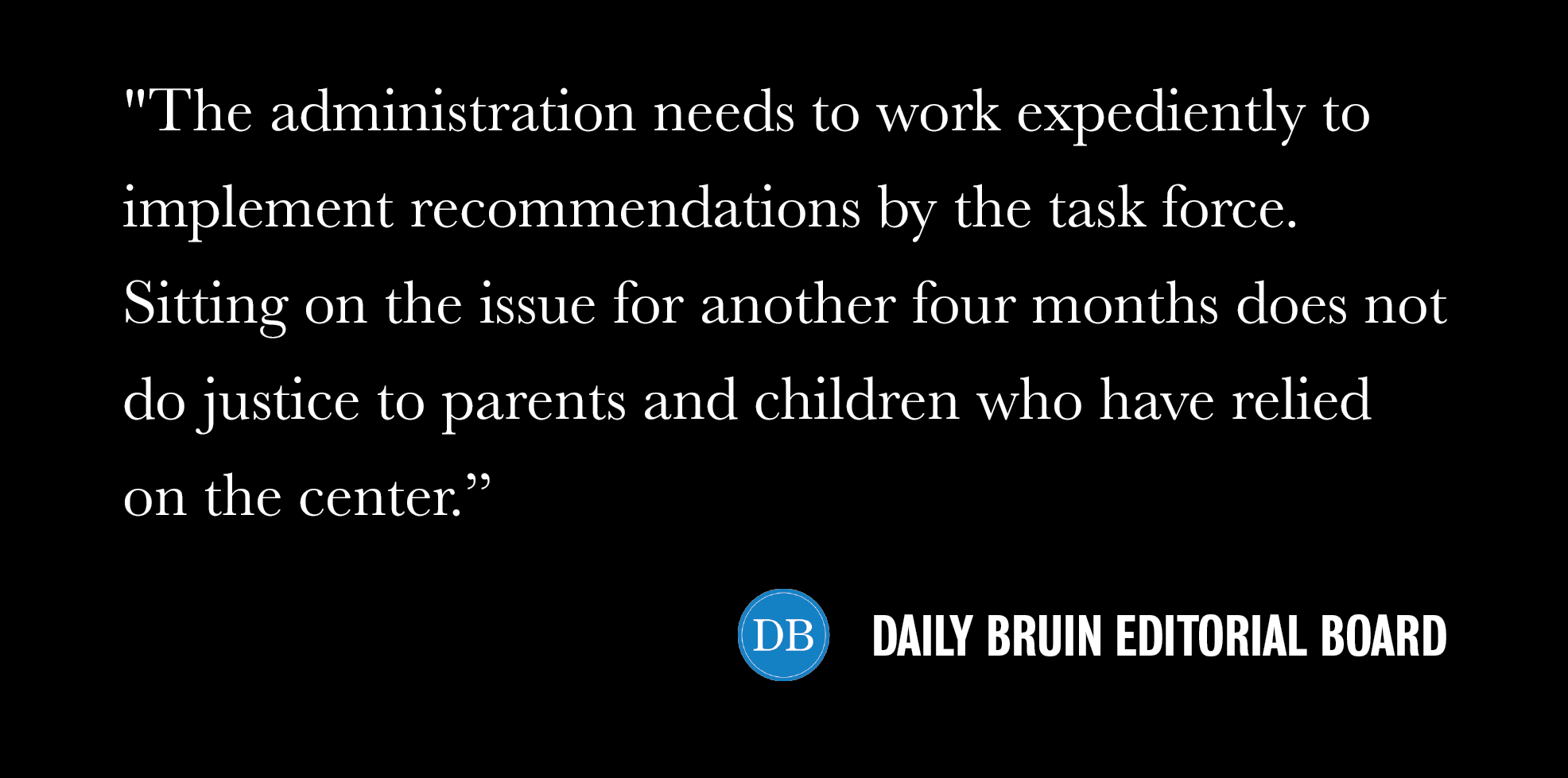 Each weekday, many of UCLA's faculty, staff and students entrust the lives of their children to UCLA Early Care and Education, expecting a safe and nurturing environment for their young ones. However, that may be too much to expect, given the instances of mismanagement at the center that have cropped up over the past year.
Parents utilizing the center have been complaining about abrupt changes in the classroom and instances of negligence by staff, including one that ended with a child needing stitches. UCLA responded – after a year's delay – by creating a task force to investigate the school, and is expected to make recommendations this month.
In spite of this, officials have said implementing the recommendations could take until the end of the academic year in June. What's more, no interim measures have been established to ease parents' minds, even though UCLA initiated the investigation five months ago. This needs to change. It's imperative ECE begins to implement its task force's recommendations immediately.
We've already known for a while that the center has been mismanaged – complaints against ECE's environment have been ongoing since 2015. At this point, the investigation is simply seeking to find out why. But while business at the center goes on as usual, parents remain in limbo and their children continue to endure what many parents call a hostile environment.
In November 2016, the California Department of Social Services investigated several complaints against ECE and found that staff members left uncleaned bottles within children's reach, that a teacher violated a child's personal rights and that another teacher left a child outside for an indeterminable amount of time. The last incident resulted in disciplinary action against the teacher and protocol improvement, according to the report.
Parents told The Bruin their experience with ECE was positive in the past, and some pointed to Jayanti Tambe, ECE's executive director who was hired in February 2015, as the catalyst for recent problems. In fact, Monique Luna, a former ECE teacher, told The Bruin in an email she resigned because she thought Tambe and other directors were disrespectful and unprofessional to both teachers and parents, scolding teachers and arguing with parents in front of their children.
In the face of these challenges, the administration needs to work expediently to implement recommendations by the task force. Sitting on the issue for another four months does not do justice to parents and children who have relied on the center. And since the task force has been investigating the center's problems for the past five months, it should already have worked out the logistics of implementing its recommendations by the time it releases them.
It may seem waiting another four months to enact reforms may not do much harm, but Executive Vice Chancellor and Provost Scott Waugh confirmed at a December town hall that student and teacher turnover rates have been higher than expected. Clearly, sitting on the center's problems isn't in anybody's favor, and UCLA would do well to learn from delaying reforms for the past year already.
It's clear that the ECE has had longstanding problems, regardless of the blame. It's too late to prevent the damages, but the least UCLA can do is begin repairing relationships with the center's families and faculty.