Q&A: Student CoryAnne Roberts launches career on 'America's Next Top Model'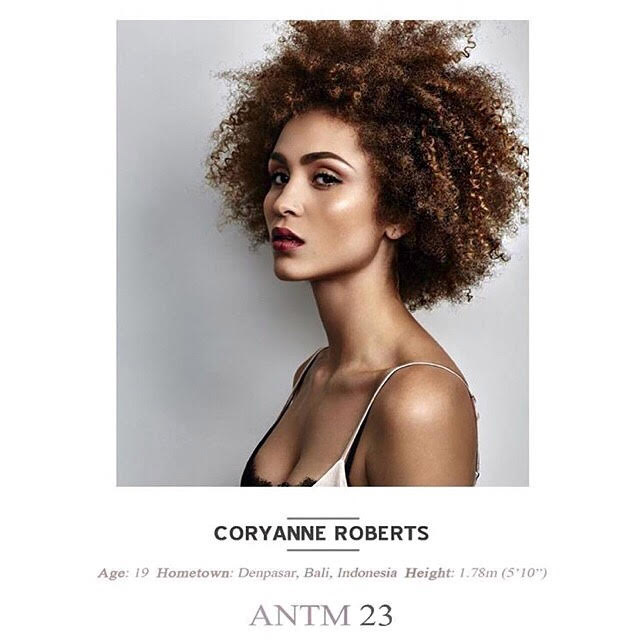 (Courtesy of Massimo Campana)
CoryAnne Roberts landed a spot on VH1's reinvention of "America's Next Top Model" by posting pictures of herself on Instagram.
While browsing through her Instagram, a casting director noticed Robert's look and asked the second-year undeclared student if she was interested in auditioning for the new season.
Roberts spent four months conversing online – exchanging emails, sending pictures of herself and having a two-hour Skype video call – with casting directors until her casting in June 2016.
She made her reality television debut on the 23rd season of "America's Next Top Model" on Dec. 12. The show is hosted by Rita Ora and showcases a panel of new judges, including Ashley Graham, Drew Elliott and Law Roach.
[Read more: Inspired by mother, Roberts models career around independence]
The Daily Bruin's Samantha Suman spoke with Roberts about her experience on "America's Next Top Model," the recruitment process and her growth as a model.
—
Daily Bruin: How did you decide to audition for the show?
CoryAnne Roberts: You know it's crazy because I didn't even apply or even know the show was casting this amazing, revamped version on VH1. I got so lucky that this happened to be the season I got to be on because it's a new, exciting one. I didn't know about it, but I got DM'ed by one of the casting producers over Instagram, and he encouraged me though the whole process.
DB: Why did you agree to go on the show?
CR: I thought it would be a cool experience, you know? Something different, kind of like a catalyst for some change in my life. I managed Brandy Melville, and I was working here and there and I was starting to feel idle. Nothing was really changing or happening. I wasn't doing anything to be excited about. I was hoping it would bring some change or a new project to work on. I figured I would get a good portfolio from it and meet interesting people. I would travel and model and get experience and learn new things. I was thinking it would be something new and exciting.
DB: Did you need to take time off of school for filming?
CR: Actually I didn't because it was over summer. Thankfully for the quarter system, you know, the timing worked out perfectly.
DB: What was the experience like? Did you enjoy it?
CR: Absolutely. I did enjoy it. You know, I got to work with some photographers I never would've had the chance to work with just because they are so credible and respected in the fashion world, and all of our shoots had such big production value and incredible makeup artists and hair and styling. Oh my God, the styling is jaw-dropping. People are not ready for how much glitter and extravaganza are coming your way.
I definitely have a (portfolio) that models would dream of. An incredible, incredible (portfolio). But there were a ton of high-anxiety times, not even just because of the show, but like any job like this in the real world, too, would've been high anxiety. There were super super big jobs, like we worked with Paper Magazine.
And I'm an only child, so moving into a house with 14 girls was so bizarre for me, and it took some getting used to, but I really enjoyed it. I'm super social so it was like having a big sleepover for two months … I'm such an over-thinker and it's really hard for me to sleep at night, even when I'm at my own house, so I barely slept the whole season.
DB: How did you grow both personally and professionally?
CR: I have an amazing (portfolio) from the show, but not only that, I got so much runway experience. I've done runway shows in LA but we got to do big, big shows and get trained by incredible coaches, like Stacey McKenzie, and we got to work with so many professionals. I got tips in all different avenues and outlets of modeling.
Personally, I got to mend some ties with my mom and work on some things that I didn't even know where big issues in my life, and that became a big part of my journey with her. That was a part of the season that I would've never expected.
DB: What was it like to be constantly surrounded by well-known professionals in the modeling field? How did they help you?
CR: That was definitely intimidating, but more so than intimidating, inspiring, because they are all such experts in different ways and different outlets of modeling … It was like the show covered a different lesson for us and different things for me to work on, whether it was runway or a commercial or a music video, all different parts of modeling that we could get casted for.
They were so patient, especially with Stacey McKenzie, when it came to runway, not only just me but all of the girls. If she didn't feel you were getting it or understanding a tip with how to improve your walk … she would wait with you and watch you go back and forth on the runway and critique every little thing you were doing. It was so helpful and one example of how thoughtful all of the experts who came on the show were.
DB: What did you learn about yourself from this experience?
CR: I'm kind of a perfectionist, and it's the worst kind of perfectionist because when things aren't perfect, I don't feel 100 percent confident. So I learned from the show that I have to keep building towards perfection. I just gotta keep trying and if things aren't perfect, I'm still the best me I can be at the time. That was the thing I really learned. I'm not perfect and that's okay.