Parents find management issues at UCLA's child care centers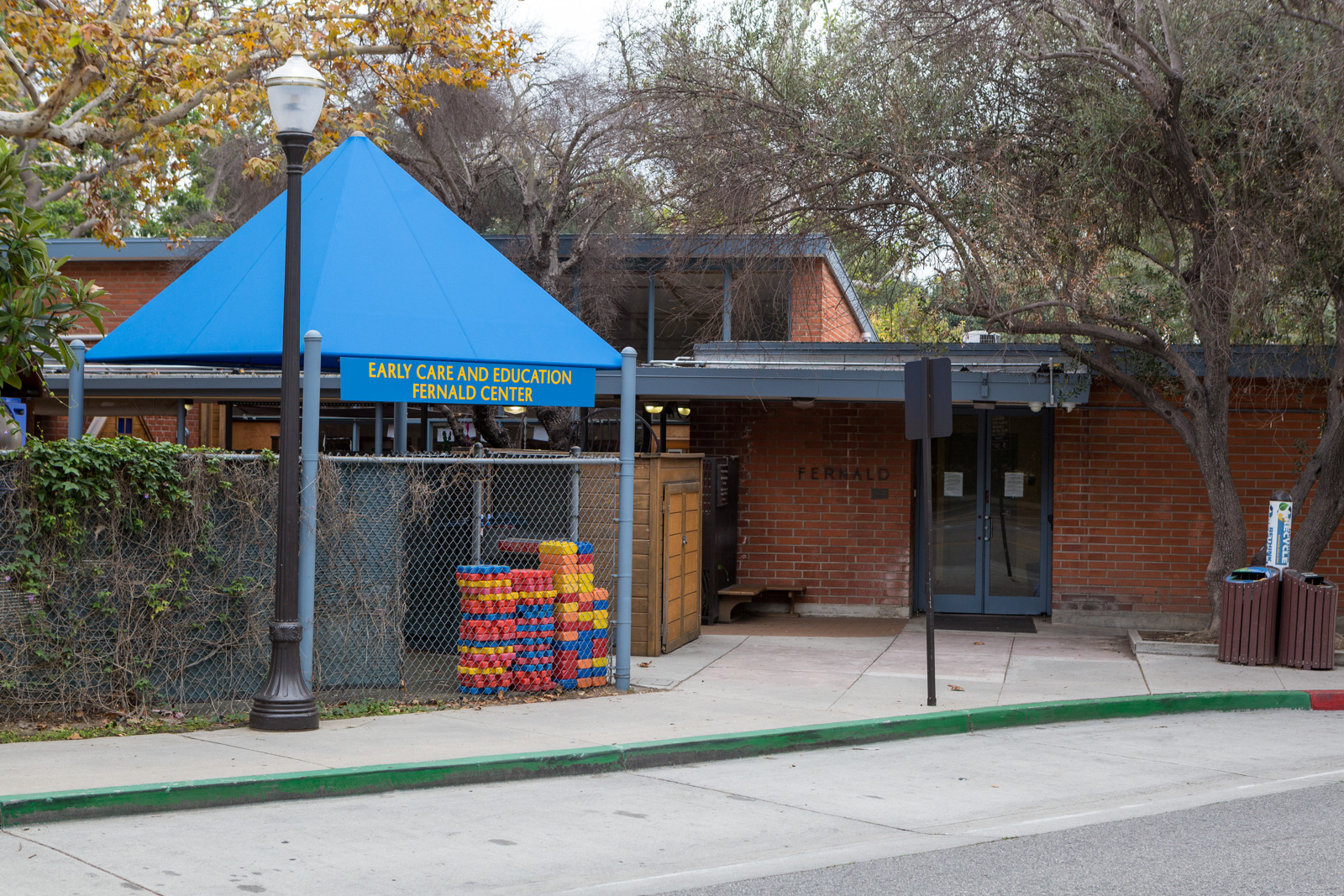 The Fernald Center is one of three ECE sites where parents have been upset about poor management. (Jintak Han/Assistant Photo editor)
December 18, 2016 11:57 am
This post was updated Dec. 19 at 2:40 p.m.
Faculty and graduate student parents say poor management and internal tensions at UCLA's child care centers are affecting their children's well-being.
Some parents said the problems started after Jayanti Tambe, the executive director of UCLA Early Care and Education was hired in February 2015.
Executive Vice Chancellor and Provost Scott Waugh answered parents' questions and responded to their concerns in a town hall meeting Dec. 5, which more than 60 people attended. He also commissioned a task force in August that is interviewing between 50 and 70 staff members and parents and will make specific recommendations for action in January.
At the town hall, several parents asked Waugh to place Tambe on administrative leave to ensure there is a transparent investigation process. Waugh apologized to several parents and said he is considering many solutions, but did not specify whether he would place Tambe on administrative leave.
"I appreciate your apology, but I feel like I've heard your apologies over and over," said Isabel Guerrero, a graduate student in public health, at the town hall. "What I would really like is to see is change, and … ideas that you are really implementing as of now."
ECE has provided early care for newborns and toddlers of UCLA faculty and graduate students for 30 years. Tuition ranges from about $1,800 to $2,200 per month, depending on the child's age. Many parents who have had children at the child care center for several years said they have loved the center because of the outstanding teachers.
But now, parents say Tambe and other subdirectors have abruptly transferred teachers to different classrooms without considering how it would affect children and created a hostile environment for teachers and families.
The Community Care Licensing Division under the California Department of Social Services has investigated several complaints against ECE. In November 2016, the division investigated a complaint about an incident that happened in September 2015 and found that a staff member left a child outside for an unknown amount of time as students were being transitioned into the classroom.
According to a complaint investigation report, ECE pursued disciplinary action against the staff member and implemented a child tracking system a few days after the incident.
The division also substantiated complaints that a teacher grabbed a child, which they said violated the child's personal rights, and that staff members left uncleaned facility bottles accessible to children. Additionally, when a child's injury at the day care resulted stitches, ECE was cited for not properly supervising.
Guerrero said she thinks the management is unprofessional and doesn't comply with policies and procedures.
She said she received a notice stating her son, who has an autism-related disorder, was no longer welcome in the center about eight months after he was accepted. The notice came days after a meeting in which directors told her they would continue to allow her child to stay in the program but felt they could not meet his needs.
She said the notice of action did not comply with a policy that states parents should be given 30 days advance notice if their child is being terminated from the program.
Monique Luna, a former ECE teacher, said in an email that she resigned in October because of a lack of respect and professionalism from Tambe and other directors.
"It felt wrong to stay in a place where I didn't agree with the dictatorship or the treatment of the staff," she said. "Even the families were experiencing issues; being threatened for asking too many questions … and the changes they've had to endure. We were all affected."
Luna said she witnessed the management threatening families, scolding teachers and arguing with parents while their children stood beside them.
Other parents said the constant changes in classrooms and increased resignations disrupt their children's continuity of care, a crucial part of early childhood development.
One faculty member, who said she would only speak on condition of anonymity because she is afraid ECE directors may retaliate against her, said several teachers have quit without having another job because of the hostile work environment. The mother of two said she and other parents estimate the turnover rate is 40 percent since last spring, based on the number of teachers and staff they have counted leaving the center.
At the town hall, Waugh confirmed the turnover rate has recently been higher than UCLA expects it to be, but did not specify a percentage.
UCLA spokesperson Tod Tamberg said that the overall turnover rate has been 13 percent, which is below the national average of 30 percent for child care facilities.
Another faculty member in engineering said his child does not want to go to school because of the teacher transfers in his child's classroom. The parent said losing teachers creates instability for his child and makes his child unhappy because he spends most of his time with ECE teachers.
"The impact on the kids is real," the father said. "My kid is not taking naps. … He's passed out on the couch and sleep-deprived in the morning."
The father also wished to remain anonymous because he feels that being identified would pose a threat to his family.
The mother and father added that some teachers were promoted to supervisory roles even though they are not qualified to be in those positions. They said one of those teachers was the staff member who left a child outside unattended.
"This is supposed to be a place for your children to be protected and be nourished," Guerrero said. "It's not a good environment for anyone."
In a statement, Tamberg said UCLA is confident the task force recommendations will improve ECE, which he said is accredited by the National Association for the Education of Young Children. Waugh expects to implement changes by the end of the academic year.
Reyes is the Daily Bruin's News editor and an Editorial Board member. Previously, she was the Science & Health editor covering research, the UCLA health system and graduate school news. She also writes Arts & Entertainment stories and photographs for the Bruin.
Reyes is the Daily Bruin's News editor and an Editorial Board member. Previously, she was the Science & Health editor covering research, the UCLA health system and graduate school news. She also writes Arts & Entertainment stories and photographs for the Bruin.