Women's water polo duo documents mouth-watering adventures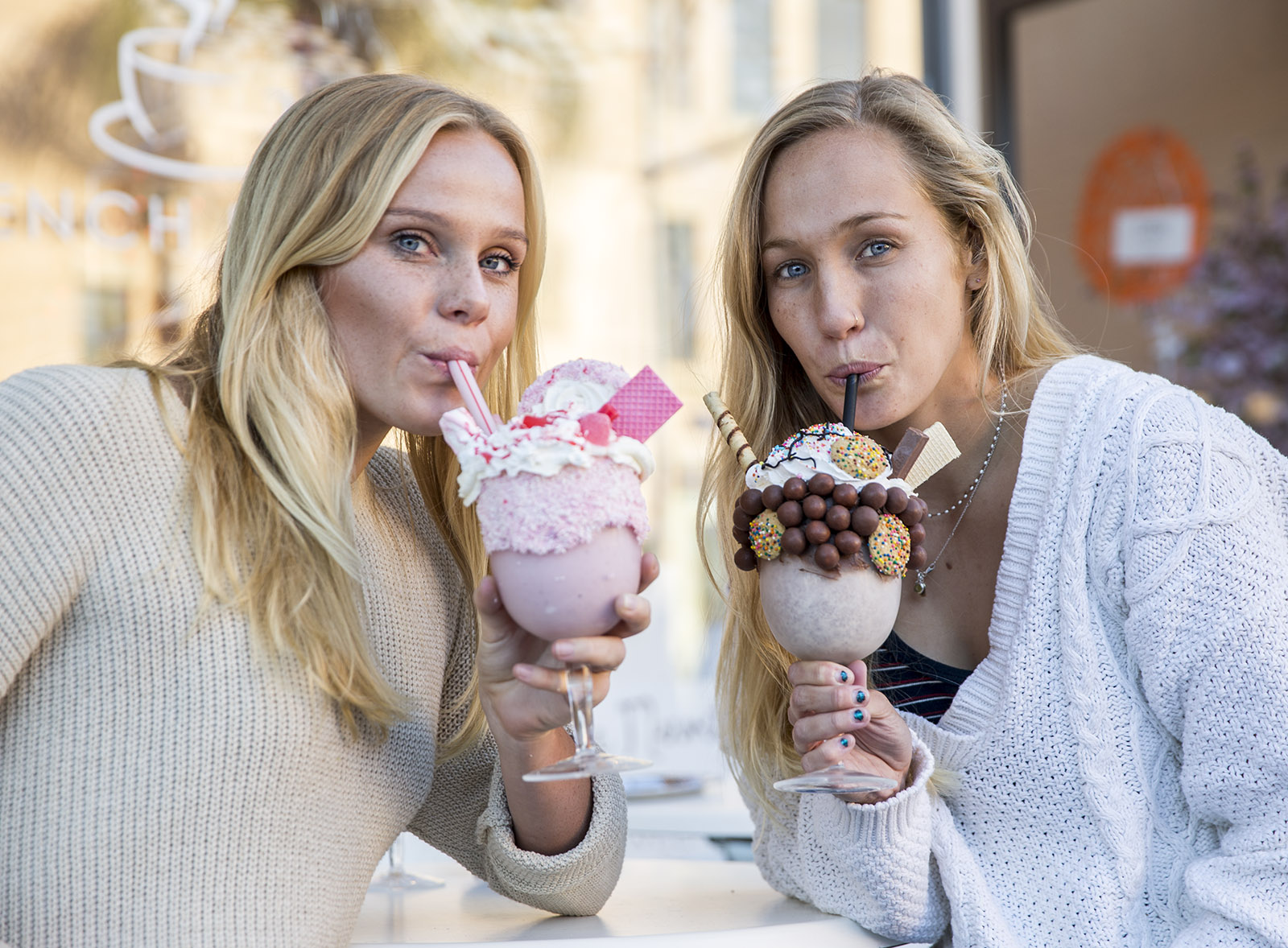 Women's water polo players and roommates Aubrie Monahan and Kelsey O'Brien run an Instagram account dedicated to sharing their adventures in taking a break and trying something new. (Aubrey Yeo/Daily Bruin senior staff)
A daily consumption of classes at UCLA mixed with early-morning practices can be easy sources of stress for women's water polo players Aubrie Monahan and Kelsey O'Brien.
But whenever they feel overwhelmed, the seniors rely on a recipe that they've kept near and dear to their hearts, or in this case, their stomachs.
It typically begins with the phrase, "Let's go get fat and happy," signalling the best friends and roommate duo to hop into a car marked with the license plate, "GME CAKE," before they set out to document their latest adventure at a nearby trendy eatery.
"We just want to go drive somewhere, sit down, enjoy ourselves and then come back to reality," Monahan said.
The term "Fat and Happy" began as an inside joke referencing a moment where 7-year-old "Wife Swap" contestant Curtis Holland rebels against his "Wife Swap" mom's health revolution by proclaiming, "I don't want to be skinny. I want to be fat and happy."
But it's taken on a new significance since the pair's sophomore year, becoming the inspiration for the name of their shared Instagram account @fatandhappyla, which chronicles their adventures of gastronomical proportions.
The posts on the Instagram account adhere to a standard format: the dish's name, followed by the eatery's name and the city it's in. The deliberate simplicity of the descriptions reflect the brief process of documenting each adventure – a few quick snaps with a cellphone camera, a post on Instagram, then finally digging in.
Fat and Happy doesn't have an official rating system attached to the photos, but there still is an implicit review process that goes through each post. Monahan and O'Brien will only upload photos of food and drinks that they personally think taste and look good enough, since many of their teammates and teammates family members rely on Fat and Happy's feed for recommendations.
"A lot of us on the team enjoy going out and trying new places, so I feel like they're the go-to to ask where we should go and try," said senior center Elissia Schilling. "Everyone on the team follows them."
Monahan and O'Brien aren't strict about their frequency of posts, and instead have given themselves the leeway to sporadically upload photos whenever the situation arises. Though they jokingly mention that their rate of posts correlates with how stressed they are, they admittedly have lull periods when they're too busy to sample new food places, or even times when they would go overboard.
"When we first started Fat and Happy – I think my sophomore year – I didn't buy groceries until eight months after college had already started," O'Brien said.
While the idea for the Instagram account was originally conceived as a fun project that granted Monahan and O'Brien some reprieve from the worries in their lives, Fat and Happy has also evolved into a de facto collection of memories the pair have shared together during their time at UCLA.
There was the one time O'Brien managed to find a combination of her two favorite foods – hot dogs and fries – which helped brighten up a less-than-desirable trip out of state.
"It was after a tournament in Arizona, and we hated being in Arizona. And the one good thing about Arizona was good food," O'Brien said. "I spent half of my per diem on it, and it was just like 'whatever.' It was awesome."
The Instagram account also reminds the duo of the time when food became a peace offering after some accidental roughhousing that happened while training.
"One of them, I injured her in practice, and I took her to get donuts after," Monahan said. "But she was in pain the whole time."
Even if the recipient was not fully able to appreciate the donuts at the time.
"I don't remember it 'cause I had a concussion," O'Brien said.
With the month-long winter break approaching, the best friends have plans to document their upcoming trip to visit an old teammate living in New York by adding an East Coast flavor to the feed's SoCal-centric coverage.
As for the more distant future, Monahan and O'Brien see the post-UCLA version of Fat and Happy having greater potential – that means operating from their respective hometowns of Long Beach and Santa Barbara, or whichever cities the future has in store for them.
"I think that will be when it could get bigger," O'Brien said. "Just because we'd be in two different places."
But they'll be sure to serve up a special post whenever they get together – just like old times.