Next Generation Science Standards to reinvent student learning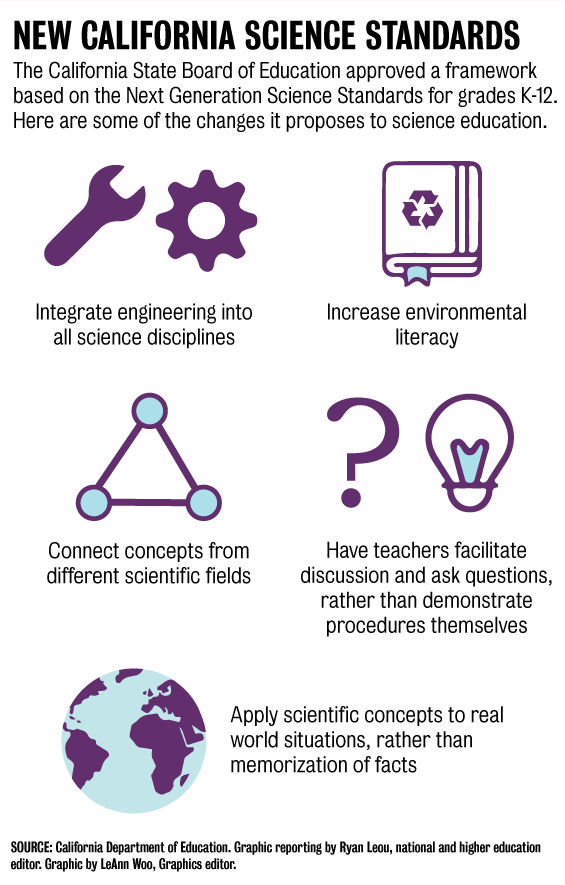 California students will receive a more engineering design-based science education in a few years that will connect experiments more closely with concepts.
The California State Board of Education approved in early November a framework that will help teachers implement curricula based on the Next Generation Science Standards.
The Next Generation Science Standards were published in 2013 by the National Research Council, a nonprofit organization that aims to inform government decisions about science, engineering and health. The standards outline by grade level what science core ideas, concepts and experiments students should learn.
The standards aim to integrate relevant experiments into K-12 science subjects and prioritize hands-on learning instead of memorization. The standards also aim to integrate engineering into a variety of science disciplines.
For example, the framework might ask students how to divert rainwater from roads to prevent pollution and flooding, according to a press release from the California Department of Education. The standards also aim to increase environmental literacy.
A major goal of the new standards is to link different science domains and have students apply the concepts they learn in class to projects.
William Sandoval, a professor at UCLA's Graduate School of Education and Information Studies, said he supports the new standards because of the comprehensive research behind the standards' development.
"The changes come from science educators and researchers," Sandoval said. "They are based on evidence we've collected over thirty years now, so we know that if we teach it this way, kids will actually learn."
The state's framework will help teachers guide students in solving problems on their own in a way teachers are not used to, Sandoval said.
"The national standards came out in (2013) and California decided almost immediately that it would adopt them," Sandoval said. "The California framework is the state's effort to interpret the national standards."
Sandoval also said he thinks if schools can effectively implement these standards, the benefits could extend beyond high school.
"If we can teach to the new standards, will students be better prepared for college? In my opinion, I think so," he said.
University of California spokesperson Claire Doan said the framework does not currently affect UC admission requirements. However, the standards could affect other UC programs, including UC Scout.
UC Scout provides free online courses to California students that fulfill UC admission requirements. The UC will create instructional videos for its online classes that conform to the new standards, said Lynda Rogers, UC Scout executive director.
[Related: Gov. Brown submits proposal to increase UC Scout budget by $4M]
Rogers added Scout science courses also include lab instruction led by credentialed teachers, who lead experiments at schools.
The State Board of Education is scheduled to adopt textbooks and other instructional materials aligned to the new standards and framework in 2018.