Jacqueline Alvarez: Campus "safe spaces" prevent students from engaging in honest dialogue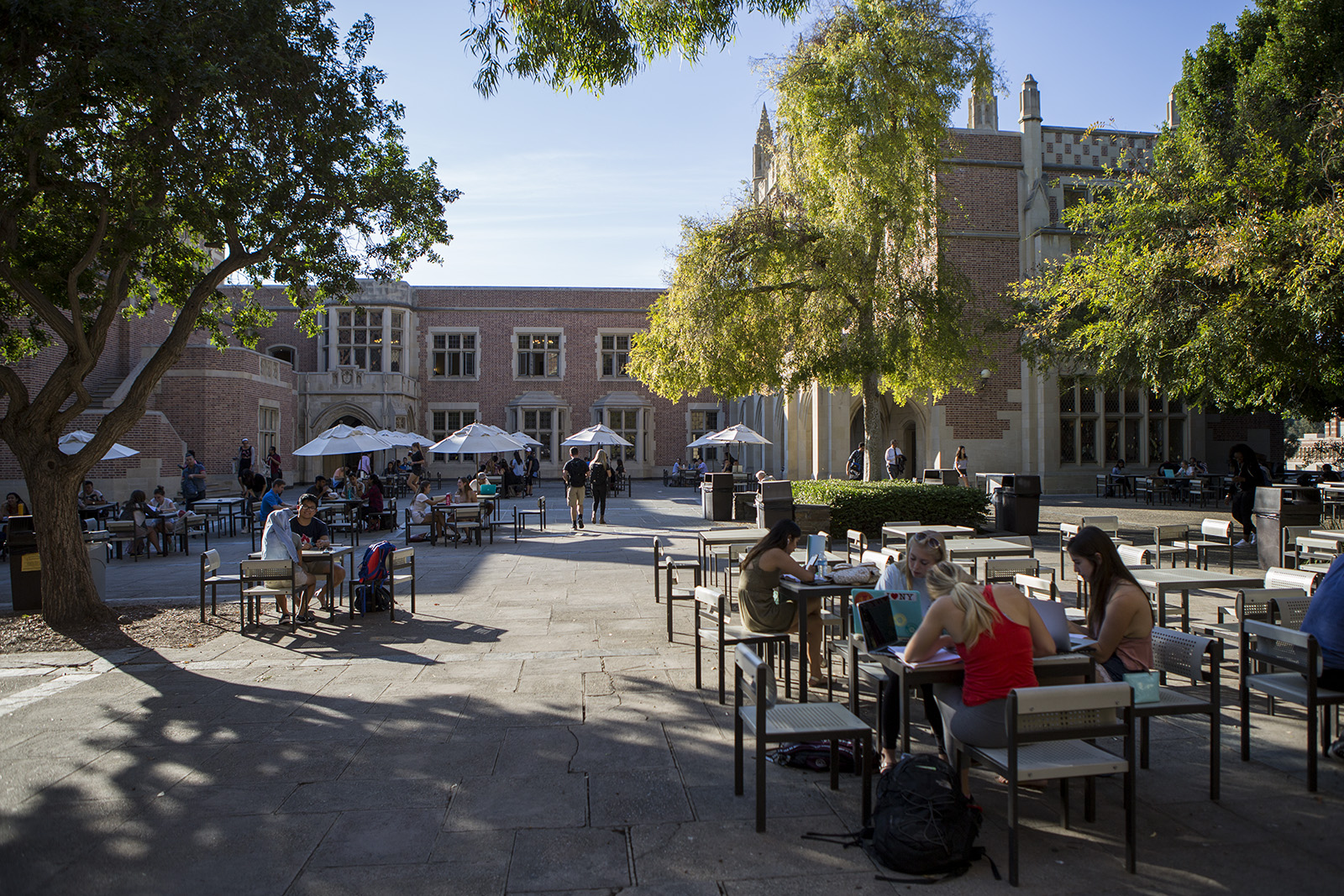 Student groups need to host constructive debates with clear argumentation guidelines in order to promote a healthy contest of viewpoints, which is necessary to reconcile students' differing political opinions. (Miriam Bribiesca/Photo editor)
Two weeks ago, I sat in a safe space in Bunche Hall, eager to open myself to the variety of stories and perspectives students had to share regarding the election results. I did not vote or feel any vexation after President-elect Donald Trump won, so I was genuinely curious as to how other students were coping.
When it was my turn to share my thoughts, I revealed my Mexican family had not been directly affected by the president-elect's anti-immigrant comments because they were not here illegally. I was immediately bombarded with side-eye glances and shocked looks and quickly acknowledged my mistake:
"Sorry, undocumented immigrants."
I was originally optimistic to hear authentic and vulnerable thoughts at the safe space, but came out disappointed. The opinions I heard were superficial, guarded and excessively "politically correct." I felt like students were holding back from sharing their honest thoughts and feelings, as the strong fear of offending someone guided dialogue.
People were hesitant to raise their hands to participate. The awkward tension prompted the facilitator to ask attendees to contribute. And when people did speak up, they simply regurgitated what others before them said, offering absolutely no insight or solutions to their issues.
Similar safe spaces have been held throughout campus as platforms to make sense of the election and cultivate community among students who have been alarmed by Trump's victory. These safe spaces aim to provide a comfortable, supportive environment for students to express themselves without the fear of attack or humiliation. But as a result, some of these spaces were hardly safe at all.
[Related: Bruin Republicans members encourage students to accept election results]
After attending a few more of these safe spaces, it's clear they are necessary for all students, regardless of political affiliation. However, while we all need a place to vent and share how we feel, safe spaces are limiting, and we students need to acknowledge how they fail to reconcile political divisions. Instead, the student body needs to conduct constructive debates with guidelines that invite people to respectfully argue their different viewpoints and opinions.
People naturally gravitate toward settings and groups that favor their backgrounds and beliefs, and it's mistaken to label safe spaces as a purely liberal concept. Earlier this month, Bruin Republicans Internal Vice President Julia Nista suggested their club can serve as a place for conservative students who find it difficult to share their opinions without facing attacks from students or faculty who disagree with them. In other words, their club is a safe space.
And even conservative safe spaces don't help facilitate open dialogue. In early October, the club organized an event to discuss immigration policy, which Bruin Republicans outreach director Haley Nieves claimed would be an intelligent, public discussion that would hopefully help change some perspectives. But it wasn't. At the end, the forum proved to be unproductive as attendees and panelists succumbed to a vicious and immature shouting match.
Another example of safe spaces gone wrong was the 2016 Students of Color Conference held earlier this month, which hundreds of University of California students attended, including some of UCLA's Undergraduate Students Association Council representatives. According to their mission statement, SOCC's major goal was to "create a space to discuss, dissect, and create relevant solutions to issues surrounding students of color." However, the conference eventually turned into a kind of "oppression Olympics," where students argued over which minority group was oppressed the most rather than finding solidarity and understanding amongst each other.
In essence, groups from both sides of the political spectrum have arranged their own safe spaces which have proven to be biased bubbles of ineffective discussion that lack respectability and open-mindedness. From excessive political correctness to downright toxicity, these spaces do not encourage students to engage in mature dialogue that could actually present solutions to their issues. It is important for participants to understand how to conduct themselves, while still being able to respectfully argue with others.
Having student organizations, such as USAC, initiate constructive debates on campus would help fix this. A set of guidelines would be a great way to facilitate these debates and ensure their productivity. For example, UC Berkeley has enacted its own set of discussion guidelines for students to follow when student organizations host debates and conversation forums. These guidelines dictate that participants should speak with the positive intent of seeking greater knowledge about their peers and understanding that students might unintentionally offend them.
[The Quad: Freeze Peach Friday: An Introduction]
Hosting debates can run the risk of causing more political division because students might be more concerned with "winning" a debate than understanding opposing perspectives. Nonetheless, the purpose of conversation and debate is to create general consensus on an issue. Unlike safe spaces which perpetuate political divides, debates will encourage bridging them.
If students claim that they want to engage in more thoughtful discussions and find workable solutions to their problems, they need to actually do it. So-called "safe spaces" and echo chambers won't help anybody reach a clear consensus on any issues.
Alvarez is the Alumni Director and a senior staffer in the Opinion section. She was an assistant Opinion editor in the 2017-2018 school year and previously contributed as an opinion columnist. She writes about topics such as campus life, Westwood and Los Angeles city programs.
Alvarez is the Alumni Director and a senior staffer in the Opinion section. She was an assistant Opinion editor in the 2017-2018 school year and previously contributed as an opinion columnist. She writes about topics such as campus life, Westwood and Los Angeles city programs.