Women's soccer focuses on season positives after loss to West Virginia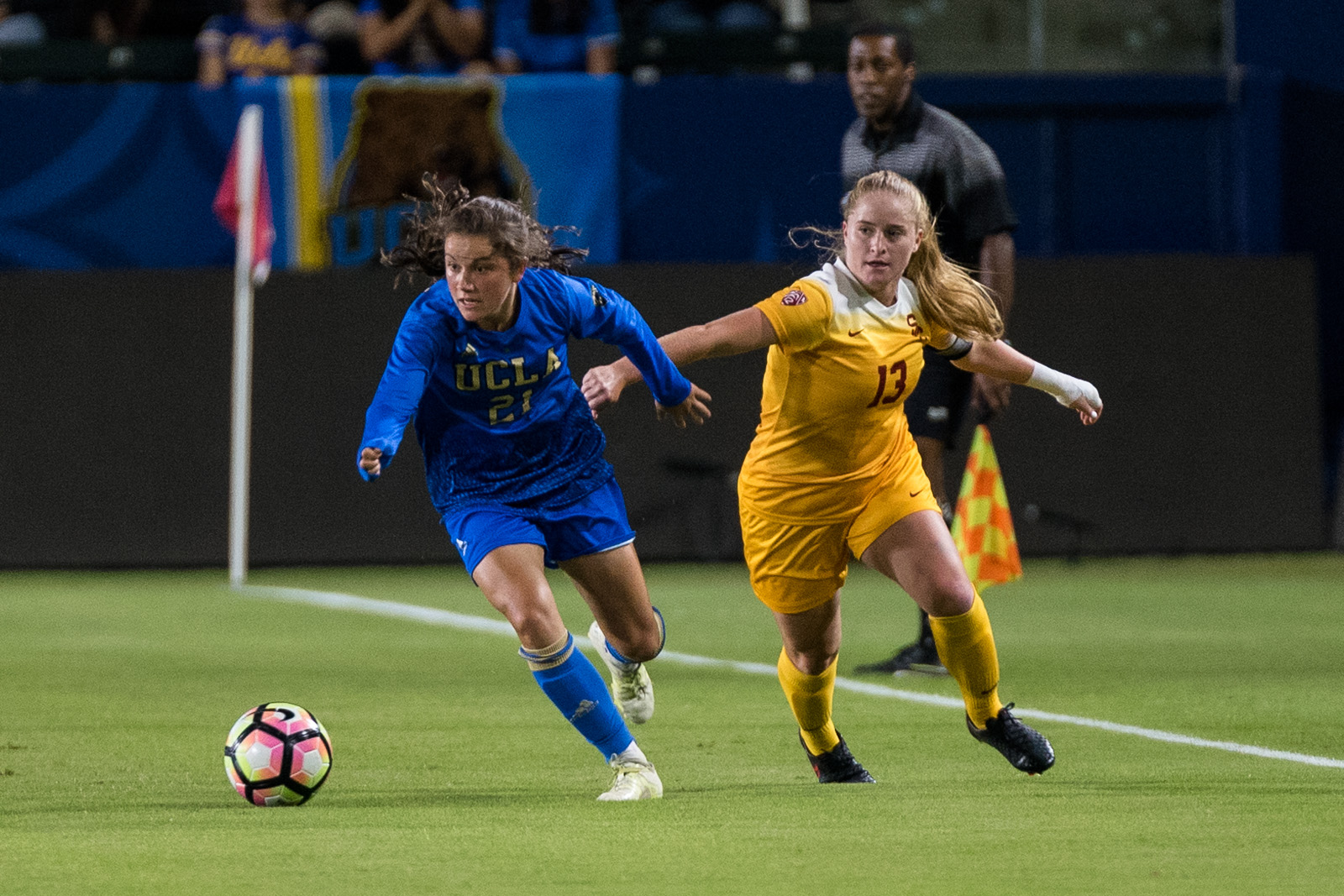 Freshman midfielder Jessie Fleming was a bright spot throughout UCLA women's soccer's season, leading the team with 11 goals and 27 points despite missing the first two games of the year due to the Olympics. (Mackenzie Possee/Assistant Photo editor)
Season-ending losses are never fun. Going out on penalties, like UCLA did against West Virginia, makes it worse.
"(Penalty kicks) are a crapshoot," said coach Amanda Cromwell. "It's a big, big bummer."
Tougher still, the Bruins had just turned the corner on a tough second half of the season and really started to click.
[Related: UCLA eliminated from NCAA Tournament after loss to West Virginia on penalties]
"I think we're all pretty upset because we knew the potential we had," said senior midfielder Annie Alvarado. "We were just hitting our stride, and I think we were only going up."
Now, UCLA will be forced to watch the rest of the NCAA women's soccer tournament back home in Westwood and deal with the first offseason task – reflection.
Upon doing so, the season could be divided into three parts: before the injury to senior forward Darian Jenkins, the uneven stretch following the injury and then the USC game on through the loss to West Virginia.
In each of those parts, the Bruins looked like entirely different teams and possessed unique qualities and tendencies.
During the beginning of the season, UCLA seemed to be a dynamic attack-heavy team. Jenkins and freshman midfielder Jessie Fleming made for a potent tandem, with the former harassing defenders with her explosiveness on and off the ball, and the latter using her refined skills and positional awareness to be a threat.
That came to a screeching halt when Jenkins suffered a broken leg, which ended her collegiate career.
"(After) losing Jenkins, we definitely had to try some new things out," Alvarado said. "We didn't really have the (same) threat without her."
Following the injury, the Bruins endured four straight overtime games that almost went to five straight had it not been for a late winner from senior midfielder Gabbi Miranda against Washington State.
Then, the team lost two big games to Colorado and Utah, eliminating them from Pac-12 title contention.
[Related: UCLA stumbles en route to NCAA Tournament]
At this point in the season, UCLA did not have the dynamic attack it had before. The team maintained possession yet failed to capitalize on it at times and their defensive mishaps were punished by their opponents.
"There were a lot of ups and downs," Cromwell said. "Getting the right combination of players on the field, having to go through Darian Jenkins' injury and changing formations. The girls are very adaptable."
That adaptability finally paid off when the Bruins switched to a 4-3-3 formation and changed their starting XI for the game against then-No. 5 USC. It was as if the team had flipped a switch.
The defense cleaned up its mistakes, helped by Alvarado and Miranda functioning as holding midfielders, and the offense came back to life.
"Once we decided to change, we didn't give up a goal for the three games prior to West Virginia," Cromwell said. "We were defending well, we were attacking well, and we were very dangerous."
In the end, they lost on penalties against No. 1 West Virginia, putting the damper on their newly gained momentum.
"This season was fun and it was really interesting and we went through a lot of different things," said redshirt freshman midfielder Anika Rodriguez. "Losing this game was rough and it was hard, but we battled it out and I couldn't be prouder."
The loss also closed the books on the seniors' college careers. Most were freshmen when UCLA won its first-ever national championship in 2013.
"(This) was my favorite season as a Bruin, and I think most of the seniors could say the same despite the result," Alvarado said. "No one will ever really know how close we all were unless you were on the inside. It was a feeling that we were one. It was an awesome feeling and it's sad to let that go."
For the coaches and the rest of the squad, however, there is a lot to look forward to. The team will return nine starters and have Mallory Pugh and Marley Canales – who had U.S. U20 Women's National Team duties this fall – available, while bringing in another top recruiting class.
"It's a very exciting group to be coaching," Cromwell said.
Bribach joined the Bruin as a sophomore in 2016 and contributed until he graduated in 2018. He spent time on the gymnastics, women's basketball, women's soccer and beach volleyball beats.
Bribach joined the Bruin as a sophomore in 2016 and contributed until he graduated in 2018. He spent time on the gymnastics, women's basketball, women's soccer and beach volleyball beats.