Skilled trade workers strike over UCLA wage negotiations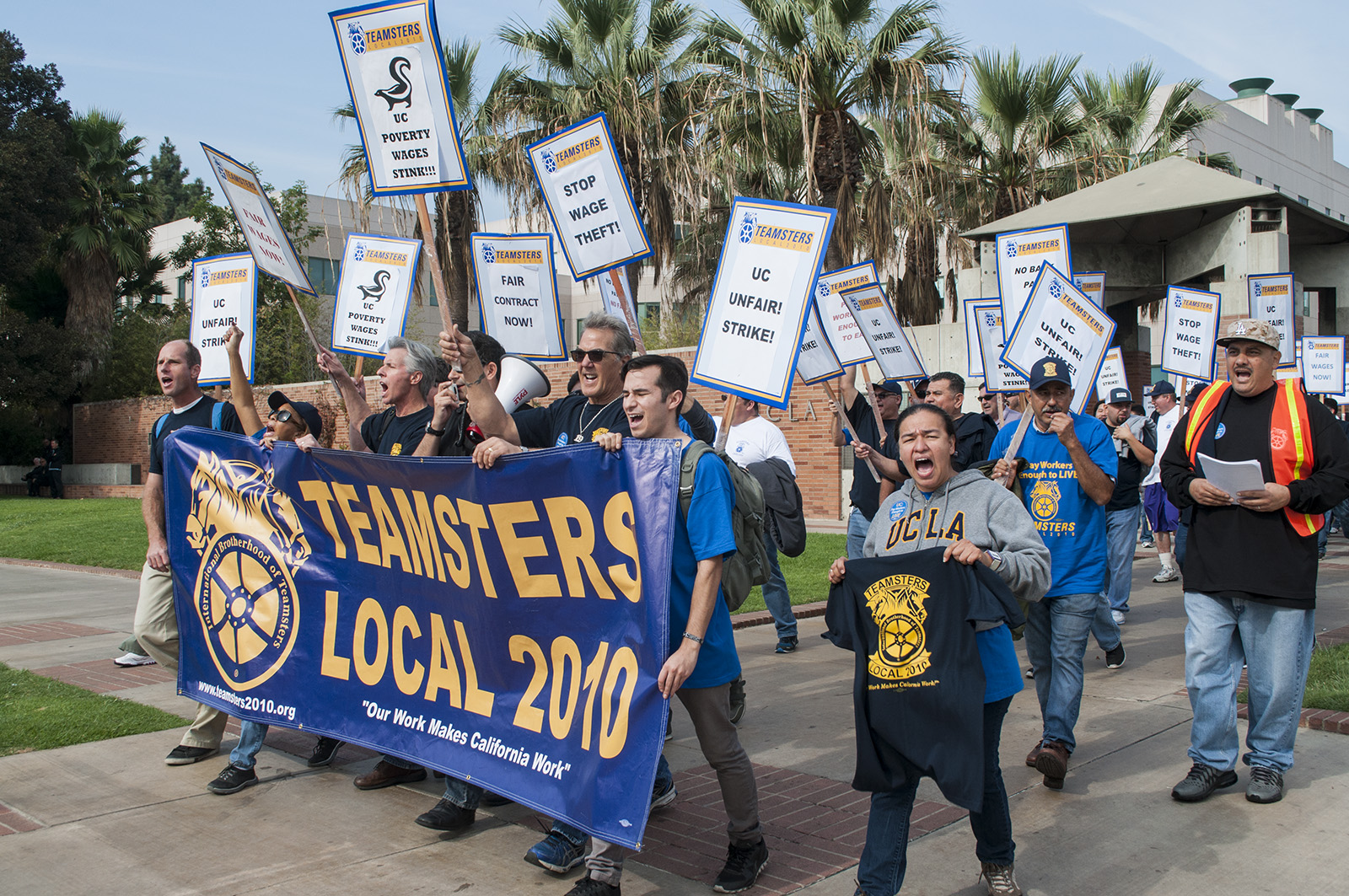 Teamsters Local 2010, the union representing skilled trades and administrative workers, went on strike Wednesday alleging UCLA refused to negotiate on back pay. (Eda Gokcebay/Daily Bruin)
November 16, 2016 1:48 pm
This post was updated Nov. 16 at 4:18 p.m.
Skilled trade workers and administrative workers went on strike Wednesday, claiming that UCLA bargained with them in bad faith over a new contract.
Teamsters Local 2010, the union representing the workers, started the one-day strike at midnight because UCLA refused to negotiate wages for workers' past work and over alleged University of California violations of state labor law.
About 600 people rallied at the Wilshire Center at noon, before blocking the Wilshire and Westwood Boulevard intersection. Protesters chanted "Who are we? Teamsters" and "No contract, no peace!"
Almost every worker carried a sign that read "UC Unfair! Strike!" Police ordered protesters out of the intersection after about 10 minutes.
The crowd then marched up Westwood Boulevard toward Ronald Reagan UCLA Medical Center.
The skilled-trade bargaining unit is bargaining for a new contract after not receiving a raise for four years, according to a Teamsters press release. Teamsters also said skilled workers' real income has declined 24 percent in the past 20 years. However, the union rejected UCLA's offer of a 24.5 percent wage increase by 2020 because it claims UCLA unlawfully refused to bargain for past raises.
Jason Rabinowitz, the lead negotiator for the union, said he thinks the university is not bargaining in good faith.
"They come, sit and eat with us, but then absolutely refuse to acknowledge the issue of wages," Rabinowitz said.
Although the groups have agreed on certain parts of the contract, such as the contract's language, workers hoped to obtain both raises and retroactive pay for the past four and a half years, when no raises were given.
"Due to the lack of raises, I can't retire for at least three more years," said Jon Kramer, a plumber at Ronald Reagan UCLA Medical Center.
Kramer said he has worked for the university for 15 years and is part of the negotiating committee.
Sam Huffman, a campus housing maintenance worker, said he cannot save money to put into his retirement fund after sending three children to college.
"The university likes to make the issue sound very simple, but doesn't tell us the other side," Huffman said. "Even if they offer a raise upfront, they won't pay us for the past few years, or if they agree to one thing, they open up negotiation on something we previously agreed to."
Workers also said they were concerned because many of their managers received raises ranging from 15 to 30 percent of their salaries over the past four years.
"As they stall negotiations, they save 300,000 dollars per month which would go to the workers," Huffman said. "They can look like they are negotiating in good faith, but in reality, not lose a penny or change anything."
UCLA said its market analysis showed that the university's wage proposal would have made UCLA skilled trade workers the highest-compensated workers in their category among peer institutions.
[Related: UCLA skilled workers union calls for higher wages in protest]
Officials released a statement Tuesday that said the university was disappointed with Teamsters' decision to strike.
"UCLA … believes this matter is best resolved at the bargaining table," the statement said.
The statement also said the UCLA campus and all facilities within its medical enterprise will remain open as usual.
"UCLA Health's first priority is to provide patients with safe, high-quality medical care," the statement said. "In anticipation of a strike, UCLA Health has developed a contingency plan to ensure that our hospitals and nearby patient care facilities remain open and fully operational during normal business hours and continue to serve the medical needs of our patients and the community."
According to the statement, UCLA believes the Teamsters' strike is unlawful, and the university filed an unfair labor practice charge with the California Public Employment Relations Board on Tuesday evening.
Teamsters said the strike was completely legal, calling it an unfair labor practice strike.
Different campus units warned of potential delays the day before the strike, but said services would run as smoothly as possible.
Suzanne L. Seplow, assistant vice chancellor for residential life and student development, and Peter Angelis, assistant vice chancellor for housing and hospitality services, sent an email to students on the Hill warning of maintenance delays.
"Housing Maintenance will be focusing all of its available workforce on the highest priority items – specifically fire life safety, elevators, floods, leaks and building access," Seplow said.
She added package deliveries in the mailroom may be delayed.
Carey McCarthy, director of volunteer services at Ronald Reagan UCLA Medical Center, said in an email to volunteers that the strike will not affect patient care or flow of business at the hospital.
"Volunteer activity and assignments will be business as usual, as we do not anticipate any problems other than a possible presence of the group around the hospital," McCarthy said. "Extra security and patrol will be on hand to escort any concerned individuals (or) volunteers, or deal with any situations that may arise."
Skilled workers also represented by Teamsters at the University of California, San Diego, will strike Thursday over alleged UC labor law violations.