Versatility backs sophomore Hailie Mace's success on soccer field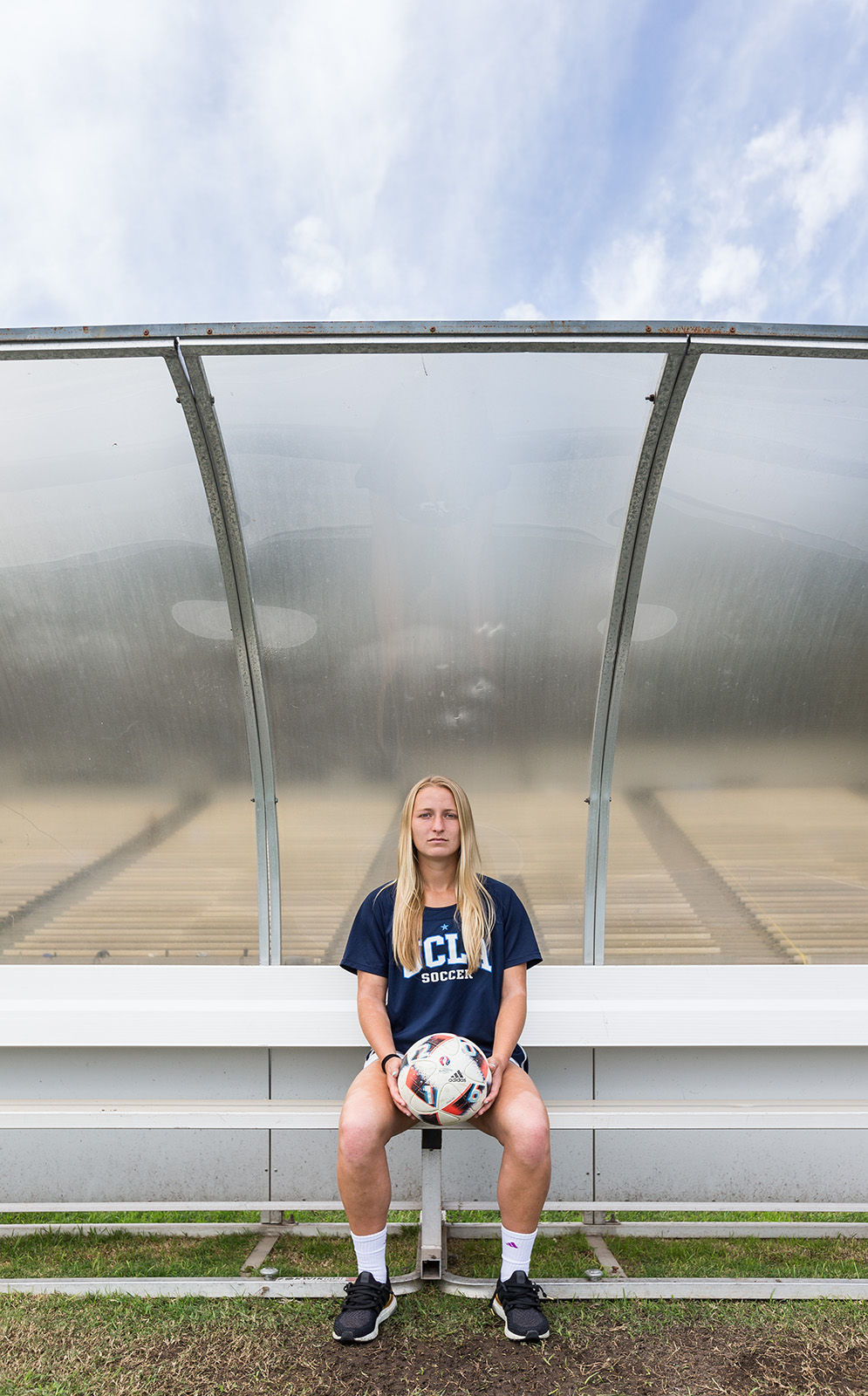 Defender Hailie Mace leads a UCLA defense that's recorded seven shutouts this season. But the sophomore was an outside candidate for the role, having spent her junior and senior years at Buena High School as a top-scoring forward. (Aubrey Yeo/Daily Bruin senior staff)
Despite the numerous awards to her name, sophomore Hailie Mace was never a surefire successor for a spot on the celebrated UCLA defense.
The current Bruin starting center back managed to bookend her tenure at Buena High by reaping honors such as the 2015 Ventura County Sports Hall of Fame Player of the Year and 2014 the Channel League Offensive MVP, just to name a few.
But the caveat to those accolades is they were earned by a player who didn't spend most of the game defending, but rather topping the scoring charts for every team she featured in over those two years.
In 2014, the then-high school junior finished the season with 16 goals and 11 assists splitting time playing at the backline and upfront. But after making the full transition to center forward in her senior year, she managed to vastly overtake the previous year's tally with 26 goals and 15 assists.
As a forward, Mace played a style characteristic to what she self-identifies as her best asset on the pitch – her speed. This style of play, however, removed her opportunities to function as a playmaker. She'd mostly focus on off-the-ball movement with the aim of being on the receiving end of long balls or through balls from her teammates.
[Related: Women's soccer defeats Seattle 3-0 in NCAA Tournament opener]
While it was certainly effective in making her a goal-scoring machine, it wasn't her preferred way to play the game.
"I just never thought I was that good at making runs off the ball. I kinda just waited for them to play and then I would run," Mace said. "When I have the ball I just go – I can see what spaces are open and that's when I pick and choose when to dribble forward."
Nor was it a skill set she had spent years developing.
Although Mace spent most of her time as a high school upperclassman trying to put the ball in the back of the net, the one unifying aspect of her time at Buena High was her nomadic approach on the field and playing positions according to what her team required of her.
As a freshman she spent most of her time playing as a fullback adjacent to two center back mentors, before eventually taking over one of their spots a year later when they graduated. But when the team needed a go-to goal scorer for the next two years after, Mace was once again the answer.
"I kinda didn't mind switching positions (because) it helped me work on different things, so when I got to college I knew how to play multiple positions," Mace said. "If they needed me to play somewhere, I could play there."
Though the UCLA coaches were cognizant of Mace's experience filling in for various defender positions and recognized her versatility as a player, they told Mace she'd most likely see minutes up front. And true enough, that's where she played during her first couple of games as a freshman.
But an injury to senior defensive midfielder Gabbi Miranda – who started at center back last year – forced another position change in Mace's soccer career.
"We needed her; we had a personal issue with the backs and we needed her," said coach Amanda Cromwell. "I think she was gonna play regardless with how much of an impact she was, but she earned her spot along the way and solidified it."
As a center back, Mace finally had an opportunity to play with the ball at her feet and seek playmaking opportunities – a style that spoke to her as a soccer player.
"If I didn't really have the freedom to dribble forward, I'm not really playing me, 'cause that's how I play," Mace said. "I've always played like that in high school; when I played center back I dribbled forward, so that's just the player I am. So if I wasn't do that I wouldn't be showing my full skills and playing how I know how to play."
Although it's not so typical for center backs in general, it's a common sight in UCLA teams coached by Cromwell. Alumnae such as Abby Dahlkemper and Megan Oyster would frequently bring the ball forward from deep, relying on the unspoken agreement of the defensive midfielder to plug the gap.
Mace was fully initiated to this tradition on Oct. 13 of this season. The Bruin center back began the highlight-reel play by bolting past numerous defenders before unleashing a left-footed cross to freshman forward Sunny Dunphy, who sealed the 2-1 overtime victory against the Arizona Wildcats.
[Related: Women's soccer overcomes Arizona in double overtime]
"If the players are good enough of course I'm not gonna put a harness on them and keep them back," Cromwell said. "it's just a matter of knowing she has great attacking attributes and letting her use them. If she can do it three, four, five times a game I think she could be very dangerous."
But the irony of this meshing of coaching philosophy and player preference is that it never factored into Mace's decision to come to UCLA, mostly because she never knew she was going to play center back to begin with.
"I thought I was coming in here to play forward," Mace said. "So I didn't really pay attention to their back line."
But now, with two seasons playing in a position and system that suits her, Mace has added an additional notch to her resume, being listed as an honorable mention for the 2016 Pac-12 All-Conference honors.
It's another award to her list, but this time, it's for playing center back.