Alumna binds paper planner with passion, highlights long-term goals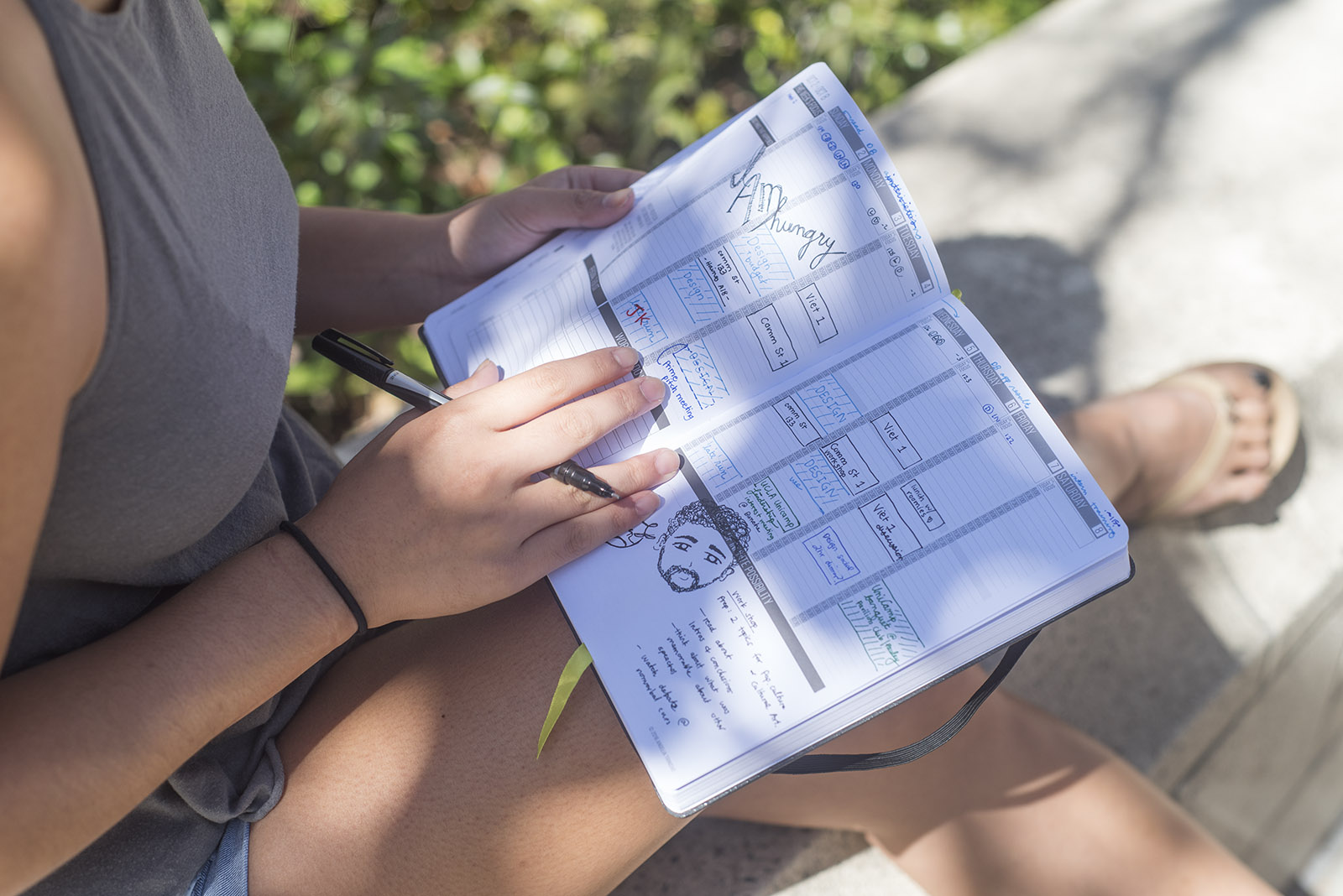 UCLA students write in their passion planners to help them achieve their goals. Passion Planners ask users to answer questions relating to future goals, accomplishments and daily errands. (Miriam Bribiesca/Photo editor)
Angelia Trinidad said the first planner she created had 28 typos, but it still helped thousands overcome obstacles in their lives.
Some used the Passion Planner, which Trinidad created in 2013, to manage attention deficit hyperactivity disorder, cope with losing a loved one or figure out the next step in life.
She and two friends started Passion Planners when they realized they each wanted to spend their lives helping others achieve their goals. Since 2013, the San Diego-based business has expanded from employing three friends to 43 people.
The planners' white pages are divided into sections, including a space that has an hour-by-hour schedule and spaces to list long-term goals. Trinidad said she hopes Passion Planners will prompt users to think about questions such as what they want to accomplish in life, things they're excited about and what they look forward to. It then helps break those goals into smaller, more manageable projects.
Trinidad herself used planners to refocus and stay organized when she was a student at UCLA, where she switched from a premed route to art. After studying sculpture, she realized the importance of having a physical product to keep track of her time.
"I thought if I'm going to study more than I'm sleeping, then it better (be) something that I love," Trinidad said. "For me, it was art, it was creating something, making something tangible for other people to enjoy and for me to see the process."
Trinidad said that after she graduated from UCLA in 2012, it felt like going from 100 miles per hour to going 5 miles per hour.
She soon realized she could help other graduates stuck in a similar situation by creating her own version of a tool that had helped her for years. While most planners focus only on day-to-day tasks, Trinidad wanted hers to be able to help people with long-term achievements too.
"People get caught in this period of directionless floating and they don't really know what to do next," Trinidad said. "I decided that I was going to create a planner because during the craziest and most hectic parts of my life, planners always helped me organize my thoughts and … figure out the next step."
Trinidad started with a piece of paper and jotted down everything she wanted to include in the planner. She began waking up early to accomplish small tasks before 10 a.m. that would bring her closer to her goal, such as drafting its design and the future structure of the company.
Eight weeks later, she found a manufacturer, pooled all her funds and shot a video for Kickstarter, a website that connects small business owners with financial backers. Trinidad raised $670,000 in one month.
Trinidad said some friends were unsure if there was a place for a paper planner in the digital age and thought she would be better off creating an app. But Trinidad said she felt that an app would not be as effective in helping people accomplish goals.
[Related: Alumna's startup gives students a chance to explore new career paths]

"Having something tangible … that you can physically go through and write in and cross things out and plan in was something that was really important to me," Trinidad said. "When you have a piece of paper, there's … the feeling of small pieces of instant gratification as you fill in blanks."
Trinidad reached out to her childhood friend, Chelsea Wong, to help her launch her company at the end of 2013.
Wong said she initially feared that working together professionally could damage their friendship. However, Trinidad offered her flexible hours and a convincing argument.

"She told me that she needed someone to work with and that she trusted me," Wong said. "I said no at first but she made me change my mind. As time went on, I really saw how Passion Planners changed a lot of people's lives and we were doing good for the world. That really made me want to stay."
Trinidad said people are able to use the planner as a keepsake of their year and watch incremental progress over time.
[Related: UCLA alumni creates job search site based on majors]
"When you have a physical product, the pages change and the paper changes and the ink changes," Trinidad said. "It's a lot more tangible and a lot more refreshing to continue on this journey – even though from the outside looking in, it might not feel like you're going anywhere."
Trinidad also relied on her former sorority sister Jacklyn Lee to help found Passion Planners.
Lee, a 2012 UCLA alumna, said she was initially skeptical about Trinidad's offer because it was still in its Kickstarter phase.
"I basically moved down to San Diego with two suitcases," Lee said. "We first started working in her parents' garage … and then we moved into this warehouse two months later. It's crazy how much we've grown in such a short amount of time."
The founders often receive handwritten letters and emails from customers. Trinidad said one woman emailed her about losing her husband in the military and using the Passion Planner to stay afloat through her grief. Another woman wrote about how she was diagnosed with a brain tumor, and is using her Passion Planner to document positive experiences she wants to share with her kids if she's not able to later.
"This product has reached so many different people from so many different backgrounds," Trinidad said. "It's something that you can do for yourself to keep track of your progress and also check in with yourself and see what kind of milestones you're hitting, what kind of memories you're making, and who you're grateful for."