Editorial: Kinross Recreation Center plans conflict with student interest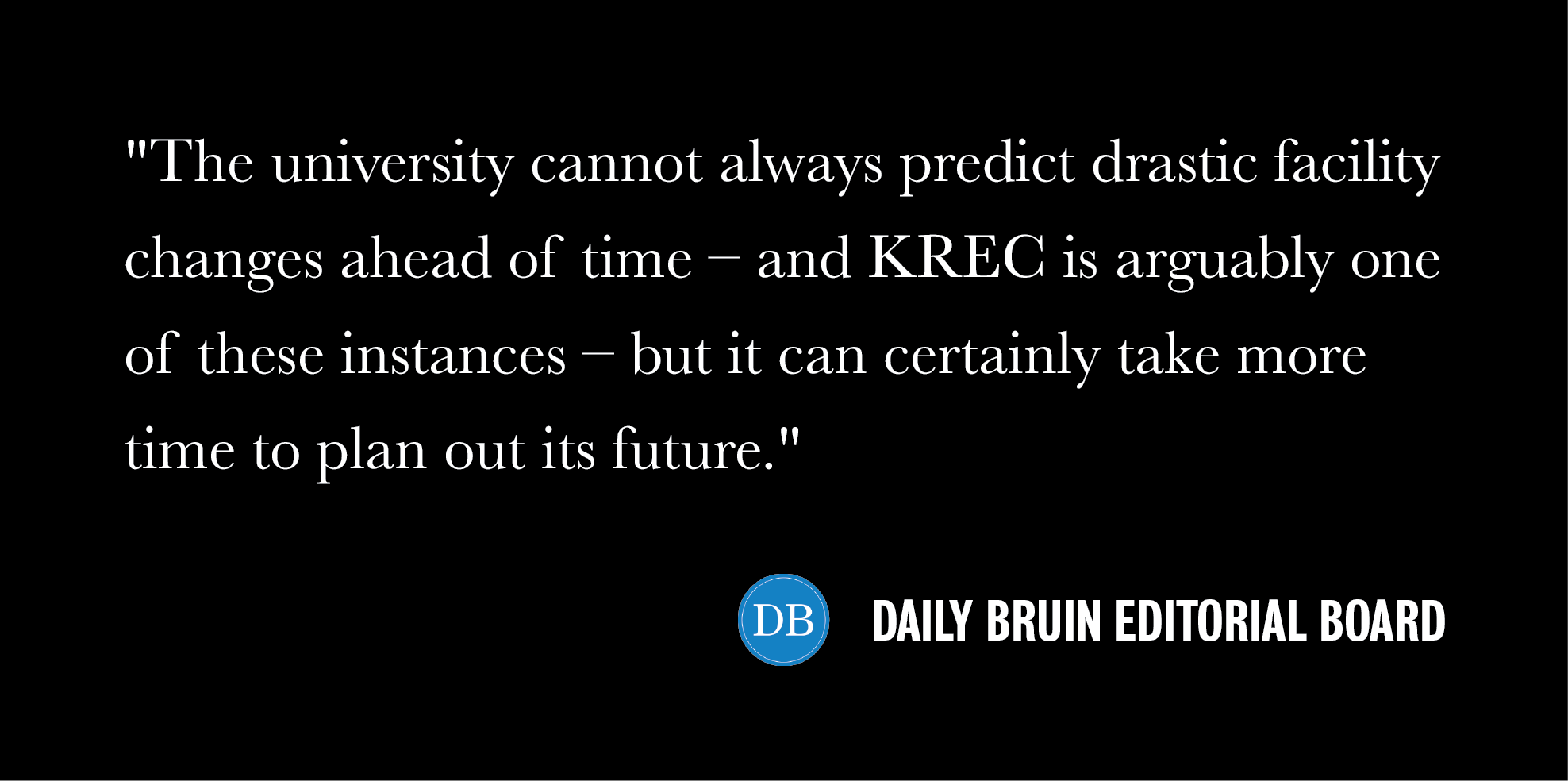 November 13, 2016 8:53 pm
UCLA may have mastered the art of constant construction, but it has a lot to improve on in the planning process, where ultimate cost and student impacts can be forgotten.
Two weeks ago, UCLA announced it will reconstruct the Kinross Recreation Center, or KREC graduate student gym, a few hundred yards away on Parking Lot 36. KREC and several other offices in the Kinross Building were closed last year after David Geffen made a $100 million donation to start Geffen Academy, a middle and high school for local students and faculty and staff members' children.
UCLA worked with a graduate student government task force to brainstorm the new facilities, which will open next summer, after many students expressed concerns about being displaced. In the meantime, UCLA needs to start holding itself accountable for how these projects affect the community.
One way the university can improve is by beginning to analyze and publish "student impact statements" for its capital projects. Michael Skiles, the Graduate Students Association president, suggested these kinds of reports, which would demonstrate that new projects would not adversely impact students, would force the university to think new projects out better and involve students more.
While UCLA doesn't necessarily need to adopt this model, it's concerning that this kind of analysis is currently nonexistent, at least in the public eye. For instance, the construction of the Luskin Conference Center demolished Parking Structure 6, which held 750 parking spaces, and distributed commuters among four other lots. Similarly, some employees who park in Lot 36 will be displaced elsewhere and graduate students will temporarily have to work out on campus, potentially alongside students in their classes.
On top of that, after all construction is said and done, the gym will only have moved several hundred feet from its previous location at the cost of $5 million and an entire task force dedicated to the purpose.
To the university's credit, the new facility is supposed to have state-of-the-art equipment and the original location may not have been the best to begin with. UCLA spokesperson Alison Hewitt told The Bruin that the university has traditionally used the Kinross Building as a temporary facility for different departments such as the dance department and university police while Kaufman Hall and the UCPD station were under construction. However, since the gym was originally planned in 2010, UCLA has not indicated dissatisfaction with the location or plans to change it – effectively blindsiding graduate students and other building inhabitants last year when it announced the site as Geffen Academy's future location.
These changing plans demonstrate UCLA's inability to anticipate how it can best utilize the campus' extremely limited space. Of course, the university cannot always predict drastic facility changes ahead of time – and KREC is arguably one of these instances – but it can certainly take more time to plan out its future.