Election headquarters officials explain LA County vote counting process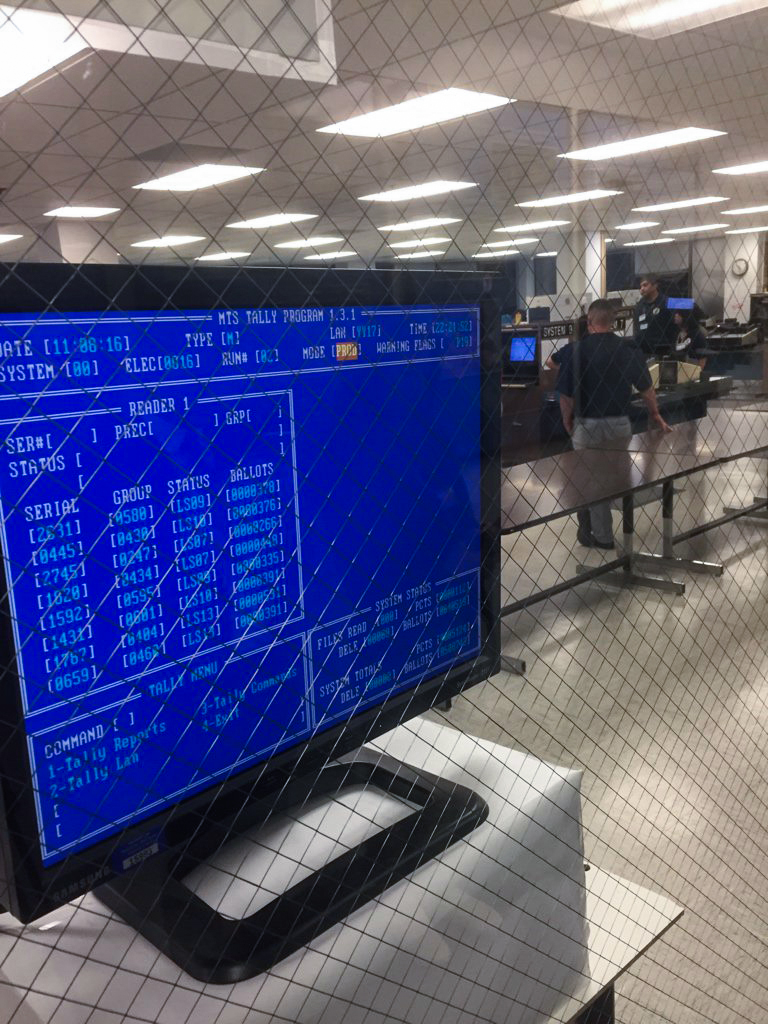 The Los Angeles County Registrar Recorder/County Clerk has 14 computers like this one that can read 1000 cards a minute. (Jeong Park/Daily Bruin senior staff)
It takes one and a half hours to drive from one end of Los Angeles County to the other without traffic.
Because it is so large, the LA County Registrar-Recorder/County Clerk flies ballots from the outskirts of the county, such as Catalina Island and Lancaster, by helicopter to its election headquarters in Norwalk, California, said Jennifer Stern, an administrative service manager at the county registrar office. If weather gets too foggy, ballots leave Catalina Island by boat.
Stern and Chris Nwadine, a ballot inspection chief, explained the vote-counting process to the Daily Bruin during election night at the Norwalk headquarters.
Counting millions of ballots is not as simple as putting paper in machines, Stern said. The process starts with hundreds of sheriff deputies escorting and carrying ballots from thousands of polling places starting 8 p.m. on election night.
When the ballot boxes arrive in Norwalk at around 10:30 or 11:30 p.m, workers inspect them for defects inside the first floor of the registrar building. If there are any significant defects, workers set those boxes aside and count the votes inside later, Stern said.
Then, the registrar staff sends boxes to a giant, white room on the third floor where dozens of staff members and high school volunteers rip them open.
"The volunteers can see the importance of what goes in," Nwadine said.
Teams of two ensure each box is not torn or damaged. They also put aside write-in votes to count after the election night. Stern said the staff and the volunteers make sure ballots are properly lined up so they can easily go through a machine.
Workers carry fully inspected ballots to 14 computers that resemble big desktops from the 1980s. Though the computers are old, each has two card readers that can count up to 1000 cards per minute. At full capacity, all machines in the building can count up to 14,000 cards per minute, Stern said.
This might be the last presidential election to use these machines, however. Because the electorate has grown in numbers and diversity over the last few decade, the computers used now can be inefficient and slow. The county registrar has called for a new digital voting system to serve a changing electorate.
The current machines do not reveal final results even by 3 a.m. Stern said the workers typically stay until 4 to 5 a.m. counting ballots.
But ballot counters don't have a lot of time to sleep afterwards. Stern said the office still needs to count thousands of write-in, damaged, provisional and mail-in ballots during the 30-day period known as the official election canvass. Provisional ballots require additional review to verify that the voters who cast them are eligible to vote. Write-in ballots are reviewed to ensure they were cast for qualified candidates.
The registrar will also audit results by manually tallying a random sample of ballots before the county clerk certifies them Dec. 2.
The county board of supervisors is tentatively scheduled to declare the election results official on Dec. 6.