Family, dedication at the heart of freshman guard Lonzo Ball's game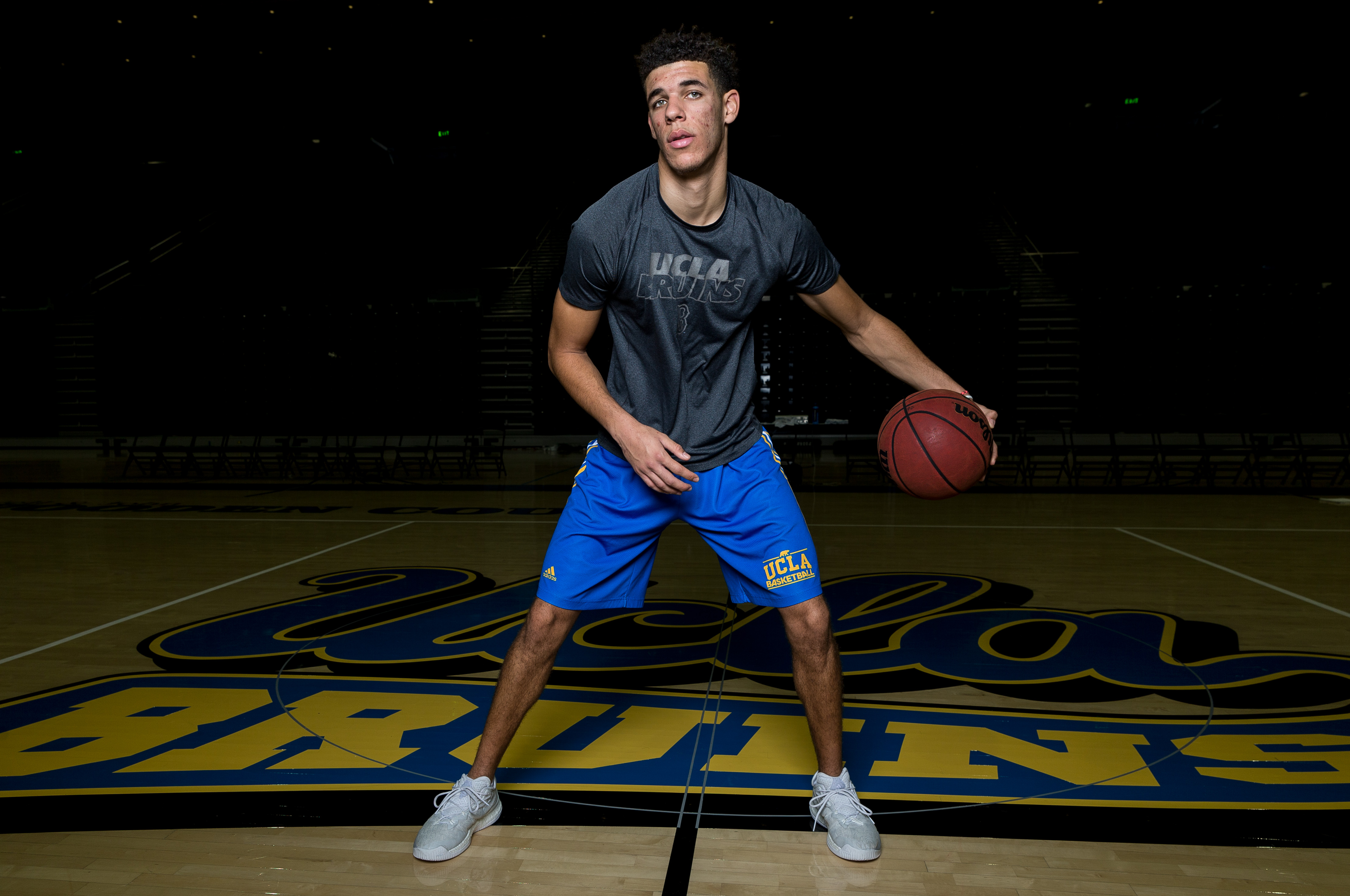 Lonzo Ball has heard his game being compared to NBA greats like Jason Kidd and Penny Hardaway, but wants to break away from the comparisons and create his own style. (Aubrey Yeo/Daily Bruin senior staff)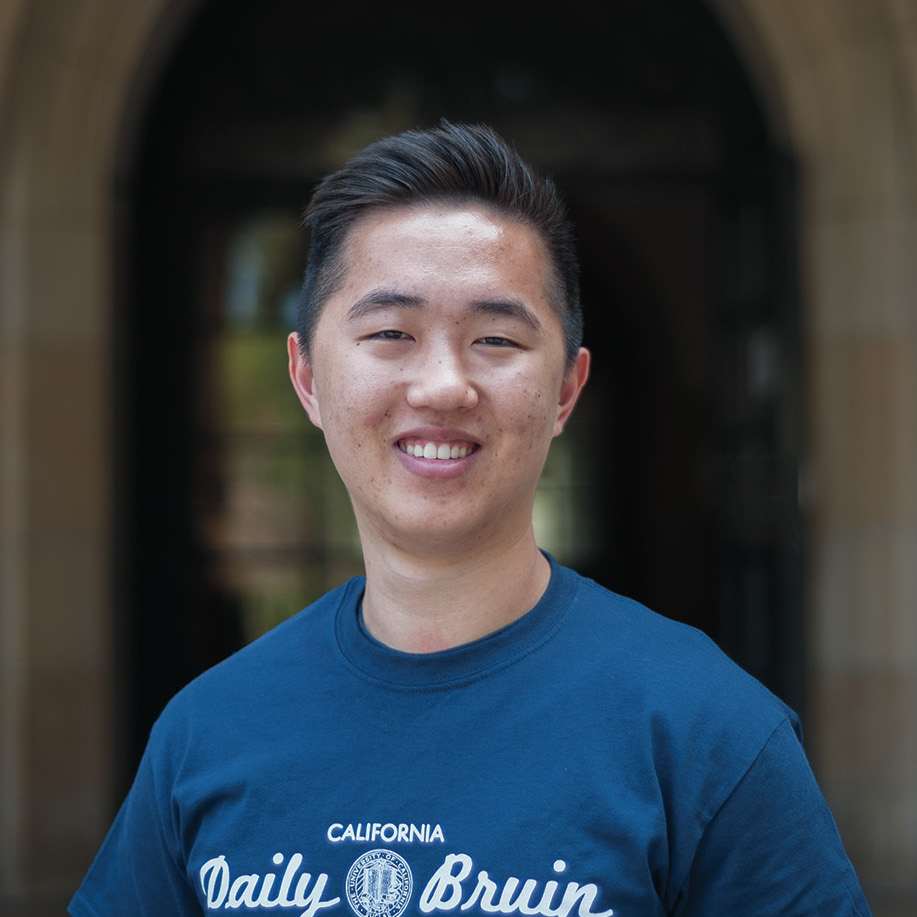 Lonzo Ball was born to ball. No really, just ask his father.
"When I realized he would be good at basketball?" LaVar Ball asked. "You probably don't want to hear this – as soon as he came out the womb. I told him he was born to go pro."
It was all written in Lonzo Ball's genes. LaVar Ball, at 6 feet 6 inches, and his wife Tina Ball, at 6 feet 1 inch, both played collegiate basketball at California State Los Angeles. And that oh-so-apt last name which practically begs for cheesy one-liners?
"When your last name is Ball, what do you think you're going to do – ball until you fall," LaVar Ball said. "We've put this together from a while ago, from me picking out my wife. I had a lot of little cute shorties but there wasn't anybody tall and like a stallion like she was."
The freshman guard is the oldest of three sons. All three – Lonzo, Li'Angelo and LaMelo Ball – grew up playing basketball, generating attention wherever they played, and all three have committed to UCLA. Most recently, the Ball brothers took Chino Hills High School to a California state championship amidst a pristine 35-0 record.
But what really garnered the national spotlight was how the team won – fast and unabashed with jaw-dropping margins of victories. Exactly how the Ball brothers have been playing all their lives.
Take the fast-paced, run-and-gun Golden State Warriors that feature 30-foot Stephen Curry bombs. Dial it up a notch or two en route to 97.9 points a game while also featuring 3-pointers from near half-court. Adjust for the 32-minute high school game and that's a blistering 146.5 points per 48 minutes. In comparison, the Warriors merely averaged a league leading 114.9 points a game last season.
Lonzo Ball helmed the attack as the senior point guard, and is known for flinging devastatingly accurate full-court, one-armed football passes to jumpstart fast breaks. He averaged a triple-double of 23.9 points, 11.3 rebounds and 11.5 assists, and earned the prestigious Naismith High School Player of the Year award. Now he's bringing that hectic style and thousands of fans about 50 miles west to Westwood. For any other boy who grew up a UCLA basketball fan, playing for the Bruins for one season before entering the National Basketball Association draft would be a dream come true. But in Ball's case, it feels like just another chapter in a story that had already been written since he was, well, a baby.
He first held a basketball in his hands when he was 2 years old. Sure, it was just a plastic ball that comes with those mini plastic hoops parents put in their living room for their toddlers, but LaVar Ball made sure his son did it right. He taught Lonzo Ball to shoot the ball from the top of his head right from the start instead of the other kids his age who shot from their stomachs. Between shots, he would jump off tables and dunk the ball.
They continued the early training and LaVar Ball began teaching Lonzo Ball to work out. The Balls had pull-up bars, push-up bars, dip-bars, weights and of course a basketball court right at home. For cardio, there were plenty of nearby hills to sprint up in Chino Hills. Lonzo Ball started it all when he was just 5, as LaVar Ball challenged his son to race the two family Rottweilers up the hill and see how long he could hang on the bar.
"As long as you keep challenging them and you do it everyday, for them it's like, 'I'm spending time with my family, this is fun,'" LaVar Ball said. "So now working out becomes fun. After a while you realize you're faster and stronger than everybody and it gives you an advantage when playing. You want to be the best, you got to do what people aren't willing to do."
[Read more: UCLA basketball's Lonzo Ball brings offbeat style to the court]
Lonzo Ball played in his first league at the local YMCA when he was 6 and immediately realized that he was far more advanced than all the other kids his age.
"It was a bunch of kids just running around, traveling and fouling, just pretty much reckless basketball," Ball said. "I knew I was different because I was the only one dribbling and actually could shoot the ball."
In the fourth grade, he started playing eighth graders. Even with the age disparity, Ball still found that he was better than anyone at his school. By the time he was a seventh grader, the game became so easy for him that he began seriously setting his sights on the NBA.
In an era when the most talented kids join Amateur Athletic Union circuits at a young age, looking for increased competition and attention from college scouts, LaVar Ball kept his son away from all the hoopla until he was a sophomore in high school. As a result, Lonzo Ball was able to focus solely on himself, building his game in the backyard with his family.
"My dad trained me my whole life basically," Ball said. "(I) started getting serious about it when I was probably 13. That's when he really started training me hard. All the credit to him."
Outside of basketball, there's nothing more important to Lonzo Ball than his family. It was his father's guidance that has kept Ball steady-headed through all the hype that he has generated. The freshman has insisted time after time again that he doesn't feel any pressure – not on the court, not off the court.
"Ever since I was a kid, he said that pressure is wondering when the next meal is going to come, wondering if the lights are going to be on when you get home," Ball said. "So me coming from Chino Hills, I don't have any pressure. I go to school, and I play basketball."
Family and basketball, basketball and family. It all led him to UCLA – one of the reasons he committed to UCLA was the close proximity to home – where the expectations are even higher. Bruin fans expect the freshman to turn the team around after a disappointing 15-17 season. Lonzo Ball hopes for a Final Four run, and his father has been telling anyone who would listen that UCLA is going to win the national championship.
But for all the success Ball had in high school basketball, the leap to Division I is a whole other beast despite whatever hype and attention he brought with him to college.
"You got to realize that a lot of those things have nothing to do with anything," said coach Steve Alford. "It is a start over, a new level. He's learning that, and that's stuff I want to try to help him with."
Ball learned that lesson quickly on UCLA's trip to Australia in August for three exhibition games, with two coming against professional teams. He shot just 25 percent on 36 shots, including 17 percent on 18 3-point attempts. Maybe more importantly, the Bruins finished with a 2-1 record on the trip. It was Ball's first recorded loss since March 2015, during his junior year in high school – a span of 17 months.
When Ball came back from Australia, he went straight to where he is most comfortable – home, where it all started. Ball spent his two weeks off in his high school gym, working to find his shot back, get his confidence again and adjust to what happened in Australia.
"He won every single game his senior year, he never had to really deal with adversity of losing a game or teams going on big runs, so from the Australia trip to the most recent scrimmages, I've seem him really deal with adversity better," said senior guard Bryce Alford, who has taken up a mentorship role with the young freshman. "When we've had a streak of not scoring a whole lot, he's not going to a step-back 3 (pointer) from deep. He tries to get a really good shot and that's something you got to learn as a freshman, and I think he's already doing that."
Teammates noticed other changes after the trip. The once quiet freshman was beginning to break out of his shell, carrying around a Beats Pill everywhere with him and blasting rap music all the time. It soon bled onto the court as well, taking responsibility as the point guard of the team.
"At first he wasn't as vocal, he felt a little uncomfortable coming into a team with profound seniors and leading right away," said freshman forward/center Ike Anigbogu. "But especially after the Australia trip he's really gotten vocal. He's really putting himself in the point guard role, taking care of the team and leading us."
[Throwback: If you're not watching Bruin commit Lonzo Ball, you're missing out]
Ball came to UCLA to build and refine his game. He had never watched film, played off the ball, stretched or sat through an ice bath before. He also began learning to stay in a defensive stance, developing the habit of being in the right position defensively and remembering simple things like always holding his follow-through.
It's all part of the script. Dominate high school, lead UCLA back to an exciting, winning brand of basketball amidst a Final Four run and then leave a legacy in the NBA.
"It's in his family line, he's born to ball," LaVar Ball said. "Somebody's got to be better than Jordan, why not you? You already got a better start."
That confident winning culture is so ubiquitous in the Ball family that you won't find any awards lying around the house. LaVar Ball has gifted away the nine or 10 awards Lonzo Ball won to family members. A trophy doesn't signify anything, it's expected.
However, three things do hang on a wall that the Ball brothers see every time they walk out the house. Three posters, one of each brother from when they were younger to remind them of how much they have grown.
Lonzo is 9, sitting on a basketball rim with a king's crown on his head. He's pointing his finger right at you, as if to say, "I'm coming for you."
Li joined the Bruin as a freshman in 2013 and contributed until he graduated in 2017. He was an assistant Sports editor for the 2014-2015 academic year and spent time on the football, men's basketball, women's basketball, men's soccer, track and field, cross country and swim and dive beats.
Li joined the Bruin as a freshman in 2013 and contributed until he graduated in 2017. He was an assistant Sports editor for the 2014-2015 academic year and spent time on the football, men's basketball, women's basketball, men's soccer, track and field, cross country and swim and dive beats.