Unsold pastries help increase food accessibility and minimize waste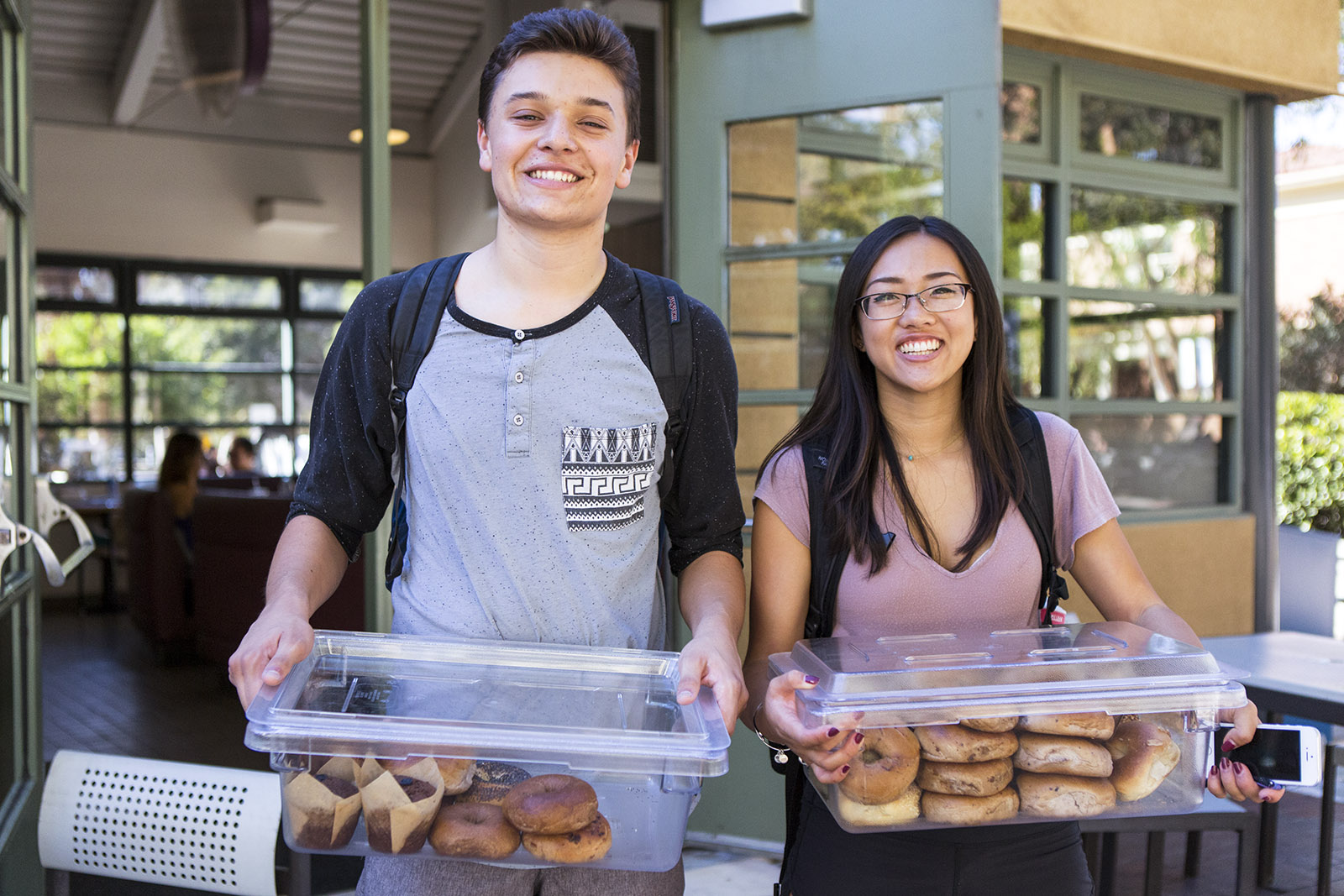 The Food Waste Recovery Program contributes free baked goods to the Food Closet at the Student Activities Center by bringing food from ASUCLA restaurants. (Hannah Ye/Daily Bruin senior staff)
Students can now get free cakes, muffins and cookies at the Student Activities Center as part of a new undergraduate student government initiative.
The USAC Facilities Commission's new Food Waste Recovery Program, which began last week, delivers unsold pastries from coffee shops on campus to the Community Programs Office Food Closet every morning.
The Food Waste Recovery Program aims to minimize food waste and increase food accessibility on campus by bringing food from ASUCLA restaurants to places like the food closet, said Sandra Rhee, USAC Facilities commissioner. The food closet in the Student Activities Center provides free food anonymously to students who experience food insecurity.
[Related: Food closet program helps students dealing with hunger]
This week, the group collected pastries from four cafes around campus, and received about two and a half bins of food each day, Rhee said. The amount of food available depends on how well the cafe did that day, which can be difficult to predict.
Rhee said she first envisioned the project after speaking with workers at Kerckhoff Coffeehouse. Some workers informed her that past food donation programs have stopped and a lot of food items would be discarded after their sell-by dates.
"(We) wanted to make sure that there was a way to recover this food that was going to be thrown away," she said.
Rhee said she thinks the pastry additions to the closet have already begun to show impact.
"I have heard stories of students waiting for the pastries to be delivered outside the food closet," said Rhee. "It's only been one week (and) students are hearing about these pastries just through word of mouth."
Rhee said there is no exact estimate on the number of pastries the program has received so far.
"But even if it were just 40 pastries, we're feeding 40 students with a little snack a day," Rhee said. "And I think that is a great first step."
The program will focus on pastries this quarter because they are more readily available and do not need refrigeration, but may add more options, said David Jimenez, program director for the Food Waste Recovery Program and a second-year sociology and political science student.
"We mainly just need to expand to more food because fighting food insecurity is more than just giving students pastries," Jimenez said. "There is a lot of room for growth."
Ysabel Chavez, a second-year business economics and communication studies student, said she thinks many students like the changes they see in the food closet.
"I think the food closet has stepped up their game a lot," Chavez said. "It's really exciting now to go in there and see all the new foods that they have and I know a lot of the students do really appreciate it. There are so many more options."
[Related: Swipes for the Homeless addresses student food insecurity]
Melani Cayabyab, a third-year physiological science student, said she found the food closet beneficial because she is a commuter student and doesn't have a meal plan.
"I think (the Food Waste Recovery Program) will be really resourceful," said Cayabyab. "You're not throwing (food) away anymore. You are actually giving it to people that can use the food, so it's a win-win overall."
Rhee said the Food Waste Recovery Program plans to add items like sandwiches and wraps starting next quarter.
"We just want to make sure we are progressing this as much as it has potential to grow," Rhee said.
Program organizers are working with ASUCLA to add more participating restaurants, she added.
Four students from the Facilities Commission have been operating the program this quarter on their own schedule, but the program hopes to acquire staff from the Community Programs Office in the future.