LA committee considers changing Columbus Day to Indigenous Peoples Day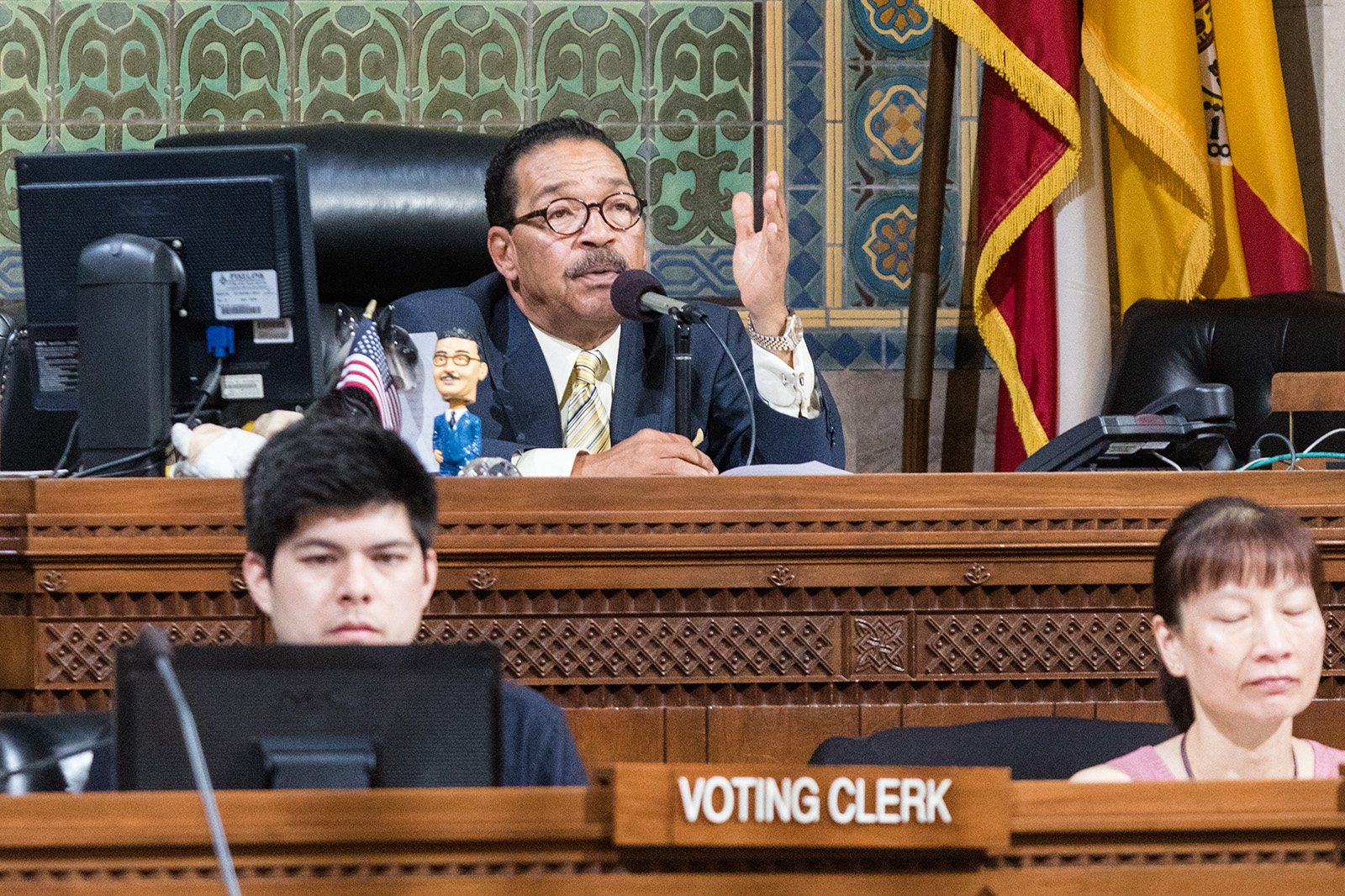 Herb Wesson, president of the Los Angeles City Council, did not place a report advocating for the establishment of Indigenous Peoples Day on the meeting agenda for a vote. (Ken Shin/Daily Bruin)
A Los Angeles city committee met last week to discuss replacing Columbus Day with a holiday that would celebrate Native Americans.
The Los Angeles County Human Relations Commission presented a report in favor of establishing Indigenous Peoples Day to the Arts, Parks and River Committee. Mitch O'Farrell, chair of the committee and a Los Angeles City council member for District 13 planned to present the report to the city council Friday.
City Council President Herb Wesson did not place the report on the meeting agenda for a vote, said Shannon Speed, a UCLA Native American and Indigenous Studies director who spoke at the meeting on behalf of the Indigenous Peoples Day Coalition.
The report includes research, interviews and information gathered in community forums that suggest that a day dedicated to celebrating indigenous peoples would have a positive impact. The report was created in collaboration with UCLA and the Los Angeles City and County Native American Commission.
O'Farrell, a member of the Wyandotte tribe, said he thinks Christopher Columbus' legacy should not be celebrated in Los Angeles because European explorers perpetrated violence against the city's indigenous peoples.
He added he thinks Los Angeles should celebrate indigenous peoples because the city has the highest population of Native Americans in the United States.
Native Americans first pushed to have a day celebrating their culture in 1977. In 1992, Berkeley became the first city in California to replace Columbus Day with Indigenous Peoples Day. Two other Californian cities, Santa Cruz and Sebastopol, celebrate Indigenous Peoples Day.
Some council members and cultural groups said they oppose the proposed change.
Branimir Kvartuc, spokesperson for Joe Buscaino, city council member for District 15, said he thinks the city should leave Columbus Day intact and establish a separate day celebrating indigenous peoples. Kvartuc added he thinks those who want to replace Columbus Day would also have to abolish all holidays celebrating European settlement, such as Thanksgiving.
The Federated Italo-Americans of Southern California, an organization that values Columbus as an Italian cultural figure, also believes Indigenous Peoples Day should be celebrated on a separate day. Ann Potenza, president of the organization, said she thinks Columbus Day celebrates immigration from the Old World to the New World.
Speed said she thinks the existence of Columbus Day is not a neutral Italian heritage holiday. She said she thinks the holiday harms indigenous children in public schools because they have to learn about and celebrate a historical figure who was responsible for the genocide of their ancestors.
"Why does your enjoyment of Columbus Day take precedence over the well-being of other people?" Speed said.
The Indigenous Peoples Day Coalition will push the city council to vote on the issue as soon as possible, she said.