Bruin Consent Coalition offers support for sexual assault survivors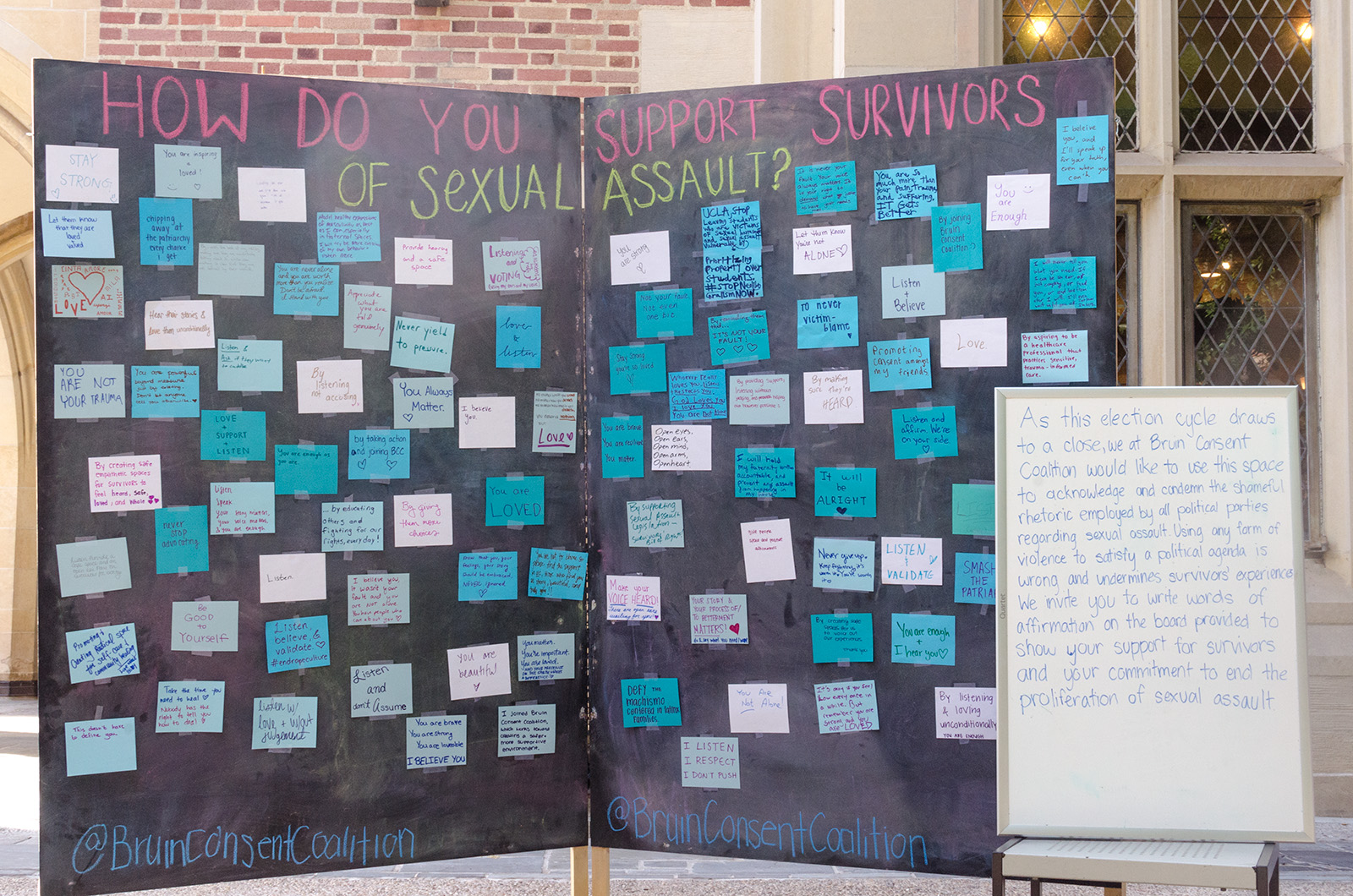 The Bruin Consent Coalition held an event called "Scribble Your Support" in Kerckhoff Patio on Monday, where students could write messages of support and positivity for sexual assault survivors. (Anthony Tran/Daily Bruin)
Students wrote supportive notes for sexual assault survivors, including "You are not your trauma" and "I believe you" on a blackboard Monday.
Bruin Consent Coalition, a committee in the undergraduate student government Student Wellness Commission, held an event called "Scribble Your Support" on Kerckhoff Patio to support survivors, amid election season, said Chloe Pan, co-director of the coalition and a third-year international development studies and Asian American studies student.
Organizers provided markers and paper for students to write on the blackboard and displayed a whiteboard that said "We invite you to write words of affirmation on the board provided … to show your commitment to end the proliferation of sexual assault."
The group held the event the day before Election Day because they thought the topic of sexual assault has been politicized in the context of the elections, Pan said.
Sophia Arim, a Bruin Consent Coalition member and a fourth-year history student, said the coalition is a nonpartisan group, but members noticed harmful discussion of sexual assault across the political spectrum. Arim pointed to the tapes of Republican presidential nominee Donald Trump making lewd comments about women as an example.
Pan said the event also aimed to support sexual assault survivors who are affected by campus incidents, such as professor Gabriel Piterberg's return to campus after being accused of sexual assault in 2015.
[Related: UCLA settles lawsuit with graduate students alleging Title IX violations]
Arim said the group wanted to openly share messages from the coalition and other students. She added the group chose to display the notes on a board rather than distribute them individually to help counteract any negativity on campus regarding the dialogue around sexual assault.
Members also hoped the event would start a conversation on campus about rape culture, Arim added.
"We're on the eve of an election that contained a lot of rhetoric perpetuating rape culture," said Gianna Raggio, an event coordinator at Bruin Consent Coalition and a third-year human biology and society student. "That could be really destructive for survivors to hear. We really wanted to use this space to let them know we hear them."
Jessica Jacobs, an engagement associate for Hillel at UCLA, said she felt frustrated by the language used during election season to talk about sexual assault.
"It turned me off from some of what's happening," Jacobs said. "It seems like we're taking steps forward and then we take a step back."
Guilherme Albertini, a third-year aerospace engineering student, said he thinks the event was a reminder of the challenges survivors face and a good way for students to educate themselves, particularly after recent comments by UC Regent Norman Pattiz.
In May, Pattiz was recorded asking an employee if he could hold her breasts while she was filming a memory foam bra commercial. When she refused, Pattiz said his hands were like "memory foam."
Albertini also said he thinks the event will help bring attention to relevant issues, such as what he called hypocrisy in officials' practice of sexual assault policy.
"It's a sensitive subject that not many people want to talk about," he added. "You don't see a lot of this on Bruin Walk."
Jacobs said she felt inspired after seeing the board full of positive messages and hopes others will learn from the event.
"It's important to bring awareness (to this) during the election season because there are so many things on people's minds that it often gets swept under the rug," Jacobs said. "If one person who doesn't know about sexual assault or one survivor gains something from this, I think that will be a good step."