Acupuncture: UCLA's hidden gem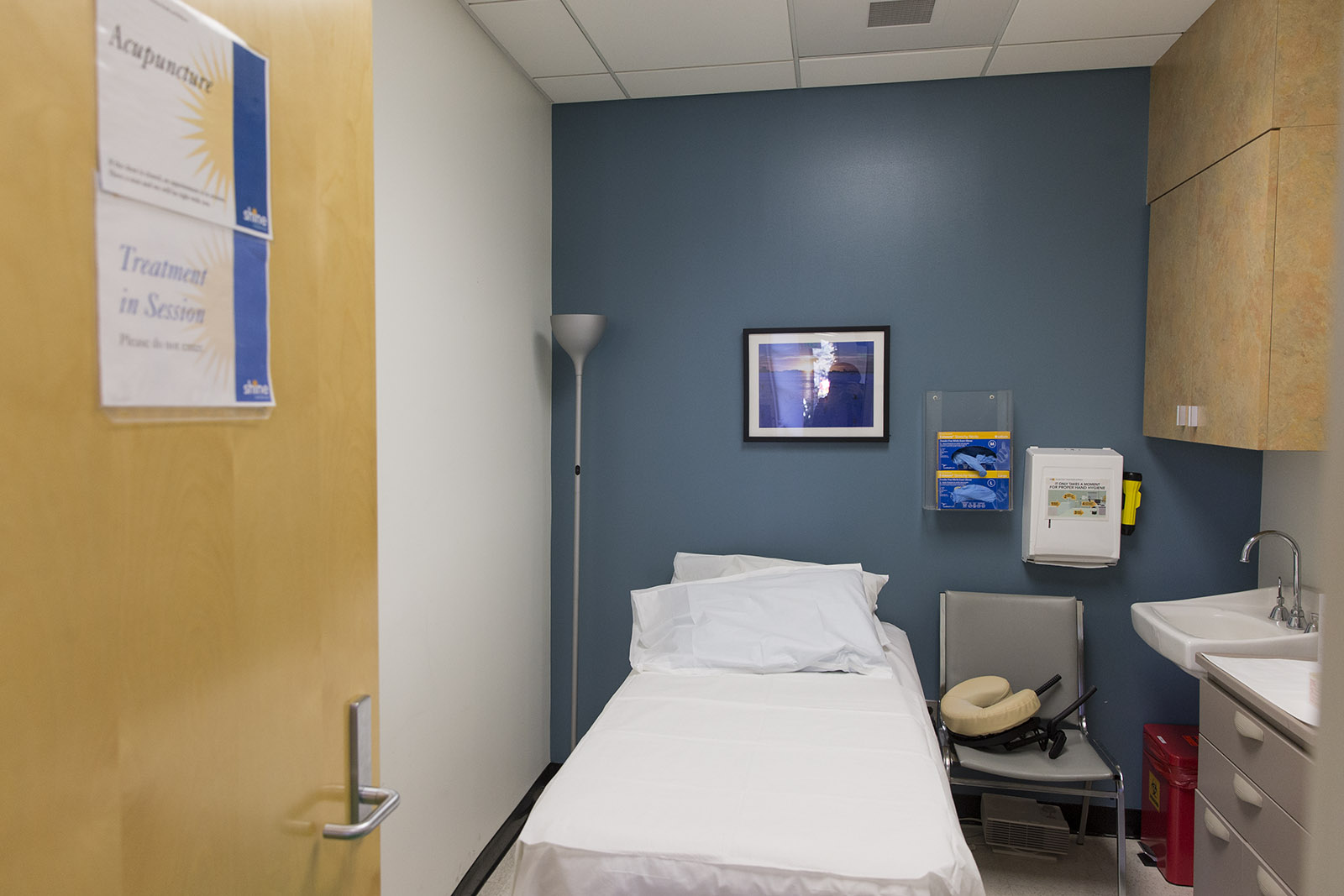 UCLA has an acupuncture treatment room in the Arthur Ashe Student Health and Wellness Center. (Aubrey Yeo/Daily Bruin senior staff)
Correction: The original version of this article incorrectly stated Starrie Lowe treats parents and UCLA faculty. In fact, she only treats students.
If you go up to the third floor of UCLA Arthur Ashe Student Health and Wellness Center, there's a small, dimly lit room, equipped with a massage table and a plethora of tiny needles. This is where Starrie Lowe, UCLA's resident acupuncturist, spends her days. That's right, acupuncture.
A common practice in alternative medicine, acupuncture is readily available on Mondays, Wednesdays and Fridays with your UC SHIP insurance. However, you might have a hard time getting an appointment, as the demand for Lowe is thriving.
UCLA students book appointments at least a month in advance to experience a bit of her magic. But unlike UCLA Counseling and Psychological Services, there is no limit to the amount of visits allowed. Among the seemingly endless supply of useful (and not so useful) resources this school provides, this one appears to be especially valuable with its ambiance and healing powers.
Lowe is a sweet, soft-spoken and healing spirit. Just sitting down across from her made me feel dramatically calmer after a particularly arduous Wednesday. A third-generation practitioner of acupuncture, Lowe said she knew from a young age she had found her "calling." According to Lowe, she is happiest when she is working, falling further in love with her job everyday to the point that it does not even seem like work.
[Related: A closer look at Lowe's work]
Acupuncture is described as a means of sustaining wellness and balance. During a typical 30-minute acupuncture session, sterile needles are applied to various pressure points, depending on the specific medical issue at hand.
By strategically placing acupuncture needles at key points in the body – a completely painless process – Lowe is able to make adjustments in a person's energy and instill a sense of "freedom," as she described, from the distress we have come to accept as an intrinsic part of our lives.
"This is such a great program here for the students to have," Lowe said. "That's why I'm here."
Practitioners of alternative medicine view Western medicine as a quick-fix approach to mental and physical pain. They argue that mainstream treatments can often have unwanted side effects, in addition to only treating the symptom, not the cause. Acupuncture handles these issues in a gentler and subtler way. This holistic approach allows for individuals to get to the root of their problems through the use of tiny needles, realigning the body's energy and leading to longer lasting relief.
"I'm a patient myself," Lowe said.
According to Lowe, social media is literally a pain in the neck; one of the major ailments she sees is something she refers to as "tech neck," a strain in the neck due to our excessive use of phones, computers and the like. Other common problems she aims to treat are depression and anxiety.
Lowe believes it is easier to be disconnected from ourselves and others today, mainly due to a heavy reliance on technology. We often get so caught up in the business of school, work, relationships and life, especially at a fast-paced school like UCLA, that days can slip away, only adding to the existing stress and pressure already felt. Acupuncture works to reconnect people with their lives and others.
There are ways to incorporate the positive effects of acupuncture into your daily routine that can work to help make you grounded, self-aware and efficient. Lowe recommended finding a place on campus where you feel the strongest connection with yourself and "fine-tuning" your senses. This allows you to sharpen your focus and to become a more capable and connected student.
"Always listen to and trust your heart," Lowe said. "This makes sure you will always be on the right path."
Cori Wilbur is a Daily Bruin blogging contributor. She got started writing for her own blog, writing about anything from fur coats to Nicolas Cage, but her favorite topic is rock 'n' roll.
Cori Wilbur is a Daily Bruin blogging contributor. She got started writing for her own blog, writing about anything from fur coats to Nicolas Cage, but her favorite topic is rock 'n' roll.