Students' mail-in ballots signed, sealed and delivered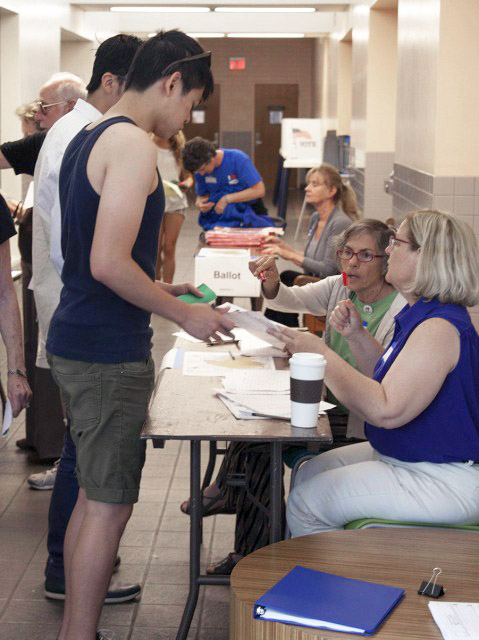 Students can choose to vote by mail instead of waiting in line to vote in person. The deadline to request a mail ballot was Tuesday. (Daily Bruin file photo)
Some students on campus have already chosen to vote by mail instead of waiting to vote in person Tuesday.
Voting by mail, or absentee voting, allows people to receive a ballot at home and send it to the county registrar whenever they want. Students said they voted by mail because it is convenient for them.
Brittany Lau, a third-year psychology student, said she liked having the option to actively look up information on ballot propositions to make her decision.
Nick Cully, a fourth-year biochemistry student, said he would not have voted without an absentee ballot.
"It's definitely good because I would never come home during school to vote, but I would definitely mail it in," Cully said.
[Data analysis: What would happen if UC students voted at home this November?]
In Los Angeles County, 38.8 percent of all registered voters are permanent vote-by-mail voters, and 44 percent of registered 18- to 29-year-olds are permanent vote-by-mail voters. The number of vote-by-mail ballots has also steadily climbed since previous elections.
In 1962, less than 3 percent of ballots in California were absentee. In the past, voters had to fill out an application stating a valid reason to get a mail-in ballot, but in 2002, the state gave voters the option to sign up to be permanent absentee voters, without needing a reason.
Bill Schneider, a visiting professor of communication studies, said he thinks the new application resulted in more people signing up for absentee voting.
"That's important because most people don't want to lie," Schneider said. "It makes an enormous difference if people can ask for a mail-in ballot wholly for reason of convenience without saying a reason why they have to vote by mail."
Schneider added he thinks voting by mail makes it easier for certain groups to vote.
"A lot of voters have trouble getting to the polls because they don't have transportation," Schneider said. "It does make it more accessible for people who are disabled, students who often don't have transportation (and) women who don't have family to take care of the children during the day."
[Read more: Campus groups work to prepare student voters for election day]
However, Schneider also said there are problems with the vote-by-mail method. He added for example, people who voted early cannot change their decisions.
"If something happened in the campaign – like last week there was the revelation of the FBI reopening its investigation on Hillary Clinton's email – you cannot ask for your ballot back," Schneider said. "Once you've voted, you've cast your ballot."
Schneider said he thinks another problem is that a secret ballot is not guaranteed to be private.
"Anyone in the household can say, 'Before you send your ballot, I want to see who you are voting for,'" Schneider said.
He added he thinks this concern particularly applies to young people as they face the potential consequence of voting against their parents' preferences.
Some out-of-state students said that even with the option to vote at home, they wanted to cast their ballot in Los Angeles.
Sharon Lee, a third-year communication studies student, said she tried to vote by mail in Kansas in the 2014 primary election, but the paperwork took too long to process and her vote did not count.
"I am registered to vote in California right now because I think my vote will be more effective here," Lee said.
Vote-by-mail ballots must be postmarked on or before Tuesday and received by the county elections office no later than three days after Election Day. Voters can also bring their ballots to any polling place in their county between 7 a.m. and 8 p.m. on Election Day.
Contributing reports from Raevyn Walker, Daily Bruin contributor.
Click the banner to read more election endorsements and analysis.